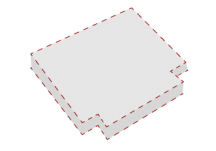 Any cushion that does not meet one of our shapes (rectangular, square, round or trapezoid) is considered a "unique shape" cushion. What this means is that we must make your cushion custom to fit your seat. In order to ensure a proper fit on your furniture, you must provide us a template (pattern) from which we will create your cushions. Also, all wicker furniture cushions require a template. These step-by-step instructions will show you how to make a template of your furniture.
How to Create a Cushion Template
Cushion Measuring Guides
Drapery Measurement Guides
Step-by-step instructions on how to properly measure for custom drapes for both indoors and outdoors. Learn how to measure width, as well as length measuring instructions for each particular style of drape. Also learn about various length styles and where to hang your drapery rod in relation to your window.