Tranquil Blue Throw Pillows
From its calm vibes, adaptable nature, and water and sky connections, shades of blue produce a powerful range of emotions from peace, harmony, and relaxation to power, strength, and royalty. Overall it has a quality to mix well with many hues and complement prints and patterns, which has made blue a popular color trend in home design throughout the years.
Introducing this amazing color through pillows on sofa sets, chaise loungers, and entryways is an inexpensive and easy task. Blue throw pillows can act as a neutral fabric or be the main event. If you are looking more to add more interest in your home, striped, printed, or solid blue throw pillows will not only decorate your spaces, but give some insight into your personality. Although it is considered a cool color because of its location on the color wheel, blue complements warmer, brighter colors, such as yellow, orange, and red.
Go Nautical with Blue Throw Pillows
Nautical has become one of the longest standing trends in decor. The nautical design approach brings the outdoors inside, as well as be a motivator for outdoor spaces. Going aquatic with blue throw pillows is a must for outdoor gazebos and poolsides, as well as ocean and lakefront living areas.
Make a Statement: Combine nautical blue throw pillows with brilliant yellow throw pillows.
Featured Combination: These chaise loungers look stunning with the Isadella Premier Navy/Slub, which is printed on 100% cotton duck fabric, perfect for indoors yet can be left outdoors for entertaining or just as an accent color for special events. It features white and gray coral silhouettes on a beautiful navy blue background. These pops of sensational yellow are Sunbrella Echo Citron. They are made with solution-dyed acrylic fibers for a fade-free look all year long.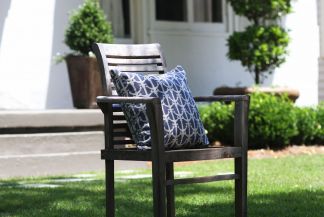 Featured Nautical Fabric: Al Fresco Drop Anchors Royalty fabric is another fantastic nautical blue for outdoor throw pillows. This patina teak chair needed a touch of comfort and style that this blue throw pillow definitely provides. When considering types of pillows for outdoor furniture, choose lumbar, flange, or classic throw pillows for your outdoor furnishings, such as teak, wicker, or cast iron. This hard and soft combination is beautiful with outdoor elements.
Go Americana with Blue Throw Pillows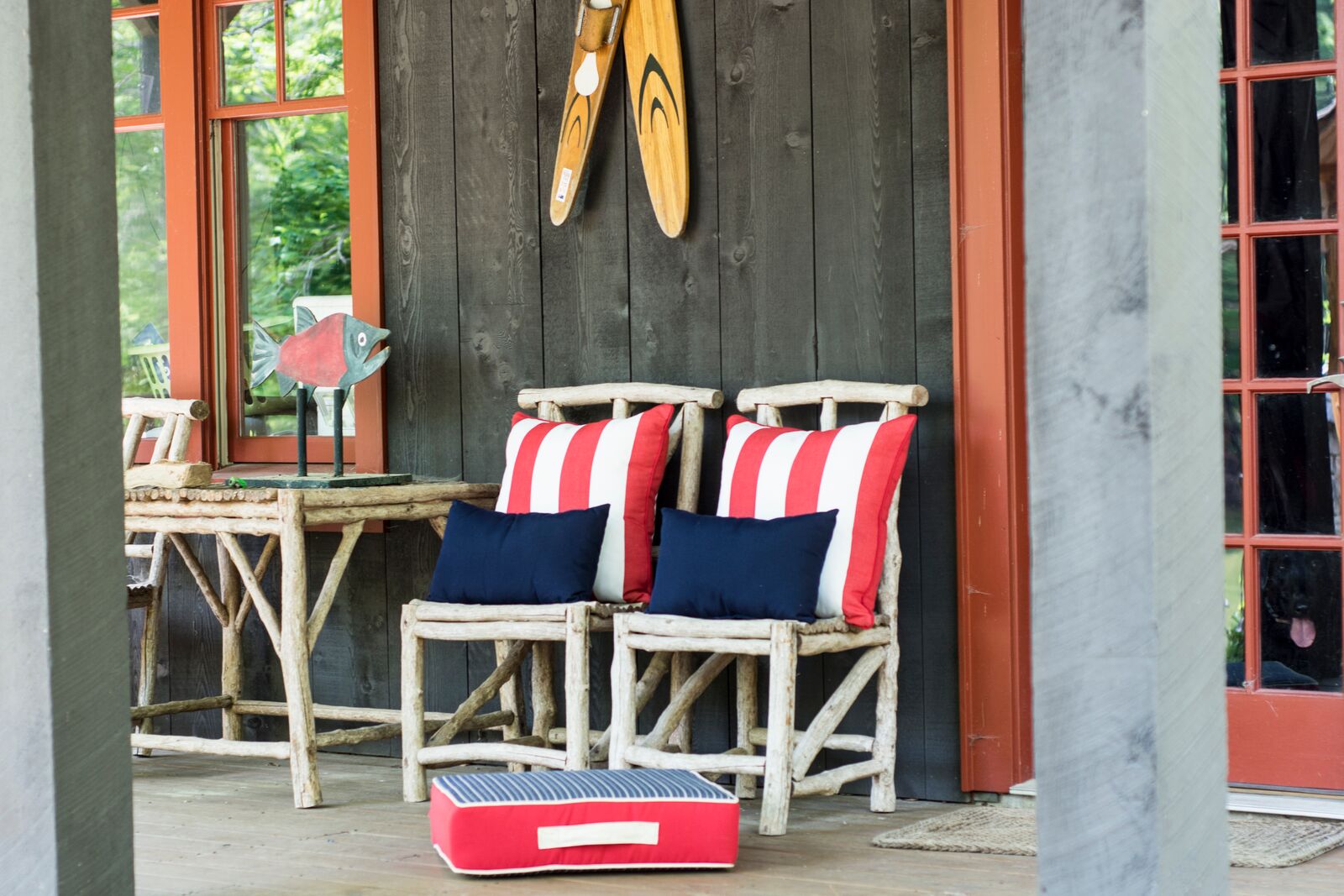 Nothing is more patriotic than the combination of red, white, and blue! This American styling can be achieved through an obvious, literal approach with loads of American flags, stars and stripes on decor items. However, It can also be conveyed through subtle and more sophisticated approaches like throw pillows.
Deep navy blue combined with red and white is a tradition that will never cease. If you are looking to update your room for an Independence Day celebration or just display your patriotism all year long, simple touches with blue throw pillows in modern or traditional fabrics will show your love of country in a whole new and stylish way.
Inspiring Color Combinations for Blue throw Pillows
Blue and White Combos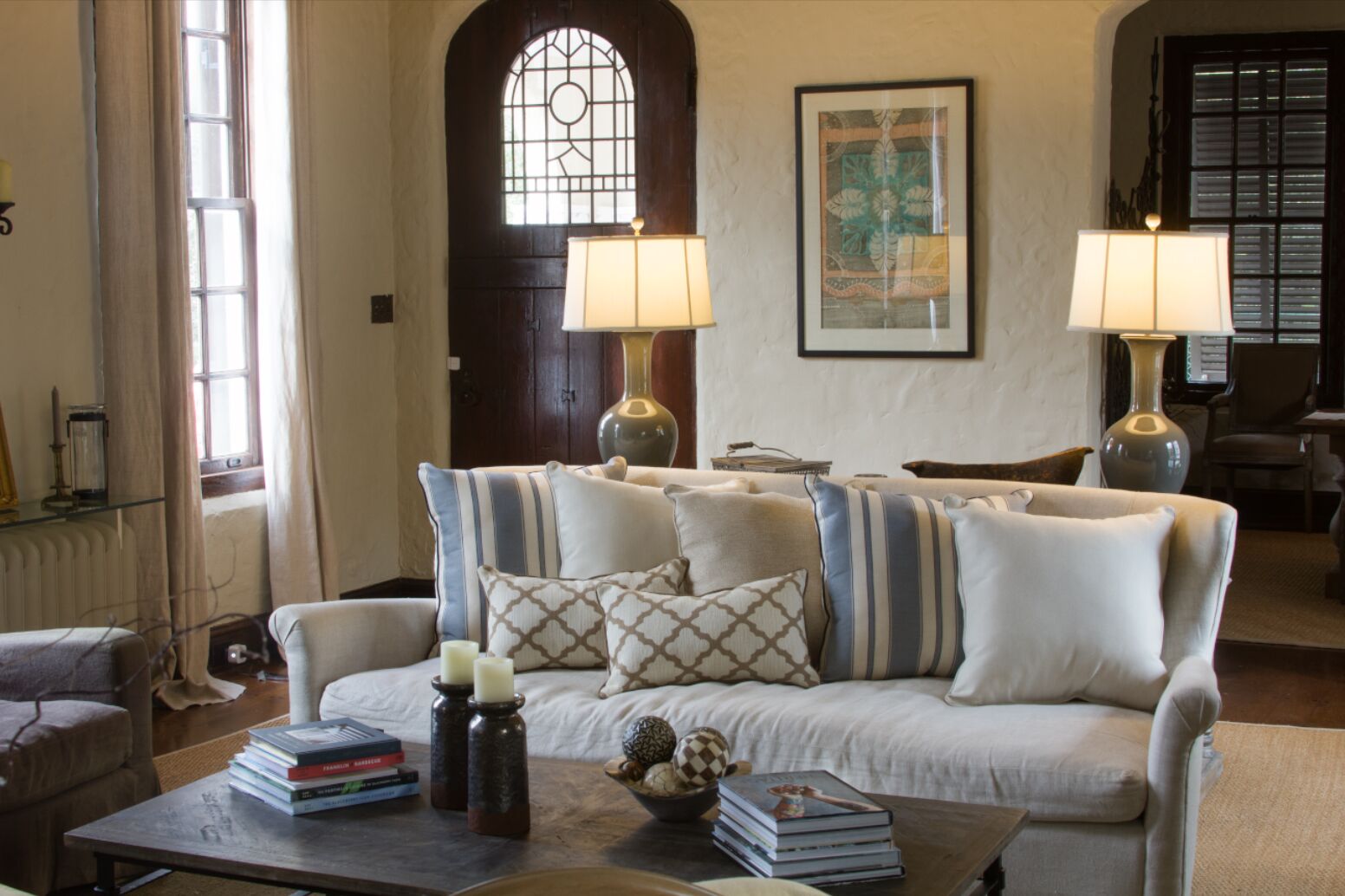 Just like your favorite faded pair of blue jeans and a white tee says classic all American, nothing says clean and fresh like blue and white combinations in a home. This sophisticated color combo is like a white sailboat on the sea - crisp, classic, and always in style.
Featured Combination: These large throw pillows are stunning in blue and white striped colorway. Sunbrella Rhythm Riviera is made of a blue-washed canvas and and an off-white stripe, which is also outlined with deep navy threading. Blue throw pillows like these lend themselves to transitional living rooms. Combining them with neutral, white, and true dark blue throw pillows on this field of dreams is an elegant touch to nature.
Light Blue and Neutral Combos
Consider pale or pastel blue throw pillows for children's rooms, bedrooms, and quiet sitting areas. Because blue invokes rest and relaxation, it will be the perfect shade for calmer areas of the home where you may want to kick your feet up or read a good book. Light blue pillows in colors such as Robert Allen Webberville Iris and Tranquil Flower Iris, paired with other creamy neutrals are airy, light, and serene.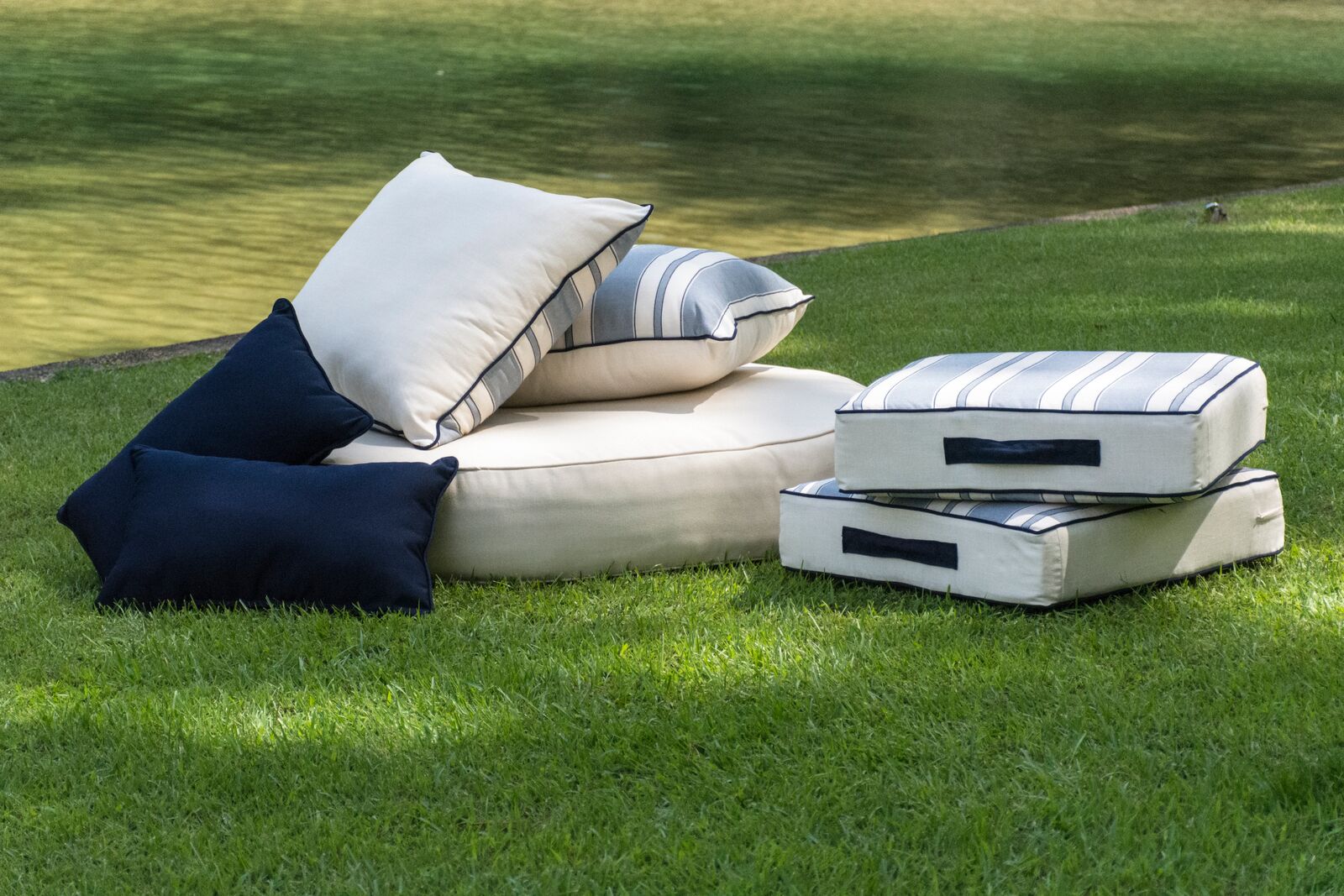 Dark Blue and Other Hue Combos
Darker blue throw pillows are more dramatic and bold in rooms that have subtle, muted tones. You may like the juxtaposition of light and dark, or you may want a room with richer tones, such as deep berry and forest green to go with a deeper blue for a lavish and opulent styling. Either way your spaces will be harmonious and well-dressed with blue throw pillows in the mix.
The color blue is very versatile when you consider all the colors that look amazing with it. Blue on its own is superb, yet on a neutral level, it is very easy to work with because it goes with cooler and warmer tones. Next time you are looking to redecorate, consider adding the fabulous color blue. Your shade options are endless and, most importantly, it conveys freedom, love of family, and friends.