Color of Passion & Love: Red Throw Pillows
Red is one of the most sought after colors in throw pillows. There aren't many colors that are described as emotionally stimulating, intense, and passionate as the color red. Red's rich hue can stand out on its own or marry a room together with its depth and diversity of shades. What better way to bring fresh styling to a space than to add lovely red throw pillows! The opportunities to use this number one color obsession on pillows are endless. Whether you choose a funky pattern lipstick red pillow for a clean modern room, or a brick red jacquard throw pillow in a traditional or formal living area, the love and passion of red is unanimous and undeniably stunning.
Go Modern with Decorative Red Throw Pillows
Decorating a room with red pillows implies confidence and boldness. Bringing red decorative pillows into modern spaces is easy if you remember to make it simple. In mid-century modern design there is a focus on clean lines and smooth-edged furnishings, which are retro and minimalistic. A great red modern print or graphic pillow can bring a pop of interest without cluttering up a space. Choose classic square throw pillows or sunburst round pillow styles in modern spaces. Select geometric patterns to really showcase a sofa set, chair, or window seat - especially in daring red. The color red will instantly warm up and intensify a room.
Go Traditional with Decorative Red Throw Pillows
In a traditional setting, you can choose a red fabric that is more saturated and deeper in hue on textiles such as raised velvets, silks, heavy wool, and ornate jacquards, which are time honored and classic in interior spaces. The more patterned combinations with classic red pillows, the better. Specialty pillows like flange, shirred ended bolster, and duvet are perfect in more traditional bedrooms and family rooms. Remember that the color red says a lot about your personality, too. It implies power, love, and passion when placed as accessories in a living area, so the lover of red is definitely a person that is not afraid to show boldness, courage and confidence!
Red Pillow Covers: An Instant Makeover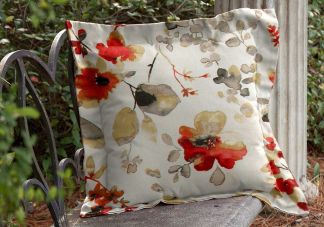 Pillow covers, like this Highland Taylor Watercolor Poppy, are a perfect solution to adding color to an otherwise drab setting. We offer custom pillow covers in your favorite red fabric and exact size to fit your current pillows - voila! Pillow covers are a great way to change up your room and save some cash. Pillow covers offer the versatility to change quickly for holiday and seasonal uses such as Valentine's Day, Christmas, and Independence Day - where red is always in fashion!
Inspiring Color Combinations for Red Throw Pillows
Red and Fuschia Combinations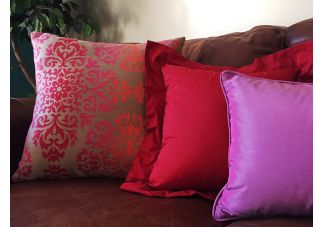 Red and fuschia may seem too close on the color wheel, but it's actually a good thing! This color combination is called analogous. Analogous color schemes use color palettes that are close or sometimes right next to each other on the color wheel. These colors go well together because they provide an easy transition on the eyes in a space, which makes it tranquil and composed. This pillow trio definitely is harmonious!
Red, White, and Blue Combinations
Americana color combinations are built on three colors - red, white, and blue. Clearly, this trio is a real beauty in rooms that are looking to create a traditional love of country without being too deliberate. Vintage red decorative pillows will look perfect in more rustic and country cottage styled rooms, as well.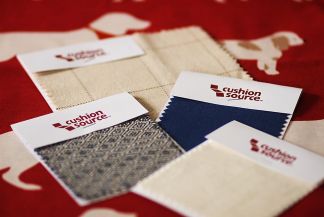 Don't forget about children's rooms! Red fabric will work as a great base color on bedding, draperies, and pillows. Highland Taylor Wagalot Red is an adorable example of how even novelty fabrics can play into good design. The combination of plaid (Robert Allen Boxy Zig Driftwood), coordinating pattern (Highland Taylor Diamond Girl Blue), neutral (Highland Taylor Pacific Cloud) and solid (Robert Allen Success Cadet) just proves that even a young boy's room can look sophisticated.
Add Red Throw Pillows Outdoors
Red fabrics always go well with a classic nautical styling. Outdoor red fabrics on a pair of Para Tempotest Home Canvas Cherry pillows looks delightful on outdoor chairs. There are tons of hardy outdoor fabrics to choose from that will not only give your outdoor gazebo, patio, or pool area a new look, but will outshine the elements and stay beautiful for years without fading. Nautical blue Al Fresco Drop Anchors Royalty pillow and Sunbrella Natural pillows work well for a seafaring design.
Wherever you choose to put this power color, know that you are saying a lot about who you are through your design - strong, outgoing, passionate, and confident. And that's a good thing!