Vibrant and Stimulating: Orange Throw Pillows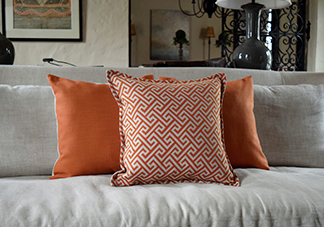 Orange is a vivid hue that blends the power of red and the cheerfulness of yellow. This color can bring a stunning glow to your home. There are several variations of orange to choose from when searching for the perfect shade. Deeper orange tones feature more red, while lighter tones have more yellow. The simplest way to experiment with this dynamic color is by mixing orange throw pillows with your current decor. Throw pillows allow you to test the color in your home.
Transitional Orange
The color orange lends itself beautifully to transitional decor and its varieties like preppy and nautical. Based as a twist of traditional and modern design, transitional decor is perfect for adding an updated touch of orange. Lattice designs are great for a preppy look. Try throw pillows with a lattice print in orange and white or a more traditional orange embroidered lattice design like Highland Taylor Rosemary Burnt Orange. To create a nautical atmosphere, try using an orange and white awning striped fabric, such as Outdura Bistro Orangeade or Sunbrella Cabana Flame. The bold stripes and beautiful color provide eye-catching, summerlike appeal.
Inspiring Color Combinations for Orange Throw Pillows
Orange and White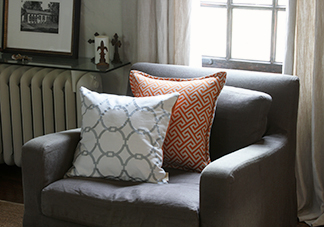 Orange and white is an easy color combination to add to your home, especially when using throw pillows. Depending on the white hue selected, white can calm or strengthen the energy of orange. If you are looking to soften the vivid appearance of orange, use off-white and gray. Orange throw pillows in Highland Taylor Maze Spice pair beautifully with Highland Taylor Rosemary Grey throw pillows.
Orange and Blue
Orange and blue is a classic color combination used in many decor styles both indoors and outdoors. Orange and blue are opposite each other on the color wheel and create a perfect balance when used together. Blue and white striped outdoor fabrics like Al Fresco Cabana Stripe Royalty Blue work well with orange throw pillows in PARA' Tempotest Jacquard Dahlias to produce a cheerful, fun ambience.
Orange and Teal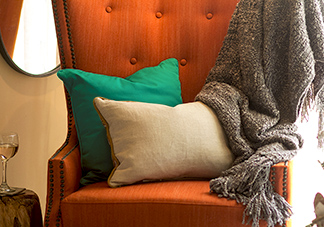 If you are looking for tranquility, orange and teal is a harmonious color combination that can be used year round. Burnt orange pairs beautifully with deep shades of teal, providing stunning color ideal for any room.
Invigorating Hue of Orange
Orange is bold, daring, and not for the faint of heart. This invigorating hue inspires creativity and enthusiasm, which is perfect for the home. Emit a rejuvenating jolt of energetic color by adding orange throw pillows to your decor.