All That Glitters: Gold Throw Pillows
They say that all that glitters isn't gold, but in the design world, the color gold is a glamorous and glittery hue. It draws attention to anything adorned in its sheen, especially accent pillows! Introducing gold throw pillows to your decor will enhance any sofa, window seat, or chair because gold pillows encompass an illumination factor, which sparkles in the home. Whether they bring the bling or are muted and easy on the eye, gold throw pillows will add a desirable appeal to your space.
Color Combos with Decorative Gold Pillows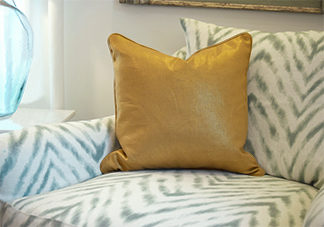 Gold throw pillows are a sure way to quickly update the look of your furnishings. Gold easily brings new life to looks that you've had for years, as gold transcends color matching rules and can be paired with any color. Try mixing gold with colors like black, white, and navy! These color combos will provide the wow factor to any area in your home. If you are looking to stay on trend with your decor, use gold with glitz and sparkle. If you're more traditional in your taste, quieter gold tones wake up a room without overpowering it.
Gold and White Throw Pillows
Gold and white combinations on throw pillows are stunning in brighter, more airy rooms, such as bedrooms and open-concept living areas. Because gold casts a warm glow, pair gold pillows with ivory or off-white pillows rather than stark white, which can sometimes appear garish. If you are looking for a more contemporary vibe, choose a gold pattern for a sofa or accent chair using geometric, ikat, or ogee prints and graphics. If a relaxed cottage look is your style, add a soft gilded embroidered accent pillow as a show piece paired with a ruffled cotton ivory toss pillow on a delicate linen bed spread. Combine Highland Taylor Compass Gold, Highland Taylor Plush Frame Gold, and Highland Taylor Menswear Gold Natural for a soft and fresh gold and white color coordination.
Gold and Black Throw Pillows
Gold and black color combinations on pillows display power and luxury. This is old Hollywood at its best! The juxtaposition of dark and light is still very chic. Throw pillows with bold gold accents on rich velvet black look stunning in living rooms. Whether you live in a big city or not, there is an inherit big city style that follows throw pillows made in luxurious fabrics, such velvets, silk, and brocades. Art Deco design is built on a great showcase of mixed metals. Metallic and stainless steel accents were all integrated in this time period, yet it was the combination of gold and black that exuded old Hollywood glamor of fame, fortune, and luxury.
Try this modern twist on Art Deco pillow coordination: Highland Taylor Stencil Black, Highland Taylor Vern Charcoal, and Highland Taylor Sea Dew Black. These decorative pillows in gold and black will lend contemporary accents to your furnishings!
Gold and Navy Throw Pillows
Want a regal look? Try gold and navy color combinations for a more precise and refined style! Gold and navy throw pillows easily produce a look of opulent style. The deep color of navy paired with gold showcases a stunning contrast. If you are looking to be in style with the nautical trend, throw in a few cream-colored accent pillows, and you've got a handsome nod to a nautical combination! If you are looking to add a global or eclectic appeal to your decor, navy and gold throw pillows also enhance the look of animal prints, gilded fabrics, and organic materials.
What the Color Gold Says About You
Let's not forget that a room filled with gold accents can say a lot about you, as well. If you are drawn to the color gold, you are compassionate, generous, and rich in knowledge and wisdom. Not bad, gold lovers! This color will certainly instill confidence, charisma, and lots of personality to your home. However you choose to display gold decorative pillows, know that you are exuding luxury, sophistication, and bling!