Think Pink for Throw Pillows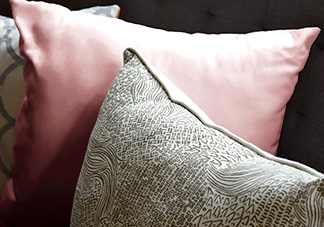 Pink, a blend of red and white, is a romantic hue most commonly associated with beauty, affection, and love. Like any color, pink comes in a wealth of shades and tones to suit any taste. Selecting the right pink is important to the atmosphere you want to create. Ranging from blush to fuchsia, pink creates a calming effect in any room. Pink throw pillows add a mild burst of rosy color without going overboard.
Modern Boho
Modern boho decor typically consists of neutral colors, creating the perfect palette to insert dreamy pink color. Because minimalist decor features muted tones and clean lines, pink is able to stand out regardless of the value selected. Neutral throw pillows in taupe and beige combine effortlessly with blush pink pillows, such as Highland Taylor Boulevard Blush or lush Highland Taylor Velvet Coral.
Traditional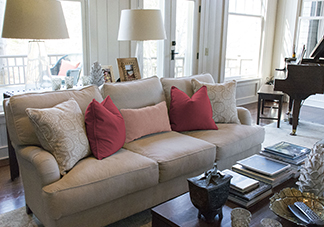 Pink is ideal for traditional decor. Plaid fabric in fuchsia pink and white works beautifully with traditional decor as it offers a classic pattern with stunning color. Layering dark pinks, such as Highland Taylor Boulevard Redbud with pale pinks like Highland Taylor SW France Rose provides depth and visual interest when used in traditional decor. Pink is also great when used in vintage traditional decor that features soft color and floral patterns.
Inspiring Color Combinations for Pink Throw Pillows
Pink and White
Pink and white is a simple yet elegant color combination that can be used in a variety of interior decor schemes. White provides an understated foundation to showcase light and dark pink hues. Fabrics featuring both pink and white, such as Highland Taylor Gates Blush and Al Fresco Coral Wreath Berry, are easily coordinated with white fabrics like Highland Taylor Sea Dew Alabaster or PARA' Tempotest Jacquard Lily. You can also pair solid pink with solid white, such as PARA' Tempotest Home Canvas Pink pillows and Outdura Canvas Natural White pillows.
Pink and Green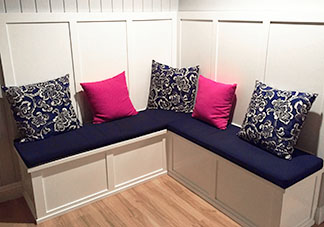 Pink and green is another timeless color combination. There are several combinations of pink and green that can be used to create stunning decor. Pale pinks are the most versatile because they combine easily with most shades of green. Light pinks stand out when used with saturated greens, like Robert Allen Linen Slub Malachite or Highland Taylor Sea Dew Olive. Light pinks are also appealing when paired with subdued greens, like Robert Allen Checkered Out Dew and Highland Taylor Velvet Jungle.
Pink and Navy
Pink and navy is an ideal color combination for creating a glam, preppy vibe. Hot pink fabrics, like Sunbrella Canvas Hot Pink, combine flawlessly with dark blue fabrics. Adding white to pink and navy provides beautiful contrast. Try Al Fresco Cabana Stripe Berry, which features both pink and white with Sunbrella Canvas Navy.