The Trend of Teal Throw Pillows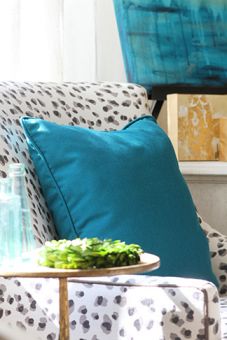 Get ready to recharge your spirits and energize your home with the magnificent color of teal! As a rich, jewel-toned hue that is versatile and adaptable, teal has become a top trending color. This vibrant hue possesses a unique ability to appeal to everyone as it resides in the blue family. With its yellow undertones, teal brings a positive energy to any room.
Teal also plays well with a variety of colors, making it a popular choice for throw pillows. Teal is most popularly mixed in with neutrals, but more recently teal has been used with coral, reds, and yellows for a wow effect! Combining teal with warmer hues is always eye-catching and never runs out of style.
Without spending a fortune on teal furniture pieces like an accent chair or ottoman or the time and effort it takes to paint a wall, teal throw pillows can add a playful pop of color to an industrial or modern room or a subtle sophistication to classic spaces. The lighter the shade, the more playful and calming the color becomes. The darker the shade, the more elegant and refined the color becomes.
Inspiring Teal Color Combinations
Teal and Coral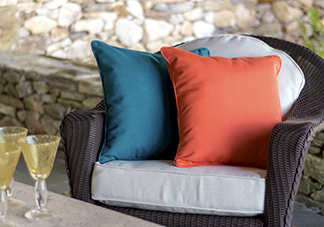 If you have ever been snorkeling or deep sea diving, you are familiar with beautiful coral plants that illuminate the ocean floor. Its color is a variation of oranges and reds, which just so happens to fall directly across from the color teal on the color wheel making them complementary colors. Sea-inspired characteristics and the natural ease exuded from these colors make them a dream palette for a beach house or any other seafaring-themed space.
Looking for Inspiration? Try Premier Prints Fireworks Coastal and Premier Prints Isadella Salmon/Slub on throw pillows for a modern explosion of color in a space, especially on bright white furnishings. For a subtle look, use muted fabrics like Sunbrella Cast Lagoon and Outdura Canvas Pottery for your outdoor areas. Whether subtle or bold, you will love the vitality this color coordination brings to your interior and exterior spaces.
Teal and Yellow
Yellow is a very flexible color that can work well with a wide range of colors - from white to black or purple to green. Its flexibility and bold energy complements the relaxing nature of teal and helps bring out the bolder side of the color teal. If you are looking to add warmth and life to a room, teal and yellow is the color combination for you.
Looking for Inspiration? Try larger 24" x 24" teal throw pillows mixed with neutral brown cushions. Or custom create your perfect teal lumbar pillows for cast iron chairs and wicker pieces around a dining table.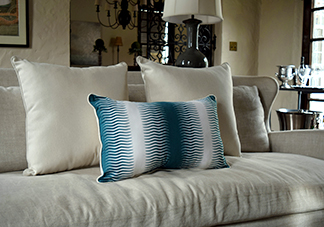 Ideas to Try the Color Teal in Your Home Without Commitment
If adding color to your home seems intimidating or you've had bad experiences with color in the past, start by experimenting with teal in your home in small doses. Small accent pieces like throw pillows, throw blankets, and other accessories will enhance any space. Create an accent wall with teal to give your room more freedom to add teal decorations and trappings to a room. Don't be afraid to bring a tranquil confidence to a living area. You never know, you may love it!