The Appeal of Purple
With a wide variety of tints, tones, shades, and saturations, purple is a versatile color that can ignite feelings of passion and prosperity with its deep tones or produce a tranquil and calming effect with its lighter tones. Purple throw pillows are an easy and effective way to help change the mood in any room. And with the wide range of emotion exuded from this color, purple throw pillows can bring anything from a serious and bold statement to a clean and airy presentation to any room.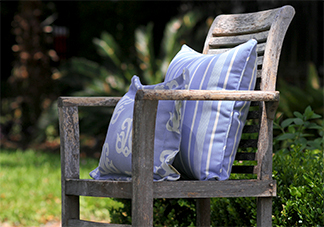 Make a Statement of Luxury with Dark Purple Throw Pillows
In ancient times, the process of creating the color purple was an expensive endeavor that only the rich could afford, which attributed purple to a royal and luxurious color. Today, dark purple tones continues to make a statement of posh luxury. Committing to multiple dark purple decor elements like throw pillows or drapes increases the level of sophistication in a room. Darker purples pull on underlying warmth tones making the entire room feel more opulent.
Inspiring Purple Color Combinations
Purple and Green Combinations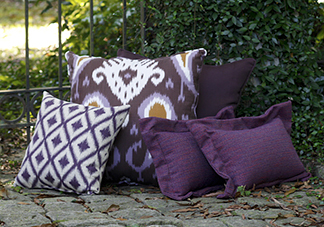 Iris, lavender, and lilac are soothing tints of light purple that are ideal for designing dreamy living spaces. Abundant natural lighting is key in making light purple work well in your space. Pale green, such as apple, pairs beautifully with light purple, delivering contrasting yet understated tones.
Purple and Gold Combinations
Richer saturations of purple, such as eggplant, mulberry, and plum, provide depth and visual interest to a room. These moody hues evoke notions of creativity and mystery which make them great for those who think outside the box with their decor. Pairing deep shades of purple with other colors can prevent a room from becoming too heavy. Fabrics in dark purple are often accompanied with complementary gold, yellow-orange, or chartreuse to enhance living spaces. Purple pillows featuring a pattern can break up the darkness of deep purple or the monotony of similar shades.