Introducing new Sunbrella Rain cushions from Cushion Source. Sunbrella Rain is an upholstery fabric that is designed for use immediately after a rain. Sunbrella Rain cushions are designed to minimize drying time, allowing you to use your cushions soon after the rain is over.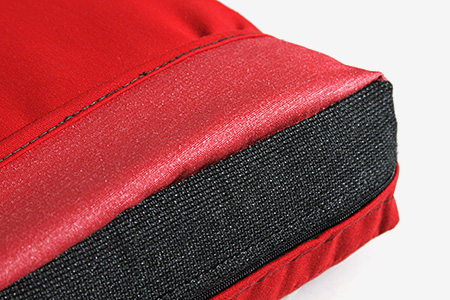 Full-Coverage Flap and Mesh Panel
Simply wipe off any excess water from the cushion and after a short drying time, you can enjoy your cushions.
Our full-coverage flap along the back of the cushion covers a breathable Sunbrella mesh panel and zipper, shielding it from the rain and helping the filling stay dry. Sunbrella Rain cushions are perfect for outdoor restaurant seating, poolside chaise lounge cushions, outdoor daybed swings, and much more.
Sunbrella Rain fabrics have a similar feel and look as regular Sunbrella upholstery fabrics. The underside of the Rain fabrics have a non-porous coating applied that acts as a barrier, stopping moisture from entering the cushion.
Choose from an assortment of Sunbrella Rain fabrics and any of our fillings to create your custom Sunbrella Rain seat cushions, bench cushions, daybed cushions, and chaise lounge cushions.