With hundreds of fabric choices, including top brands, such as Sunbrella, Robert Allen, Outdura, our bench cushions can be further customized with your choice of filling, welting, tie placement, and more. Our exclusive ordering tool allows you to see your cushion design right before your eyes.
We offer a variety of cushion fillings to help you make the right cushion for you. Our CumuPlush plus batting fill, is perfect for outdoor use. A layered polyester designed to resist mildew and does not retain water, this filling is recommended for all outdoor applications, but it may also be used indoors. The layer of batting creates a crowning effect may cause a gentle "rise" in the actual thickiness. We recommend the CumuPlush plus batting for outdoors since it drains the best after a hard rain. We do not recommend adding buttons on this style of outdoor cushions.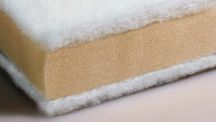 For indoors, you can choose between foam fill with a top layer of batting or a foam fill with a layer of batting on the top and bottom. A layer of batting is placed on top and bottom of the layered polyester fill, creating a plush and elegant look.
Our Optimal Comfort fill is comprised of four components: a foam core; a layer of Memory Foam MicroGel; a layer of batting on top, bottom and front; all enclosed in a water-resistant zippered ticking (shell). The batting on top and bottom allows the cushion to be flipped whenever necessary. This crowning effect may cause a gentle "rise" (½ to 1-inch) in addition to the requested thickness. These cushions are extremely comfortable, are weather-resistant and will hold their shape over time.