Energize Any Room with Yellow Throw Pillows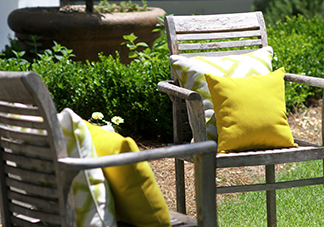 Yellow is an uplifting hue that can brighten any indoor or outdoor space no matter how it is used. This primary color comes in an array of shades ranging from pale and buttery to rich and golden. Yellow's dynamic power can make a bold statement or display sophisticated style, making it an excellent color to add to your home decor. Its versatility can be combined with several decorating styles, including boho, modern, and traditional.
How to Incorporate Yellow Throw Pillows into Your Home
Throw pillows are a great way to add this cheerful hue to your home. Yellow throw pillows make perfect accents that add a stroke of color without going overboard. Selecting a yellow fabric for your throw pillows depends on the coordinating colors you plan to use with it. Each yellow hue has its own personality, so it is important to choose the color that represents you best. Yellows with red undertones are typically seen as warm and inviting while yellows with blue undertones can make shades of yellow appear more vivid.
Modern Styling with Yellow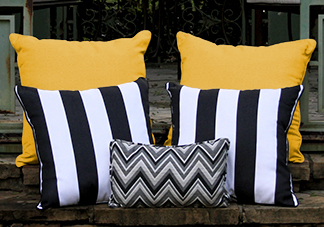 From storefronts to runways, yellow is featured everywhere. Paired with every color imaginable, yellow has always been a favorite accent color for designers. If you are looking for a more modern appeal, black and yellow is the perfect combination. When paired together, black and yellow provides an eye-catching setting due to their striking contrast. Vivid yellows featuring subtle blue tones work best with black. Combining Sunbrella Sunflower Yellow throw pillows with Al Fresco Cabana Stripe Ebony throw pillows and a Sunbrella Fischer Graphite lumbar pillow can bring the graphic, modern look outdoors.
Traditional Styling with Yellow
Many may associate yellow with a bold or edgy look, but using its more subtle tones, yellow can be a quintessential color for traditional style. Pairing white and yellow can produce a traditional appearance when added to a neutral palette.
Inspiring Color Combinations for Yellow Throw Pillows
Yellow and Blue
The combination of yellow and blue creates a beautiful contrast in the home. Adding yellow and navy blue throw pillows can bring a nautical touch to your decor, ideal for the beach or lake. Transform your dock seating with a Sunbrella Buttercup throw pillow, a Sunbrella Navy lumbar pillow, and a lighter blue and white striped Outdura Bistro Waterworks bench cushion.
Yellow and Gray
One of the best colors to pair with yellow is gray. Almost any yellow with red undertones can be paired with a shade of gray. Gray balances the sunny yellow tones, creating beautiful, understated contrast. Fabrics such as Highland Taylor Watercolor Yellow have patterns featuring both yellow and gray, making the search for coordinating fabrics simple.
Yellow and Turquoise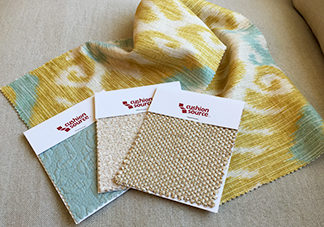 Another great color combination is yellow and turquoise. These two hues paired with lighter neutrals deliver a serene color palette that is ideal for traditional decor. Highland Taylor Florence Lemon Zest, a soft linen blend featuring a radiant yellow ikat print with turquoise accents, creates the perfect focal point for your sofa or bedding. Use this fabric with Highland Taylor Matelasse Bloom Mist, Robert Allen Loft Dove, and Highland Taylor Sorbet Oatmeal for elegant, textured bedding.