Video Tutorial
This video shows step-by-step instructions on how to measure for a chair cushion.
Measurements Needed:
Back Height
Seat Depth
Total Width
Thickness
Ideal for patio chairs, porch swings and more, joined cushions are made with a connected seat and back. Follow these steps to ensure a proper fit for your custom chair cushion.
Measuring Tips
Use a firm (carpenter's) tape measure, rather than a flexible (tailor's) measuring tape for the most accurate results.
Keep in mind that when ordering, you will need to round up or round down to the nearest 1/2 inch.
Do not order new cushions based on measurements of your existing or old chair cushions. Over time, cushions can become worn and the fabric stretched. Using these measurements will result in cushions that may not fit your furniture. Instead, measure the chair on which you will use the new cushion.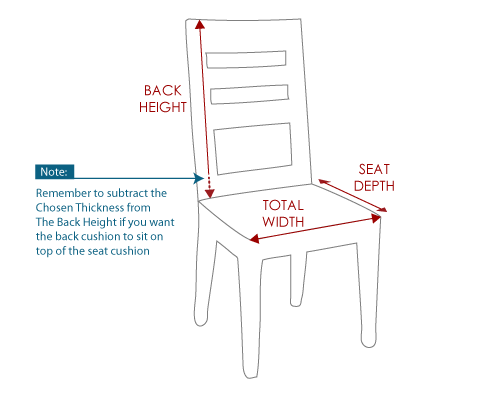 How to Measure Your Chair
Steps 1-4: Dimensions
Measure the total width of the chair's seat.
Measure the depth of the chair's seat.
Measure the total width of the chair's back support.
Measure the height of the chair's back support.
Step 5: Thickness
Decide the cushion thickness you would like.
Chair cushions are available 2-8 inches thick (in 1-inch increments), depending on the type of cushion you select.
Make sure to subtract the thickness of the seat cushion from the height of your bench's back dimension, or the back cushion will be taller than the chair back when put into position.
Is Your Chair Odd-Shaped?
If your chair seat or back is any shape other than rectangle/square, you will need to make and send a template (pattern) for your furniture. To learn how, visit How to Make a Template.
We're Here to Help!
If you have any questions, give us a call at 1-800-510-8325 or send an email. Our customer service representatives will be glad to help.