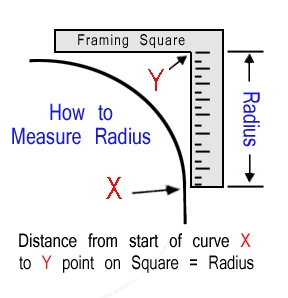 The standard radius on a cushion with rounded corners is 4 inches, except for tufted style wicker cushions, which feature a radius of 8 inches.
What this means is that if you take a framing square and place it so that it is along the edges of your corners (see diagram) and measure from where the curve starts to the corner of the square, that measurement will be the radius of your cushion's corners. Most furniture with rounded corners will conform to these specifications.
If you require a different radius, please order a unique-shaped cushion and read the info below.
Custom Round Corners: Template Required
If you would like a different corner radius on your custom cushions, you will need to make a template. This is simply a paper pattern made of newspaper, craft paper, or even the reverse side of wrapping paper, in the exact size and shape of the cushion you would like.