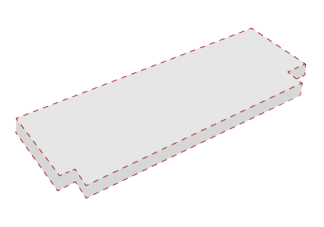 While standard cushion shapes are simple to build using our highly visually guided cushion builder, we can also create any shaped custom cushion using a template you provide. From notched corners to rounded corners to large shaped cushions or non-standard sizes, we can build anything you can imagine — and there's a good chance we've done it before!
What Are Unique Shaped Cushions?
Cushions that cannot be made as standard rectangles, trapezoids, squares or circles are considered unique-shaped cushions. All unique-shaped custom cushion orders require a template. A template is the only way to ensure we can get the curves, notches and unique angles properly constructed to your specifications. When in doubt, make a template!
A template is simply a paper or cloth pattern cut to the shape of the cushion you need. We prefer you create your pattern from either butcher paper or the plain side of wrapping paper, as these tend to make the best templates. You can tape multiple sheets together for larger patterns if necessary.
Please DO NOT send templates without ordering your Unique Shape Custom Cushion first. All unique shaped cushion products contain a dashed outline of the basic cushion shape you'll be creating. Since these are unique, your design and template may look nothing like the product image. To ensure that your unique custom cushion order is processed correctly, please carefully read our template directions. Please contact us if you need any help along the way, and we'd love to assist you!