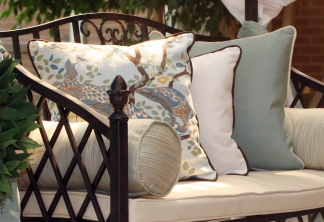 Cushion Source® offers custom throw pillows in an assortment of styles to fit any budget and fashion sense. Our custom kids' pillows are available with many beautiful and whimsical patterns perfect for babies and children, and you're sure to enjoy the luxurious feel and styling of our custom silk pillows.
Cushion Source® offers many options for your unique styling. We will also gladly use your fabrics for any of our custom pillows. You can even send us your own buttons for your pillows. Our specialty is providing our customers with custom pillows to suit your needs and style.
We have recently launched an exclusive line of designer throw pillows that includes pillows with flange, buttons and more.
Please Note: Pillow measurements are based on the distance from corner to corner along the sewn edge of the pillow when pulled tight, not the finished measurement of the width of the pillow. Please visit our How to Measure a Throw Pillow guide for more information.