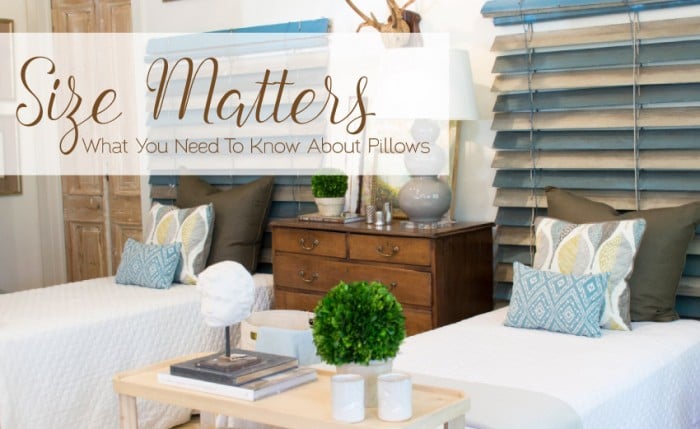 Pillows have been a part of the human experience for thousands of years. Their earliest uses were more comfort related, but it didn't take long for them to also be used as interior decorations. Pillows come in a wide variety of styles, shapes, and sizes: from bedding pillows made for comfort, to decorative and designer pillows, and floor pillows. What are standard pillow sizes? While there are standard sizes for bedding pillows, the standard sizes for many other styles of pillows often depend on where and how they are used.

How Do I Figure Out the Size of My Pillow?
Decorative pillow sizes are based on the size of the fabric that is cut to make the pillow. For instance, to make a 20" pillow, we cut two 21" square pieces of fabric. The extra inch allows for a ½" around the pillow edge to be sewn into the seam, leaving an empty pillow shell that is approximately 20" from corner to corner. Once filling is added to the pillow, added at 3-4" of thickness, the pillow will not measure 20" wide. Due to filling, the pillow plumps out, pulling the sides in giving a measurement closer to 17"-18" of actual width from side to side.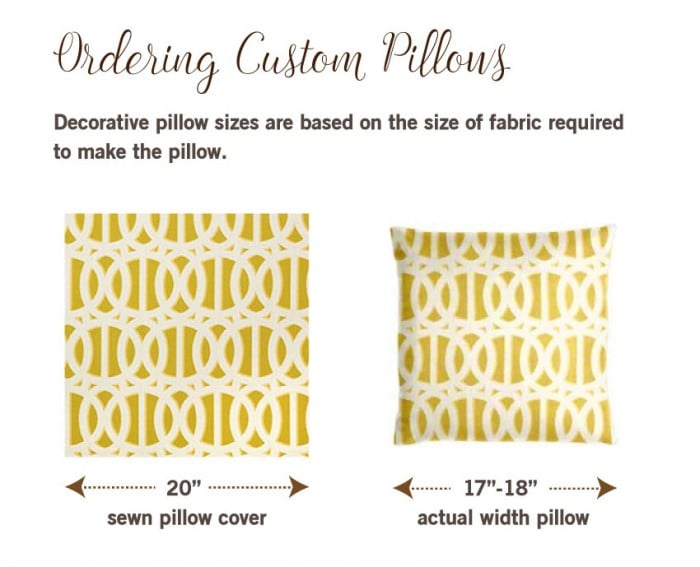 This can be aggravating for the customer who orders two 20" square pillows expecting them to span across a 40" wide area of a bench back, and once the pillows arrive, they seem too small. If you are concerned with the amount of coverage from pillows used as seat backs, you will need to take this into consideration when planning your throw pillow sizes.
Bedding Pillow Sizes
Standard pillow sizes for bedding are well established and agreed upon. There are four basic sizes.
Standard Pillow Size
The standard pillow size measures 20″x26″. You can place one standard pillow on a twin bed, two across a full or queen-sized bed, and three across a king-sized mattress.
Queen Pillow Size
A queen pillow measures 20"x30". Two queen pillows fit nicely across a queen bed. Both the standard and queen pillows use a standard pillow case.
King Pillow Size
A king pillow measures 20"x36". A pair of king pillows fit perfectly across a king bed, and they use a king pillow case.
Euro Pillow Size
A Euro pillow measures 26"x26". Euro pillows are popular internationally as bedding pillows, and many hotels offer them on their beds, along with standard sized pillows. At 26"x26", euro pillows are large, square pillows that were made to provide support for leaning against the headboard of a bed.
Pillow Filling Makes a Difference
What's on the inside of your pillows also matters. Basic bedding pillows are filled with a mixture of feathers and down. These are more economical than 100% down-filled pillows. Feathers help provide firmness; down adds loft. Down consists of the fluffy undercoat beneath the feathers of ducks and geese. Down holds up better than synthetic fills and provides the most luxurious feel and comfort. Synthetic fills and memory foam are also used in bedding pillows and are mainly used in hypoallergenic bedding pillows.
What are Luxury Pillow Fillings Made Of?
More luxurious bedding pillows are often overstuffed with goose down.
Pillows for People Who Sleep on Their Back
If you like to sleep on your back, a bedding pillow of medium firmness performs best as it cradles and supports your spine, neck, and head.
Pillows for People Who Sleep on Their Stomach
Stomach sleepers will prefer a soft, fluffy pillow to help keep your neck and head at a comfortable position.
Pillows for People Who Sleep on Their Side
A side sleeper will prefer a firmer pillow for a good night's rest. A firmer bedding pillow will allow the person sleeping on his or her side to keep their body in a straight line.

Decorative Pillow Sizes
Many interior designers agree that certain sizes of throw pillows work best for certain situations, even though there are a wide variety of styles and sizes of decorative pillows. There is no "standard" size for accent pillows used to enhance décor. That is a matter of opinion and design.
Decorative Pillows
Decorative pillows are often used to bring color to a drab setting or to help pull together colors from other elements in a room like the walls, drapes, and other furniture pieces. These pillows are often adorned with buttons, tassels, trims, and other decorative accessories.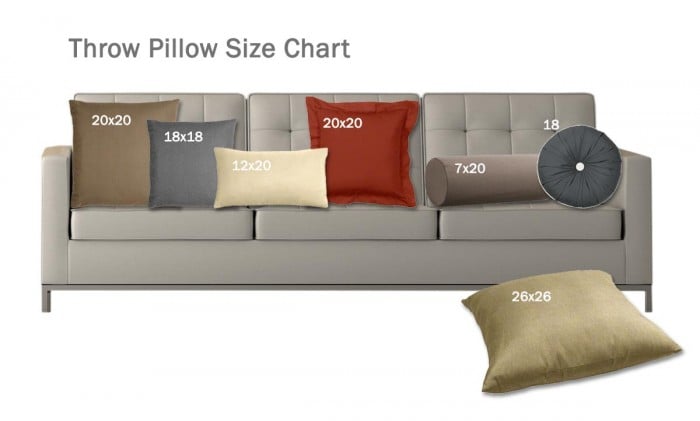 Throw Pillows
Throw pillows, or toss pillows, are typically small pillows that can be simply "thrown" into any position on a couch or chair. Looking around online for throw pillows, the standard sizes range from 16" square to a jumbo 24" square. As a custom cushion and pillow store, our consumer data has shown the best-selling size for a custom throw pillow is an 18" square.
Interior designer Ashley Gallion, of Montgomery, Ala., says that her standard pillow sizes are often up to 22" square. She fills her shop, Ashley Gallion Interiors, with a large variety of 20" throw pillows. "Squared pillows with a flange work great on sofas," Gallion said.
Round Pillows
Decorative, round throw pillows are also very popular. Round pillows are measured across the width, or diameter, of the pillow. Standard round pillow sizes are 14" in diameter.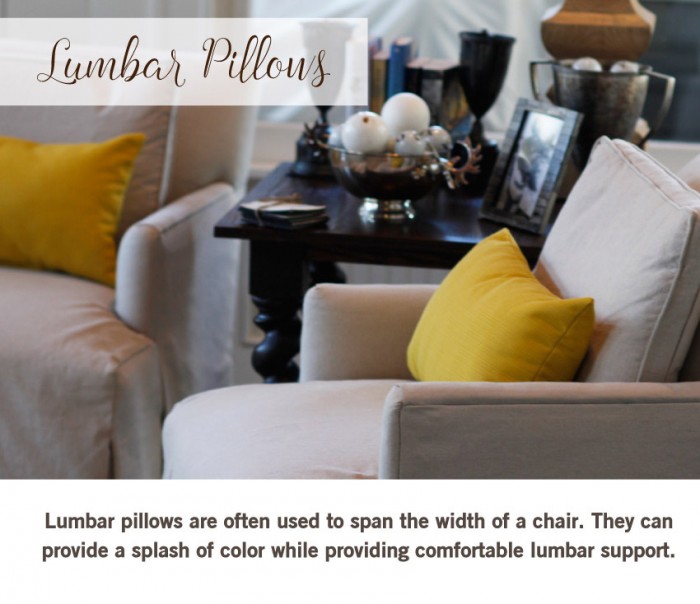 Lumbar Pillows
Lumbar pillows have become popular because of their abnormal shape. With most pillows usually produced as a square, rectangular lumbar pillows offer a visual difference and help move the eye throughout a room when used well. Most often, lumbar pillows are used to span the width of a club chair to help the chair seem larger. They can provide a splash of color while providing comfortable lumbar support. Standard lumbar pillow sizes are 14"x22". Larger lumbar pillows can be used for back cushions or support with other large floor cushions or pillows.

Bolster Pillows
Bolster pillows are cylindrical and are typically filled with foam, but they can be filled with pillow fillings for a more relaxed and softer style. Bolsters are ordered by choosing the width and the diameter. Our most popular size of bolster pillow is 20" wide with a 7" diameter. Coming up with a "standard" size for a bolster is not easy. They are available in diameters up to 12" and larger for longer width pillows. A large bolster may look totally out of place on a couch, but can look right at home when laying across a bed in front of a grouping of Euro pillows and other bedding or decorative pillows.
Floor Pillows
Floor pillows are simply oversized throw pillows on the floor. At Cushion Source, our standard size of floor pillows, or at least our most popular, would be 26×26". The bigger the better since these will be used for comfortable seating, and we can make a floor pillow as big as you like. Floor pillows are perfect for that crowd on game day or gathering around a favorite board game during family time.

Expert Advice: Decorating with Pillows
The standard size of throw pillows needed is dependent on the size of the area where they will be placed. Pillows that are 16" – 20" square will work well on larger sofas and chairs. Choosing smaller pillow sizes for large furniture may make them look out of place. Smaller patterned pillows can work well when used along with larger solid pillows in the background.
For photographs, we often fill a bench or window seat with so many throw pillows that you would have to remove some to be able to sit down. Lots of pillows may look great in photos, but for home decorating, an excess of pillows is not functional when it comes to actual sitting and comfort. Many interior designers will tell you if you have to move pillows to sit down, you have too many.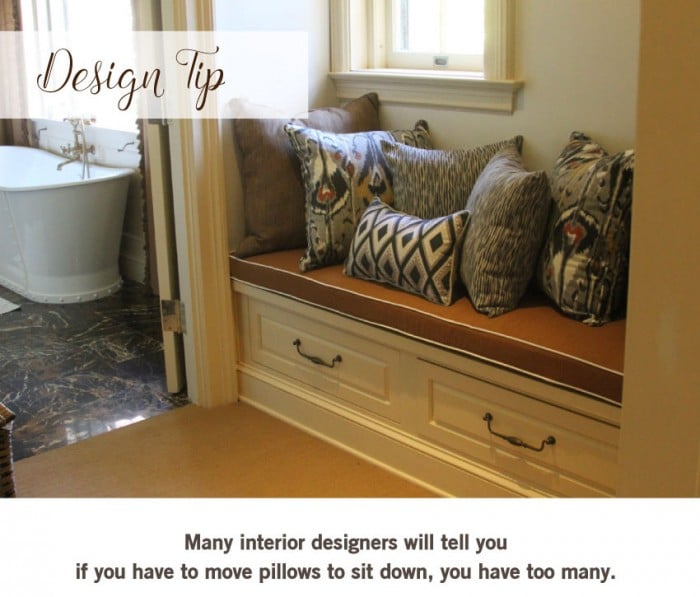 Often designers will say it is best to work with odd numbers. Instead of two pillows, try three or five instead of four. On most "standard" size couches that seat three people comfortably, three to five throw pillows work best. But even here, there truly are no hard and fast rules. If you want to use two pillows or four pillows, do it. However, you may want to make pairs of pillows with the same fabric or design. Good design and preference can be subjective, so go with your instinct, and do what you think looks best for your room or situation.
Just as the rules for decorating are not set in stone and are up to individual interpretation and tastes, so are the rules and standards for decorative pillows. To help you out, we offer the choice of sizes, fabrics, and features so you can get the exact pillows you need. Find inspiration in magazines and from sites like Pinterest, but trust your gut and go with what you like. Set your own design standards, and you will not be disappointed!