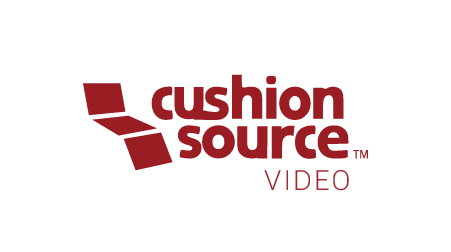 Industry Fabrics
The first difference is the way the product feels. A cushion or pillow imported from China is usually very stiff and uncomfortable. It feels like plastic because it's made with a cheap polyester fabric. At Cushion Source, you can select from our large assortment of designer-grade fabrics like Robert Allen, Sunbrella, and Outdura. Our Sunbrella and Outdura outdoor fabrics are actually made with 100% solution-dyed acrylic fibers, which are soft to the touch, easy to clean, and are guaranteed not to fade for five years.
What's solution-dyed acrylic?
Solution dying is a process where the dye is added to the acrylic fiber solution during the liquid state, rather than applied to just the outer fiber or fabric. For example, compare a carrot and a radish. When you cut into a carrot, the orange color on the outside is consistent throughout the carrot, while a radish has a beautiful red color only on the outside; when you slice into it, the inside is white and colorless. So solution-dying also allows the fabric to be stain and fade resistant. You can leave your cushions out in full sunlight and they won't fade. This also makes them great choices for window seat cushions. What about most large retailer or "big box cushions?" They will probably fade after one season.
What about stains?
Sunbrella and all of our outdoor fabrics are very easy to clean. Most stains will come off with a mild soap and water solution. We do have cleaning instructions if you have a particular stain you're trying to remove and need help.
Quality Craftsmanship
Cushion Source pays careful attention to detail by making sure the fabric stripes are centered all the way around, matching up with the stripes on the front and back panels of our cushions. Our seams are carefully hidden and sewn with care.
Cushion Source offers zippers on our box and crown style cushions, and most of our throw pillows, to remove the fabric shell for spot cleaning. Our tufted cushions do not have zippers and are sewn shut since they have a loose, blown filling.
Premium Filling
At Cushion Source we offer several types of cushion fillings, depending on your intended usage. For indoor cushions, we offer a high-density foam filling that holds up well to repeated usage. We also also offer a layered poly-fill that is great for outdoor cushions. For a more finished and filled style, we add a layer of poly-fill on the top and bottom of high-density foam in our crown-style cushions. Our poly-fill is water resistant, so when it rains it will not retain water, it will actually go right through, which also helps to fight against mold and mildew growth. Our tufted cushions are filled with a loose, poly-fill that is blown into the cushions, then the cushions are sewn shut. Other, made in China imported cushions and pillows are flimsy and flat and there's not a whole lot of firmness provided. Inside the cheap import cushions is thin polyester batting which is very insubstantial, especially compared to our CumuPlush brand of polyfill which is made with a special blend of poly fibers which allows for a firmer filling.
Large Selection of Options
When you go to a big box retailer you choose from a small selection of cushions, which have a limited selection of color, size and style options. Cushion Source allows you to choose your style of cushion, select from hundreds of fabrics, provide your own custom dimensions and thickness, your filling, ties and trim. We offer hundreds of indoor and outdoor fabrics, but if you don't find the fabric you want, we accept customer owned material or COM.