Standard Foam Fill for Indoor Use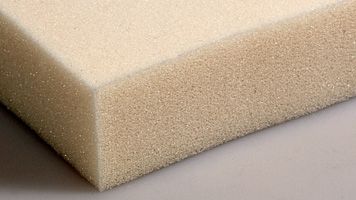 Foam is excellent as cushion filler for indoor use due to its firmness and resiliency. However, it is not recommended for outdoor use due to its tendency to retain water. Foam is made utilizing soy-based chemicals, which does not affect food stock supplies and helps reduce the dependence on petroleum-based chemicals used in traditional foam manufacturing.
Standard Foam is also a component in some other fill types, including Premium Indoor Fill and Optimal Comfort Fill. Foam is available 2-8 inches thick, depending on your preference and the type of cushion or pad you choose.
Safety Standards
Foam is certified for use in all foam applications in accordance with the following codes:
Technical Bulletin 117, Section A, Part I and Section D, Part II, State of California, Department of Consumer Affairs
U.F.A.C. Approved
Environmental Impact
Foam Fill has been independently laboratory tested and certified to meet standards for content, emission and durability also known as CertiPUR-US. CertiPUR-US is a voluntary testing, analysis and certification program developed by the global flexible polyurethane foam (FPF) industry. Being CertiPUR-US approved means Foam Fill has the following characteristics:
Low-emission VOCs for indoor air quality
Made without ozone depleters
Made without PBDEs
Does not contain mercury, lead or heavy metals
Formaldehyde is not used in manufacturing
Made without phthalates
In addition, part of the manufacturing process of Foam Fill is the use of filtration beds, helping contribute to a green environment. By purchasing custom cushions with Foam, you are helping save the environment in the comfort of your own home.
Density and Firmness
Foam density is 1.8 lbs. (weight if it were a 12" x 12" x 12" cube)
Please note that density does not correlate to comfort.
Density is a key flexible polyurethane foam specification. It is an important indicator of foam performance with regard to support and durability. It is also an indicator of the relative economics of the foam. Foam density is not weight. It's actually a measurement of mass-per-unit volume for a cubic foot of foam.
All of the Foam that is used is a 21-29 pound firmness, or IFD, depending on thickness. IFD (Indentation Force Deflection) is a standard measurement value to describe foam firmness in upholstered furniture. The higher the number, the firmer the foam will feel.
An IFD number represents the pounds of force required to indent a foam sample by a specified percentage of its original thickness. Specially designed equipment is required to measure IFD. In most cases, a 50-sq.-in. round indentor plate is attached to a vertical piston-like cylinder having a precisely calibrated stroke. Following the standard procedures detailed in ASTM D3574, firmness is measured on foam samples having a square surface area of at least 15 inches square. Surface firmness is measured at 25 percent sample indentation (IFD). As an example, using a 4" thick sample, the 25 percent IFD reading would be made while the foam is indented to 3" height under the piston foot plate, 25 percent deflection of the sample height.