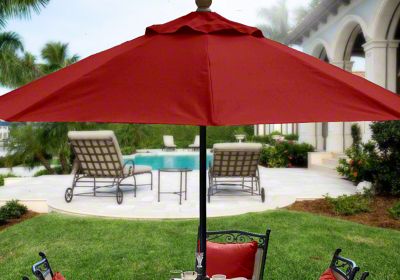 Our wide selection of custom and pre-selected umbrellas can complete the look of your backyard or gathering place. From patio umbrellas with a valance, to market umbrellas with a straight-edge canopy, the variety of outdoor umbrellas from is unparallelled. Choose from hundreds of beautiful, high-quality fabrics to coordinate your umbrellas, pillows, cushions, and more.
Each detail of our designer umbrellas was hand selected by our in-house designers for a contemporary, fun feel. Perfect for your home, business, or beach house, these beautiful umbrellas will add energy to any outdoor space.
We also offer a selection of umbrella stands to complete your purchase. Choose a decorative or traditional stand or even an in-ground stand to meet your needs.