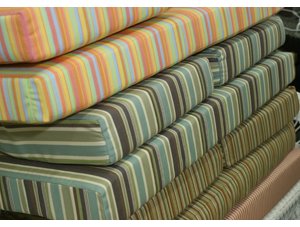 What is a Cushion?
A cushion is made from multiple types of material and in multiple shapes that provides comfort when sitting or lying down. Most cushions are filled with foam or some other poly material depending on how much comfort the manufacturer is looking for. Cushions may be used for sitting or kneeling upon, or to soften the hardness or angularity of a chair or couch. Outdoor cushions are becoming more and more popular based on the advanced quality of the outdoor fabrics that are available on the market today. They can be placed on chaise loungers and used to prevent annoyances from itchy grass and insects. The indoor cushion is a very old article of furniture - the inventories of the contents of ancient palaces and grand houses in the early Middle Ages constantly made mention of indoor cushions. Cushions back then were often very large in size – something we would call a floor pillow today. Most of the indoor cushions history has revealed were covered with leather and firm enough to serve as a seat.
Cushion Types
Chair Cushion
chair cushions were first used on many types of chairs to add comfort for long hours of sitting. Cushions were quickly seen as a way to add both comfort and style to many styles and types of chairs. Early Victorian furniture style combined both chair cushions and upholstery for elegance and individualized decorative tastes. Chair Cushions generally refer to a separate cushion placed upon a chair to add comfort and style. Most chair cushions have ties to keep them from slipping off the chair or from moving about during use. The ties are usually place in the rear corners of the cushions and are tied around the chairs uprights. Chair cushions are also commonly made to have the bottom section of the seat and the back section of the seat as separate cushions or joined together to make one cushion with the seat cushion and back cushion connected. These usually have two sets of ties. One set to keep the seat bottom from moving during usage and another set located at the top of the back section of the cushion to keep it in place at all times.
Bench Cushion
Bench cushion refers to a style or type of cushion that is used to provide comfort and style to an indoor or outdoor seating bench. Bench seat cushions range from a two-seat bench to as long as a four or more seat bench. Our bench cushions are available in both indoor and outdoor fabrics. Bench cushions come in depths from 8 inches up to 48 inches and in widths from 8 inches to 205 inches. Most common thicknesses for bench cushions is 2 or 3 inches, although recent trends and customer preference are for the more comfortable 4 to as much as 8 inches thick. Like Chair cushions, bench cushions can have the bench bottom and bench back section as two separate cushions or joined together in a bench bottom and bench beck connected style.
Chaise Cushion
Chaise Cushions - the most popular and comfortable outdoor cushion types are for the classic chaise lounge chair. Most chaise are 3 to 4 inches in thickness and are most commonly made with boxed edge styling or boxed with double welting style. Chaise cushions are the ideal choice for outdoor, fade resistant, mildew resistant, water repelling Sunbrella furniture grade fabrics. Sunbrella fabrics offer a long life of exceptional wear and tear as well as a 3-year guarantee against fading. Chaise cushions are predominantly used in outdoor patio setting where chaise cushions and chaise lounge seating make chaise cushions the best choice for outdoor seating.
Rocking Chair Seat Cushions
Rocking chair seat cushions are a derivative of chair cushions, rocking chairs cushions can also come with two separate cushions for the rocking chair seat and rocking chair back section. As with Chair cushions, rocking chair cushions can also be made to have the rocking chair seat and rocking chair back sections joined to make a seat and back connected style cushion. Rocking chair cushion as very often found in front porch setting as well as indoor rocking chair cushions for all type of indoor rocking chairs.
Window Seat Cushions
window seat cushions for windows seat became very popular in the 1950's as new house style began to emerge with bay style window that extends from the outer most exterior wall of the house. Many bay style windows are the perfect choice for decorating and adding style and personal taste. Adding a cushion to a bay style window converts the space for use as a seating area. Window seat cushions are commonly made with rectangle style, bow style or classic trapezoid style. Most common choice for window seat cushions are boxed double corded style with tow to 4 inches in thickness most commonly used for these setting.
Wicker Cushions
Wicker cushions, also known as Rattan furniture cushions. Wicker cushions offer both highly individualized decorating appeal and comfort. Wicker and rattan cushions typically come in both flat / firm style cushions or the classic over-stuffed / tufted style cushions. The classic overstuffed wicker cushions are usually either button tufted to keep the filler material in place as the cushions ages, as well as add style and elegance.
Deep Seating Cushions
Deep seating cushions really began to grow in popularity about two years ago as more and more homeowners have trended toward making their outdoor living space the main focal point of their living style. When entertaining outdoors, nothing says comfort and luxury like our deep seating cushions. It's like having the comfort and style of your living room sofa in your outdoor living space.
Church Pew Cushions
Church pew cushions refer to cushion type that are placed on or affixed to church pews or church seating. They are usually made up of either a single, lengthy cushion of varying depths, or several smaller cushions that span the entire length, or width, of the church pew. Most church pew cushions are made with either boxed edged styling or double welting and are usually two inches in thickness. Church pew cushions can also be made as a long straight cushion or a long arching or curved shape to match the shape of the individual church pews.
Cushion Styles & Extras
Boxed-Edge Cushions
The construction of these cushions has a vertical sidewall that is the same height as the thickness of the cushion. These cushions are made by assembling the top and bottom section of the cut fabric to the sidewall fabric to form a box. This style of cushion is also commonly referred to as 'welting'. A five inch thick cushion would have a five inch thick sidewall sewn together with the top and bottom sections of the cushion fabric.
Knife-Edge Cushions
Knife edge cushions are cushions that are made by sewing together the top and bottom fabric panels to make a more traditional sewing seam. These type cushions do not have a sidewall like the boxed edged or welted cushions. This style of cushions is most common for smaller thicknesses like one or two inch. Some even prefer using knife edge cushions for as much as three inches, however the finished look on thicker cushions with knife edges style begins to take on the appearance of a pointed or arrow head tip on the side of thicker cushions made with knife edge styling.
Single-Welted Cushions
Cushions made with single welting style on the outer edges of the cushion are very similar to knife-edge cushions except that the seam where the top and bottom panels of the fabric, another small section of fabric is sewn around a thick string or cord and sewn into the seam of the cushion. Single welting is used only with knife edge style cushions. The appearance of single welting is sometimes referred to as a 'waterfall' style cushion, as the top edge of the cushion fabric proceeds over the top edge of the cushion to where it meets the seam where the welting is sewn in.
Double-Welted Cushions
Double-welted cushions are used for cushions with boxed or welted style edges. Like the single corded cushions, where a thin strip of fabric if sewn around a heavy gage string or cord and sewn into the seam of the cushions. With double welting, or 'boxed double welting' as it is also commonly referred to, the welting is send into both the top and bottom seams of the sidewall fabric panel of the cushions along with the top and bottom fabric panels. The thickness of the cushions typically dictates how far apart the welting on the sidewalls will be.
Cushion Ties
Cushion ties are used to tie or affix a cushion to the individual piece of furniture the cushion is being used on or made for. For a chair bottom cushion the ties are placed in the back corners of the cushion and are tied to the chair uprights. On a chair back cushion the ties are located at the top corners of the cushion and are tied to the top of the chair uprights. One other style cushions the ties are located in a position to allow them to hold the cushion in place on the furniture. A Chaise cushion for example typically has the ties located at the location where the top and bottom section of the chaise cushion are joined together to hold the mid-section of the cushion to the chaise lounge chair. There are also ties places at the top of the chaise cushion to hold the top section of the chaise cushion in place on the chaise lounge chair. Steamer deck chairs usually have similar placement as chaise lounge chairs. Bench cushions ties are usually strategically place the same as seat cushions, on the back rear corners for affixing to the bench upright sections.
Pillow Types
Throw Pillows
A throw pillow, or toss pillow, is a small, decorative type of pillow. Throw pillows are usually placed on sofas or armchairs but are also frequently used on beds and day beds. Throw pillows serve both an aesthetic and a functional purpose. Decorative pillows are commonly used to tie in color accents within a room, often drawing on the colors in drapes, walls or area rugs. From a functional perspective, throw pillows provide back, neck and head support. Throw pillows come in various sizes and shapes. The most common size throw pillow is 16 to 18 inch square. However, rectangular, circular and cylindrical throw pillows, called bolsters, are also popular. Outside the United States, throw pillows are more commonly referred to as cushions. Throw pillow and decorative cushions are made from a wide range of textiles including silk, leather, micro-fiber or faux suede, cotton, linen and hemp. In recent years, decorative pillows have been revived as an artistic medium. Fashion designers have become increasingly attracted to the lucrative home textiles or furnishings market and this has led to a wide range of more embellished looks and styles.
Toss Pillows
Toss pillows that are purely decorative and not designed for support or comfort. See also "Throw Pillows"
Bolster Pillows
Bolster pillows are a long narrow pillow or cushion. tr.v.bol·stered, bol·ster·ing, bol·sters1. To support or prop up with or as if with a long narrow pillow or cushion. Bolster Pillows are commonly used in India style decorating and many other indoor or outdoor patio decorating styles and tastes. Bolster pillows are available with a removable inner bun. This allows the outer shell to be easily removed for cleaning or cleaning your outer shell for season decorating needs. Bolster pillows are available in all diameters and lengths, made in both knife edge and corded styles.
Body Pillows
Body pillows are larger long pillows used to support the entire body, usually used while sleeping in a bed, or for the body as used on a couch or chair. Body pillows are great for curling up with a good book, watching your favorite movie, or to snuggle up with while sleeping. This is especially true for the long cold winter nights, where the body pillow can provide additional insulation and warmth for the body during sleeping hours. This is when the body's temperature typically drop and body pillows can help provide warmth and comfort.
Floor Pillows
Floor pillows are larger square and rectangular shaped pillows designed for lounging on the floor with while watching TV, napping, or just relaxing with a book. Popularity for these style cushions and pillows has grown rapidly with the in home theater trend in home entertainment. Most homes with home theaters are adding a collection of floor pillows to their theatre space. Floor pillows provide hours of comfortable relaxation and provide additional seating and relaxation space when you have friends and family visiting. Floor pillows are a great holiday item and for all other occasions when the house is full of guests and the regular furniture seating capacity is being used. The lucky guests who get to use the floor pillows will enjoy the comfort and leisure style that most standard indoor furniture cannot offer.
Furniture Terms
Patio Furniture
Garden furniture, also called patio furniture, is a type of furniture specifically designed for outdoor use. It is typically made of weather resistant materials. The oldest surviving examples of garden furniture were found in the gardens of Pompeii. A wide range of garden furniture is now manufactured and used worldwide. The materials used to manufacture modern patio furniture include stones, metals, vinyl, plastics, glass, and treated woods. Garden furniture is often sold as a patio set consisting of a table, four or six chairs and a parasol. Garden parasols are a specialist type of umbrella designed to provide shade from the sun. Parasols fit through a hole in the center of the table and are secured in a base. Long chairs, referred to as chaise lounges, are also common items. Patio heaters that run on bottled gas are often used to enable people to sit outside at night or in cold weather.
Patio
A patio (from the Spanish: patio meaning 'back garden' or 'backyard') is an outdoor space generally used for dining or recreation that often adjoins a residence and is typically paved. It may refer to a roofless inner courtyard of the sort found in Spanish-style dwellings or a paved area between a residence and the garden. Patios are typically made of concrete or stone slabs laid over a firm base. This base is often formed of a layer of compacted hardcore (stone chips), a layer of sharp sand, and a layer of cement mortar. The firmness and stability of the base is essential to the robustness of the top layer of slabs - an infirm base will typically result in cracked slabs. Patios that hold a lot of weight, such as driveways, require stronger foundations than those that are designed for light use.
Chair
A chair is a piece of furniture for sitting, consisting of a seat, a back, and sometimes arm rests, commonly for use by one person. Chairs also often have four legs to support the seat raised above the floor. Without back and arm rests it is called a stool. A chair for more than one person is a couch, sofa, settee, loveseat, recliner (two-seater without arm rest in between) or bench. A separate footrest for a chair is known as an ottoman, hassock or poof. A chair mounted in a vehicle or in a theater is simply called a seat. Chairs as furniture typically can be moved. The back often does not extend all the way to the seat to allow for ventilation. Likewise, the back and sometimes the seat are made of porous materials or have holes drilled in them for decoration and ventilation. The back may extend above the height of the head. There may be separate headrests. Headrests for seats in vehicles are important for preventing whiplash injuries to the neck when the vehicle is
Chaise Lounger
A chaise lounge is an upholstered couch in the shape of a chair that is long enough to support the legs. It is often also called "chaise lounge" in North America, particularly in the furniture industry. This spelling and pronunciation has become well-established and can be found in American English dictionaries, and is an example of a folk etymology. Note also that in modern France, the term chaise lounge often refers to any long reclining chair such as a deckchair.
Rocking Chair
A rocking chair or rocker is a chair with two curved bands of wood (also known as rockers) attached to the bottom of the legs (one on the left two legs and one on the right two legs). This gives the chair contact with the floor at only two points granting the occupant the ability to rock back and forth by shifting his/her weight or pushing lightly with his/her feet. Many find rocking chairs soothing because of the gentle rocking. Rocking chairs are also comfortable because when one sits in one without rocking the chair automatically rocks backwards until the sitter's center of gravity is met thus granting the ergonomic benefit that the occupant is kept at a very unstressed position and angle.
Outdoor Furniture
Outdoor furniture is typically made of weather resistant materials. The oldest surviving examples of garden furniture were found in the gardens of Pompeii. A wide range of garden furniture is now manufactured and used worldwide. The materials used to manufacture modern patio furniture include stones, metals, vinyl, plastics, glass, and treated woods. Garden furniture is often sold as a patio set consisting of a table, four or six chairs and a parasol. Garden parasols are a specialist type of umbrella designed to provide shade from the sun. Parasols fit through a hole in the centre of the table and are secured in a base. Long chairs, referred to as chaise lounges, are also common items. Patio heaters that run on bottled butane or propane are often used to enable people to sit outside at night or in cold weather.
Bench
A bench is a long seat fit for several persons, with or without back and/or arm rests, for sitting indoor (often in rows) or outdoor (as in a park). Benches are most often found in bus stops, parks, and cafeterias. Some benches are dedicated as a small memorial.
wicker Furniture
Wicker furniture is any sort of hard woven fiber formed into a useful object. Wicker is usually used for baskets or furniture. Traditional wicker is made of material of plant origin, but nowadays also plastic fibers are used instead of the origin organic wicker. Materials used can be any part of a plant, such as the cores or canes of rattan stalks, or the whole thickness, as with willow switches. Other popular materials include reed and bamboo. Often, a frame is made of stiffer materials, after which more pliant material is used to fill in the frame. Wicker is light yet sturdy, making it an ideal inexpensive option for furniture that will be moved often. It is often used for porch and patio furniture. Wicker furniture has been documented as far back as ancient Egypt and wicker baskets have been found in Pompeii. It has been proposed that the extensive use of wicker objects in the Iron Age had an influence on the development of the patterns used in Celtic art. In recent times, its aesthetic value has been influenced heavily by the Arts and Crafts movement at the turn of the 20th century. The oldest and most prominent North American manufacturer was Heywood-Wakefield in Gardner, Massachusetts. Antique wicker products are highly sought after by collectors
Sunbrella® Terms
Sunbrella® Fabric
Sunbrella® fabric is beautiful, long-lasting and easy to clean solution-dyed acrylic fabric made by Glen Raven Mills. . From the ocean to the mountains, and all points in between, Sunbrella® lets you bring out your inner sense of style. Our tough, long-lasting fabrics handle the worst Mother Nature can give, year after year. From the baking sun to endless rain, furniture featuring Sunbrella® fabric looks great in any season, and is backed by the best limited warranty in the business. The durability that makes Sunbrella® ideal for the great outdoors will give you peace of mind on indoor furniture as well. Best of all, Sunbrella® is now available in the rich colors, luscious textures, exquisite patterns and soft hand that you love on your indoor furniture. Indoors or out, Sunbrella® has you covered. At Sunbrella®, you don't just pick out a furniture fabric - you choose a lifestyle, which is why we've designed a remarkable fabric to support you and your family for years to come.
Sunbrella® Rib Fabric
Our Sunbrella® Rib fabrics give a classic ribbed texture. Sunbrella® Rib is fade and stain resistant, so there is no need to worry about exposure to sun or weather.
Sunbrella® Sheers
Perfect for outdoor drapes Romantic. Luxurious. High performance. Never before have such qualities come together as they do in Sunbrella® Sheer fabrics. No matter how lovely, our new sheer designs provide the same excellent stain and fade resistance offered by Sunbrella® fabrics for over 45 years. Perfect for draperies and other embellishments, they're also fast drying to help avoid structural damage due to the weight of water And of course, they're easy to clean. With so much to offer, they're sure to inspire your own genius.
Sunbrella® Shade
Featuring an open weave construction and a special flow-through finish, Sunbrella® Shade is perfect for shading applications where some light passage is desirable.