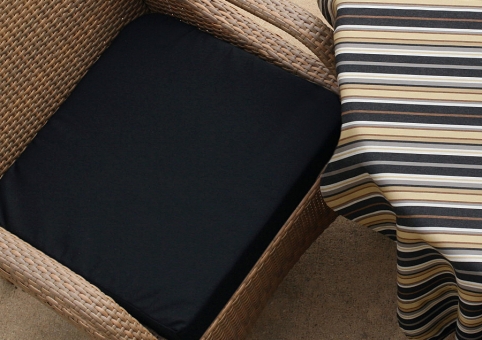 There are a multitude of options available at Cushion Source when ordering new seat cushions for your dining chairs, barstools, patio chairs or other seating. Take a moment to consider the following questions before finalizing your custom seat cushion order.
What shape seat cushion are you looking for?
Cushion Source offers standard square (or rectangle) seat cushions, but also offers round, trapezoid and unique-shaped. When you take measurements for your cushion, you may be surprised that the chair you thought was square is actually trapezoid. If the front width measurement is at all different from the back width measurement, be sure to order a trapezoid cushion. Unique-shaped cushions include those that do not fit any of the other categories. Your unique-shaped cushion may include notches in the front or may be intended for a piece of custom furniture that standard shapes will not fit.
Are you ordering seat cushions for outdoors or indoors?
This fundamental question will allow you to best choose a fabric and fill type. Particularly for cushions that will be used outdoors, it is important to choose both an outdoor fabric and an outdoor filling.
Seat cushion fabrics
Cushion Source offers the largest selection of cushion fabrics online, including hundreds of indoor-only options and hundreds of outdoor fabrics. Our outdoor fabrics are made from solution-dyed acrylics and are resistant to staining and fading. The selection of indoor fabrics includes a wide variety of material types. Either option is filled with traditional and trendy patterns, solids and stripes. Note: If you choose a striped fabric, please indicate whether you would prefer the stripe to positioned vertical (front to back) or horizontal (side to side).
You'll also be asked if you want welting on your custom seat cushions. Welting, sometimes called piping or cording, is a decorative trim along the seams of the cushion. This is not necessary but many customers choose welting in an accent color or in the same fabric as the cushion to add extra style to their seat. If you have chosen to add welting on a cushion with buttons, you'll also be asked if you want to match the button fabric to the main cushion fabric or to the welting fabric.
Seat cushion fill types
You may choose between three fill options for your seat cushions. Two of these styles are best used indoors, while the third is our popular outdoor seat cushion fill.
Standard Comfort
CumuPlush: Designed not to retain water and to resist the growth of mildew, this is the best choice for outdoor seat cushions.
Foam: A firmer option than outdoor CumuPlush, this fill type may retain water and is recommended for indoor use only.
Premium Comfort
Premium Outdoor (CumuPlush + Batting): This filling is recommended for outdoor applications and may also be used indoors. CumuPlush is a special layered blend of dry conjugate fiber and densified polyfiber designed to not retain water and resist mildew. Batting is added to the top and bottom of the CumuPlush to give the cushion an elegant, rounded look. Thickness measurements are taken seam to seam. This fill choice will create an additional 1" to 2" loft on both sides of your cushion.
Premium Indoor (Foam + Batting): Designed exclusively for Cushion Source's deluxe cushion style, this fill type features a firm foam center, wrapped in CumuPlush batting, which gives the cushion a rounded look and an additional 1- to 2-inch loft on top and bottom of your seat cushion.
What will be the dimensions of your seat cushions?
Inputting the desired width, depth and thickness of your seat cushion is perhaps the most important part of the ordering process. We highly recommend you follow the specific directions outlined in our seat cushion measuring guide. It is important that you measure the furniture on which your cushion will be placed, not your old seat cushion, because over time the fabric on your seat cushion may have stretched out of shape. When ordering, enter fractions as decimals and round to the nearest half-inch.
Thickness
The thickness of your seat cushion is a matter of personal preference. Our most popular thickness is 3 inches, however as a general guideline, the thicker your cushion, the more comfort you will get out of it. Cushions that are 2 inches thick are considered seat pads and should be ordered as so. For standard or deluxe style cushions, you may choose to make your cushion anywhere from 3 inches to 8 inches thick. If you will also be pairing your seat cushion with a back cushion, you'll need to subtract the thickness of your seat cushion with the height of your back cushion.
Would you like the corners of your seat cushion rounded?
Again, this is entirely a matter of personal preference. You may choose a seat cushion with all squared corners, all rounded corners, or a rounded front or rounded back. Choose the option that suits your style best.
Do you want ties on your seat cushion?
Ties on your cushion will allow it to stay secured to your furniture. Each fabric tie is 12 to 14 inches in length. You may add these optional ties to each side in the back, to both front and back, or on the left and right side. In order to determine which option is best for you, take a look at your particular furniture and envision each tie location. You may also choose to not add ties.
Complete your order
After you have chosen all options, input the number of custom seat cushions you would like with these exact specifications. After your seat cushion has been added to your cart, click "details" on your item to review your custom cushion order before you enter Cushion Source's secure checkout.
Your order will be custom-made to your specifications and will ship within 15 business days. If you have questions about your order after it's completed, please contact us.