Premium Indoor: Elegant Loft, Extra Comfort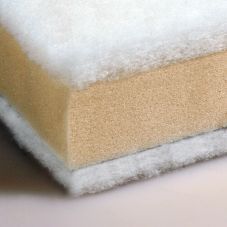 The Premium Indoor Fill's crowning effect is created by adding a layer of batting to the top and bottom of a Foam Fill core. This increases the comfort and the visual appeal of custom cushions.
Premium Indoor Fill cushions are one of the few filling styles that has the capability of adding buttons. Several button patterns are available. Premium Indoor Fill is available for Deluxe Cushions and Deep Seating Cushions only.
Please note: The batting feature of Deluxe Comfort Cushion will add ½ to 2 inches of loft to your cushion, in addition to the thickness you select. This loft occurs on both the top and bottom but not on the banding (sides). The amount of loft depends on the size of the cushion and the fabrics selected. The measurement of thickness will be taken seam to seam on the banding and does not include the loft added by the Premium Indoor Fill feature. Please consider this when selecting your cushion thickness.