Pillow-Like Filler for Back Cushions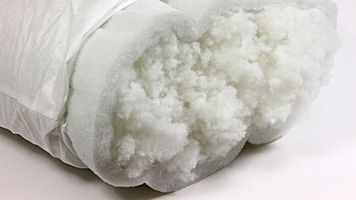 Specifically designed for use in seat back cushions, Plush Fill consists of loose poly fiber wrapped in a 2 oz. layer of synthetic polyfiber batting, enclosed in a cotton shell. The addition of a 2-inch thick polyfiber wrap overlay offers an intermediate level of cushion firmness — improving the structure of cushions that are fabricated solely with Direct Fill, but offering slightly less support than a cushion tailored with CumuPlush or Foam.
The forward-thinking combination of polyfiber filler and polyfiber batting creates a lightweight internal core that doesn't retain water and is mildew resistant. For this reason, Plush Fill is an ideal solution to a number of cushion applications (indoor and outdoor) which may be subjected to damp conditions.
Due to the complexities associated with this type of fill, plush fill measurement tolerances aren't within our normal range of ½".
Dimensions and thickness can vary by as much as 2".
For plush fill cushions, thickness will be measured seam to seam and lofting on each side of the cushion can be significantly greater than your chosen thickness. See our
Terms & Conditions
for more information.