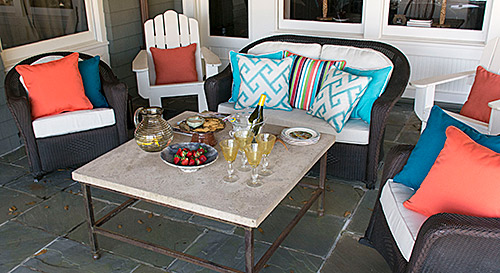 Outdoor Furniture Cushions from Cushion Source
What Makes An Outdoor Cushion
Our outdoor cushions are made with high-quality fabrics that are fade and stain resistent. You can choose from several fill types that are perfect for outdoor use. This gives you cushions that can handle the outdoors. All of our outdoor furniture cushions are made with a zipper closure, allowing you to unzip and stand them on end to dry if they become saturated during a downpour. Yes, your outdoor cushions may become saturated with water. Even our Sunbrella Rain Cushions are water resistent and not always waterproof.
Quality Outdoor Fabrics
We offer premium fabric brand names like PARA Tempotest, Al Fresco, Sunbrella® Robert Allen and Outdura®. Most of our outdoor fabrics are stain and fade-resistant so your cushions are easy to clean and can look great for years. With a broad range of fabric and trim choices, decorating your outdoor living spaces and patio furniture is now fun and exciting. Add a touch of whimsy, a pop of color or even matching outdoor throw pillows. Get your order started today!
Comfort and Style
Browse our selection of outdoor fabrics and start designing your outdoor furniture cushions today! From bench cushions, chair cushions and seat cushions, to chaise cushions, ottoman cushions, glider cushions, Cushion Source can create any size and shape outdoor cushions you need. We can even make your cushions and pillows using your own fabric. You will certainly be pleased with the quality and craftsmanship of your custom cushions!