Direct Fill: Soft, Loose Fill for Pillows and Tufted Cushions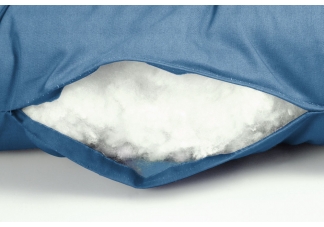 Direct Fill is a loose style made of the same component as CumuPlush Fill used in custom cushions and pillows. Direct Fill is lightweight and finely-shredded and is blown into the cushion or pillow shell. Direct Fill products will not retain the same density as those designed with a compressed, layered cumulus filling. However, because the inner material is relatively made of the same properties, custom products made with direct fill continue to maintain the integrity of compressed CumuPlush and preserve identical qualities.
Given the innovative characteristic to readily drain without absorbing and retaining moisture, the advanced combination of dry conjugate and flocculent polyfiber material allows for direct usage of the blow-in filling as an internal substitute to a variety of outdoor cushion and pillow fabrications.
Direct Fill products are sewn shut and do not include a zipper.
Due to the complexities associated with this type of fill: Direct fill measurement tolerances are not within our normal range of 1/2". Dimensions and thickness can vary by as much as 1" to 2". Click to see our Terms & Conditions for more information.
Direct fill is primarily used as an alternative filling choice for when exact measurements are not important, as product dimensions and thicknesses will slightly vary. This is determined by type of custom product such as throw pillows that do not use a polybun insert, or tufted style cushions with button enhancements. Direct Fill is only offered on products that can reasonably accommodate a fill type of such qualities.