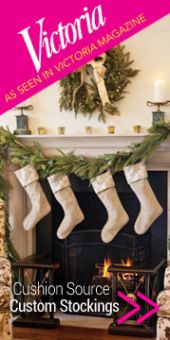 November 11, 2013 — The latest issue of Victoria spotlights First Frost designer holiday stockings from Cushion Source. Victoria reaches 518,000 households in both the United States and Canada.
Cushion Source, a wholly owned subsidiary of Online Commerce Group, LLC, has been a premier provider of custom home goods since 2004 and offers their customers state-of-the-art technology that makes it easy to instantly see their custom designs on-screen.
Featured in the November/December edition of Victoria are Cushion Source's exclusive First Frost holiday stockings. The First Frost stocking set lends a soft, warm touch to its surroundings. Created from luxurious Microfiber Velvet Sesame with a Robert Allen Royal Damask Cloud cuff, these plush holiday stockings help provide a natural and contented setting.
Sold in pairs, these designer holiday stockings are available in a variety of other fabric combinations hand-selected by the designers at Cushion Source. The exclusive Holiday Collection also includes coordinating tree skirts, table runners, placemats and pillow sets.
Recognized around the world as one of the best custom cushion manufacturers in America, Cushion Source also offers indoor and outdoor throw pillows and drapery. At Cushion Source, customers choose the exact dimensions they need, as well as choosing among hundreds of fabrics, several fill types and other options, ensuring the decor pieces fit their individual style.
###
Victoria is a national women's shelter and lifestyle publication focusing on European sensibilities with a romantic flair. Each issue features women entrepreneurs, antiques, product collections, travel, food and entertaining.
Online Commerce Group, LLC, is a leading niche online retailer of upscale outdoor and indoor living space products for residential and commercial markets, which offers custom-made cushions (www.cushionsource.com), umbrellas (www.umbrellasource.com) commercial furnishings (www.commercialsitefurnishings.com) and more. The company has been ranked in the Inc. 500/5000 list of the fastest-growing, privately-held companies in the United States in 2008, 2009, 2010 and 2011 as published by Inc. magazine.
For more information about OCG and its diverse family of websites, visit www.onlinecommercegroup.com.