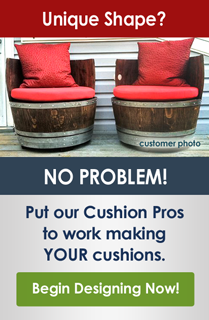 For more than a decade, Cushion Source has been a trusted provider of custom cushions and other home decor items. Unlike many amateur competitors, we craft cushions of any size, any shape and any fabric — designed specifically for each unique customer. Our Superior Quality Guarantee promises that your order will be made to your specifications. If there is a problem with your order, our cushion pros will make it right.
Our team of expert sewers has the knowledge and experience to make custom designer-grade cushions that will be perfect for your home or outdoor space. By utilizing time-tested techniques and keeping up with the latest design trends, the cushion pros at Cushion Source are able to offer reliable products in creative styles.
We offer hundreds of high-quality fabrics from trusted brands such as Sunbrella, Outdura and Robert Allen, as well as our exclusive line, Highland Taylor Fabrics. Cushion Source also offers the ability to have cushions made with fabric not available in our inventory. Called "COM" (Customer's Own Material), this program allows customers to design cushions with any fabric in the world.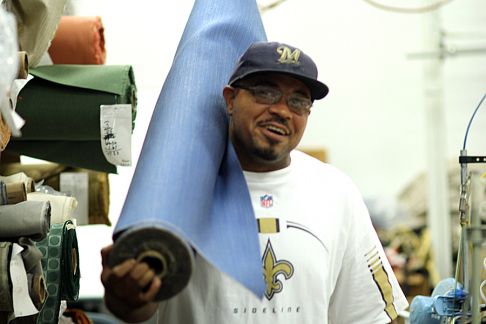 From a standard foam-filled bench cushion in traditional fabric, to the newest type of comfortable, weather-resistant fiber fill inside the latest trending fabric pattern, the cushion pros at Cushion Source are the only cushion providers that merge technology and style to create a custom product for each customer, shipped in 15 business days or less. All of our custom decor items are proudly made in the USA, and we don't rush through the manufacturing process; we believe cutting corners sacrifices quality.
Cushion Source sells thousands of custom cushions and pillows a year, enhancing homes across the country and around the world with luxurious, stylish backyard retreats, cozy window seats and stylish kitchen banquettes. Cushion Source has been called the Cushion Pros by many outfitted homes and offices of many prestigious businesses and people, including Martha Stewart, Dr. Phil, The White House, Sunbrella Corporate Offices and more. Our cushion pros' work has been featured in many trusted home decor magazines, including Southern Living, Florida Design, Cooking With Paula Deen and more, as well as television shows such as DIY Network's "Yard Crashers" and "Indoors Out."
From the moment you come to our user-friendly, mobile-compatible website, through years of sitting and lounging on your custom cushions, we'll prove to you that you made the right choice in trusting the cushion pros at Cushion Source with providing your stylish, durable home decor items.
Before you order, you can instantly see your design on your screen, taking the guesswork and anxiety out of ordering custom products online. Our knowledgeable, professional and friendly customer service team will help you with any questions you may have, and when your cushions arrive on your doorstep a short time later, you'll have no doubt you made a great investment in your home.
Cushion Source is indisputably the home of the cushion pros who always strive to exceed our customers' expectations.