"Around the globe, Glen Raven's Sunbrella® brand is recognized as the industry leader in performance fabrics for awning, marine and outdoor furniture. For nearly 50 years, the Sunbrella brand has been Glen Raven's flagship, exemplifying quality, integrity and performance which underpin all of the company's products and customer relationships." — from Glen Raven.com
Why Choose Sunbrella Fabrics?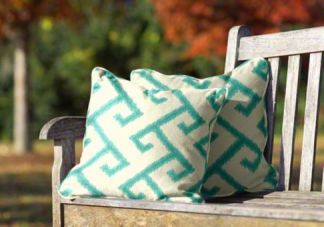 Sunbrella fabrics are not your outdoor fabrics of yesteryear. Remember those chaise lounges at the neighborhood pool were always uncomfortable to sit on because of the plastic coating that would peel and crack from the sun, or those cushions that you bought from a local retailer that, after a summer's use, faded and fell apart? Sunbrella fabrics are nothing like that! Sunbrella fabrics are not only functional and ideal for outdoors but they come in an assortment of gorgeous designer fabrics that allow an extension of your indoor design aesthetic to welcome the outdoors.
Other outdoor fabrics use dyes that are added to the surface of the yarn or fabric. The color only penetrates the outside layer so after time fading occurs. Think of cutting into a radish, it has a beautiful red color on the outside but after slicing into it, it appears white and colorless. Sunbrella fabric can be compared to a carrot, a beautiful orange color on the outside and when sliced, the color remains just as rich and saturated as the outside. Sunbrella fabrics are made from 100% solution-dyed acrylic yarns. Solution-dying is the process of adding color to acrylic fibers during manufacturing while they are in a liquid state.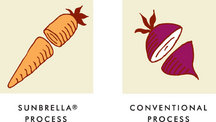 According to Sunbrella, "Sunbrella is the result of over 45 years of ongoing research and development. Sunbrella's UV-resistant color pigments are fully blended into its high performance fiber. Sunbrella fabric's strength and color refuses to fade even under the harshest conditions, while retaining the softness of spun cotton."
This characteristic of acrylic fabrics is the key to locking in color, easy cleaning and long life. For this reason, acrylic fabric offers incredible resistance to stains, weather and wear in any application. Awning grade acrylic fabric carries a ten-year warranty against loss of color and strength. Furniture grade acrylic fabric carries a five-year warranty against loss of color and strength.
"Sunbrella fabrics are manufactured by Glen Raven, Inc. headquartered in Glen Raven, North Carolina. Having grown from a small cotton mill into a market leader in performance fabrics, Glen Raven maintains a global presence in the manufacturing of high-performance fabric. We supply innovative fabric solutions to a demanding set of industries, and in each of our many markets, we set the benchmark in design and durability." — - from Sunbrella.com
Sunbrella fabric is water repellent — not water proof. This means that during the finishing process, a water-repellent finish is applied to the fabric. Normal wear and usage will reduce the effectiveness of this finish, as will cleaning the fabric. We suggest that after Sunbrella fabrics are cleaned, and if they remain exposed to the elements constantly, that you re-treat your Sunbrella fabrics with a water-repellent treatment which can be purchased online or at local awning and marine shops.
Sunbrella fabrics, if kept clean, will not mildew. An inherent characteristic of acrylic fiber is that it will not support the growth of mildew as a natural fiber will. Mildew can grow on any surface that is dirty, so to keep your Sunbrella fabrics from mildewing, you must keep your fabrics clean. If mildew growth becomes a problem, please refer to our care and cleaning instructions.
Sunbrella fabrics do not absorb water and are designed to air-dry very quickly — usually within a matter of minutes. We recommend that you do not machine wash or machine dry your fabric, this will often overheat and shrink the fabric.
Because Sunbrella fabrics are woven, they are also highly breathable, which is why they dry quickly with only air exposure. It's also important to know that Sunbrella fabrics are treated with a fluorocarbon finish, which enhances water repellency. This finish requires replenishment after vigorous cleaning. In most environments, a thorough cleaning will be needed every two to three years.
In 1961, Sunbrella introduced its amazing outdoor weatherproof fabrics, which were unlike any other outdoor fabrics at that time. These fabrics felt as soft and comfortable as cotton yet performed remarkably in the outdoor sun without fading. These awning and marine fabrics were Sunbrella's trademark for more than 15 years. But in the early 80s, Sunbrella rose to the occasion when asked about creating furniture grade fabrics for the outdoors, and by 2001, developed high-performance stress-free fabrics for the indoors as well.
You'll find Sunbrella fabrics used in commercial, resort and even leading retail store locations. Logo and graphic design applications have furthered the advancement in brand identity. You can place a custom logo on any type of awning or umbrella you desire.
Sunbrella will continue to push the boundaries of what's possible. Innovative and creative performance will remain the primary focus for Sunbrella. Wherever there is a demand on quality, high-performance and variety in fabrics, Sunbrella will be there to answer the call.

Commitment to the Environment
"Glen Raven Custom Fabrics, a global leader in performance fabrics including the Sunbrella® brand, has been recognized as one of the newest members of the South Carolina Environmental Excellence Program (SCEEP), a voluntary initiative that recognizes facilities exercising environmental leadership in the state."
"It is the policy of Glen Raven to be a responsible corporate citizen in regards to the environment. As a responsible company, we believe that a safe and healthy environment is the obligation of every citizen and every enterprise…." — from Sunbrella.com
To read more on Sunbrella Fabrics and Glen Raven, visit www.sunbrella.com. Sunbrella® is a registered trademark of Glen Raven, Inc.