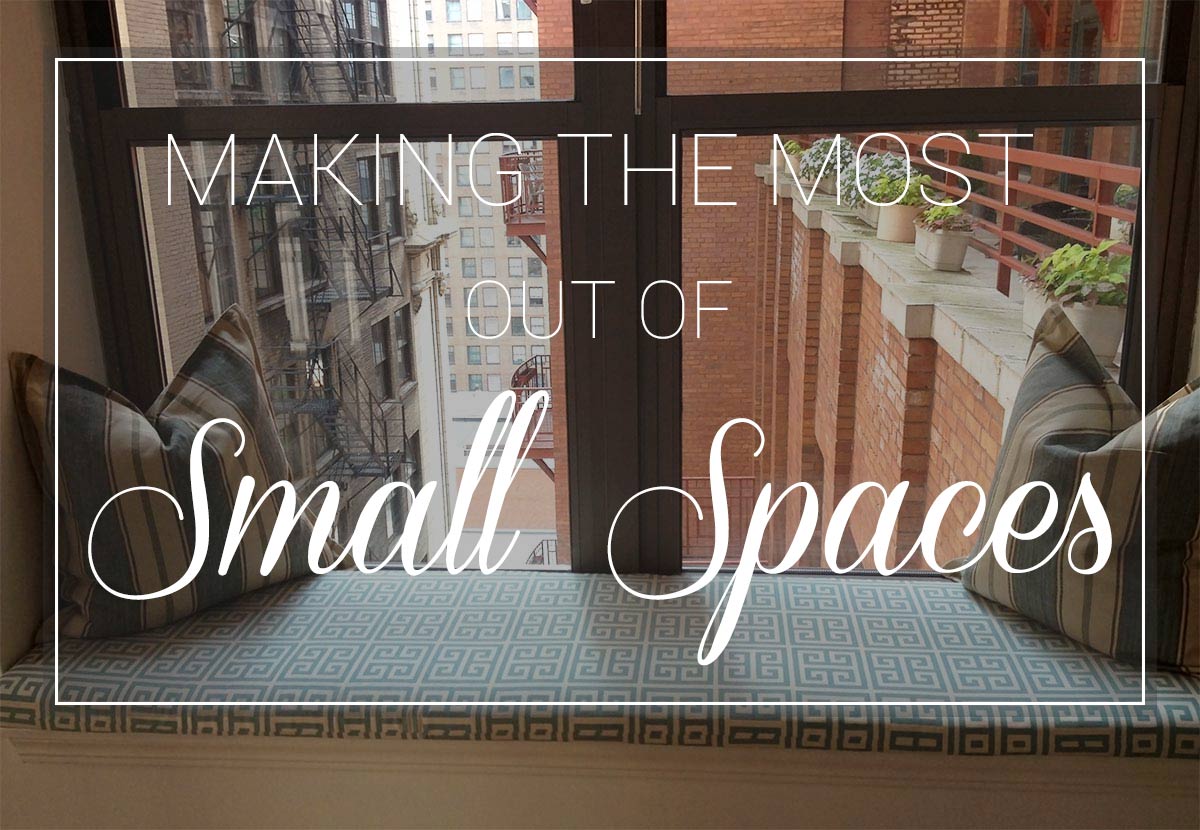 Small apartments and housing, particularly those in urban areas, generally do not provide adequate square footage for guest seating. In order to accommodate visitors, city dwellers need to get creative with their space. Adding built-in window seats, breakfast nooks, and outdoor benches to dead space can not only add seating, but they can also offer extra storage.

Remove Clutter
Small spaces should be clean and organized. Junk takes up valuable real estate and only makes spaces seem even smaller. Besides, it just looks bad. By putting away your belongings in the right place and tidying up, you can rid your space of unnecessary clutter.
Use Vertical Space
When looking for ways to stow away personal items, be sure to think vertically. Vertical storage is often not considered and shelving placed high up can be overlooked and underutilized. Blank walls present a wealth of storage space.
Remove Doors
Removing room doors and cabinet doors in tiny apartments can create a feeling of openness because closed doors only confine and darken tiny spaces. Light makes rooms appear larger and doors can often block light sources. Also, doors need extra room to open and close, creating wasted space. To section off rooms without completely shutting them off, sheer curtains or folding screens are best because they can be moved, and they allow for light to come through.
Create a Window Seat with Storage
Storage furniture is essential to living in small housing. However, storage furniture should not be big and bulky because it can make a room appear tiny. A great way to stay neat and organized is by using multipurpose furniture. Multipurpose furniture, such as storage benches, is great for providing ample storage and seating. Storage benches can be added to empty spaces like under windows and in corners to make use of dead space.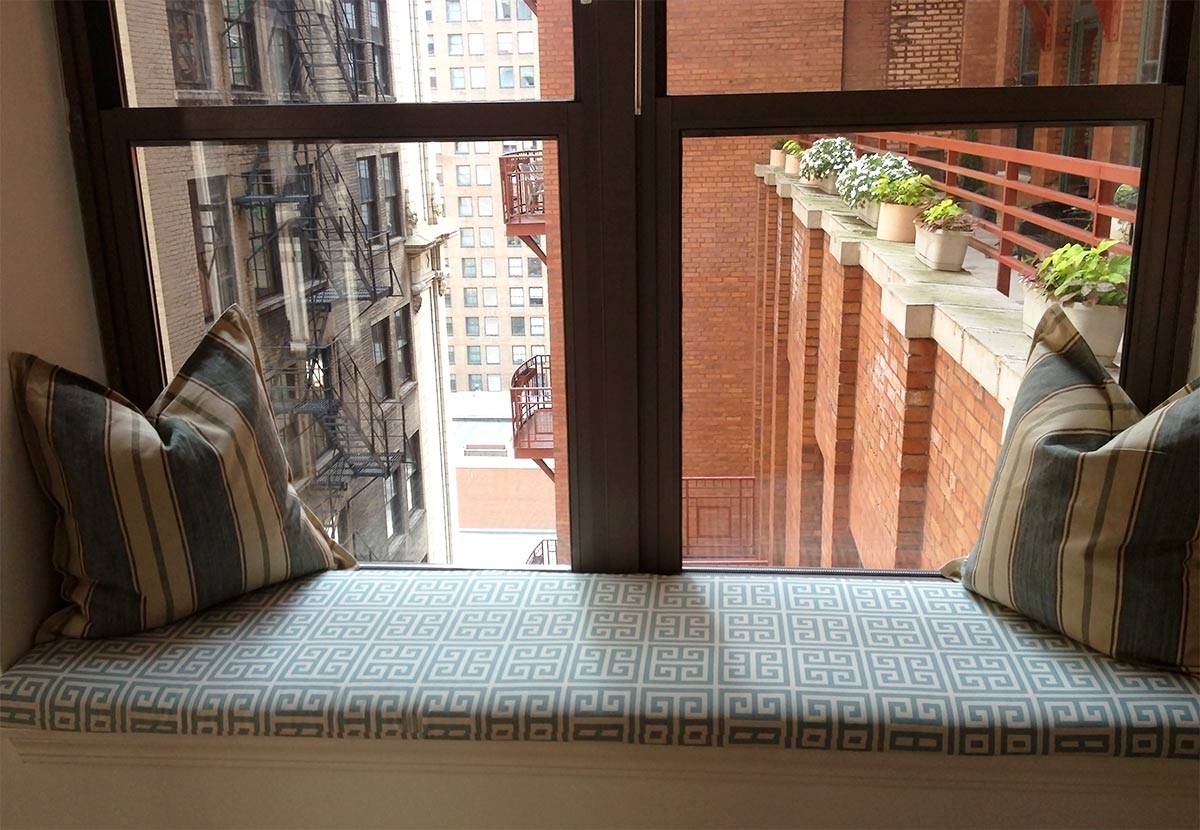 Window seats with storage are ideal for small space living. Storage window seats not only help contain clutter, they also offer extra guest seating and can create cozy reading nooks. Window seats provide a place to relax and take in all the beautiful views of the city as well. By adding pillows and cushions to your window seat, you can build a comfortable and inviting place for you and your visitors. Our customer in Chicago was thrilled to add additional seating to her apartment with a perfect-to-size window cushion.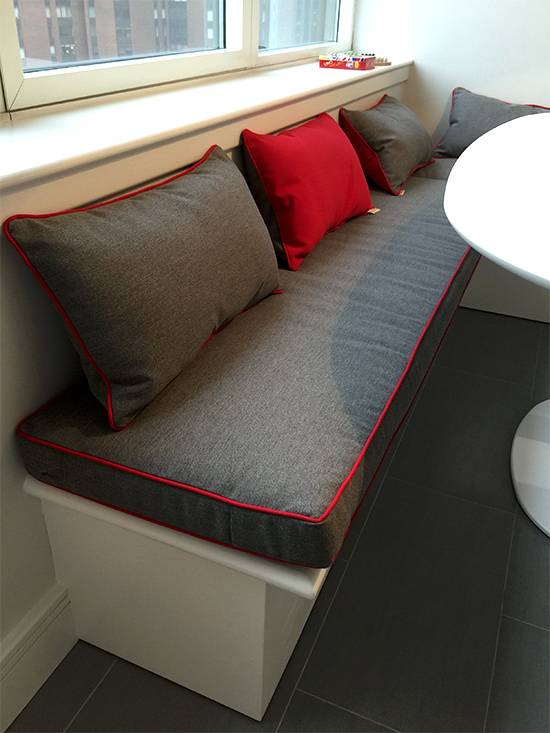 Make Use of Corners
Corner spaces can be difficult to utilize, even in larger homes. Corners are often left empty, producing unused, wasted space. Our customer in New York made great use of her space by adding custom window seat cushions and custom lumbar pillows for the perfect height needed for her unusual space. Breakfast nooks and banquettes with storage underneath are excellent for small spaces, especially those with children. When paired with folding tables, breakfast nooks can be used in a multitude of ways. Rather than having a designated dining room and all the furniture that goes in it, breakfast nooks and banquettes can provide a multifunctional space that can be used for dining, homework, family game nights, and guest seating. Breakfast nooks can even become reading nooks.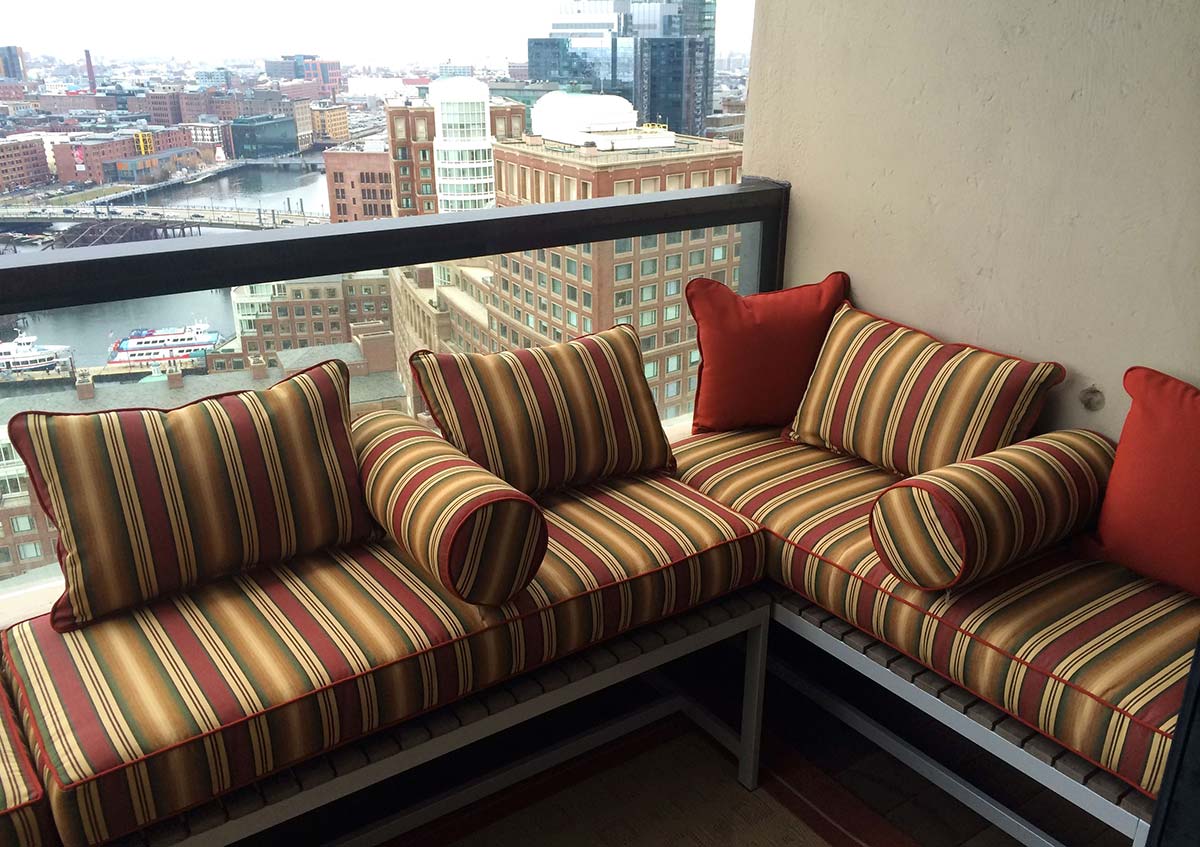 Use Walls to Create Seating Space
Urban outdoor spaces are typically very small and can be hard to come by. For those who have balconies or small terraces, adequate seating can be a problem. Outdoor furniture, like indoor furniture, has to be configured perfectly to make proper use of the space. Usually in tight outdoor spaces, the confining walls can be used as seating backs. Use long benches to line the walls and by incorporating comforting elements, like cushions and pillows, your outdoor space can will be transformed into an additional room for your apartment. Our customer in Boston chose custom cushions, pillows and lumbar pillows in Sunbrella Weston Ginger fabric to make better use of her terrace.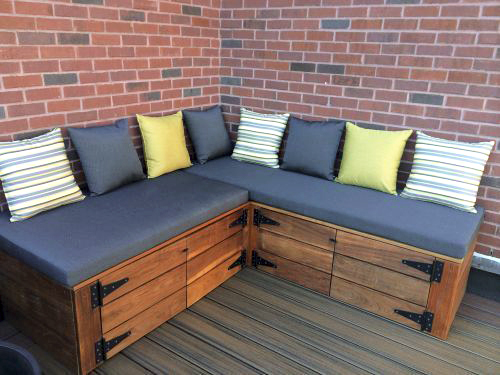 Add Cushions to Outdoor Storage Furniture
Outdoor storage furniture is also great for small outdoor spaces. Outdoor storage furniture decreases the amount of clutter, keeping your outdoor space beautiful and pristine. When you add cushions to the top of your outdoor storage benches, your benches become multi-functional serving as outdoor storage and seating. A customer in Brooklyn added seating space to her deck by adding custom bench cushions to her wooden storage.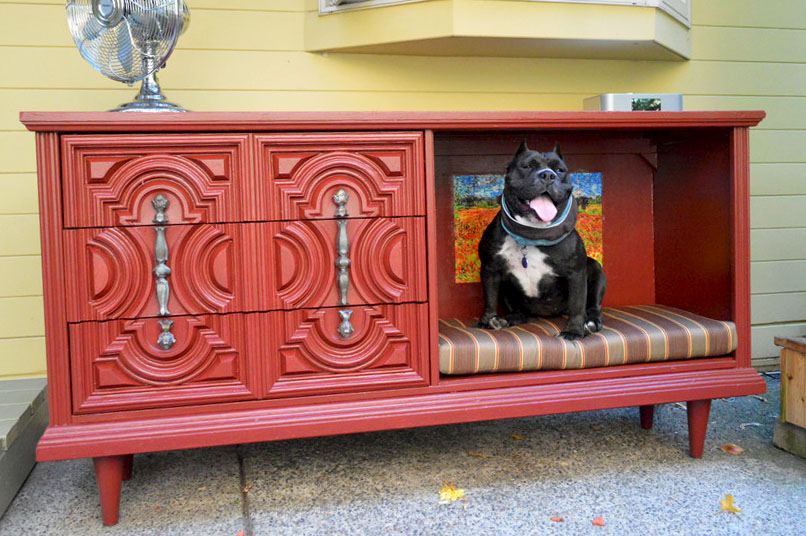 Repurpose Furniture
Small spaces often require a little creativity in order to maintain function and organization. Repurposing furniture for multiple uses is another way to utilize space efficiently. One of our customers came up with a new take on an old sideboard. Instead of having a piece of furniture with one function, her new sideboard offers storage, a dog bed, and a spot for the TV. Thinking about furniture function beyond its original intent can definitely help save space and alleviate headaches.
Downsizing and moving to smaller housing should not be difficult if you remain clean, organized, and smart. Be sure to pick up clutter, eliminate unnecessary items, and select space-savvy, storage furniture that accentuates your apartment.