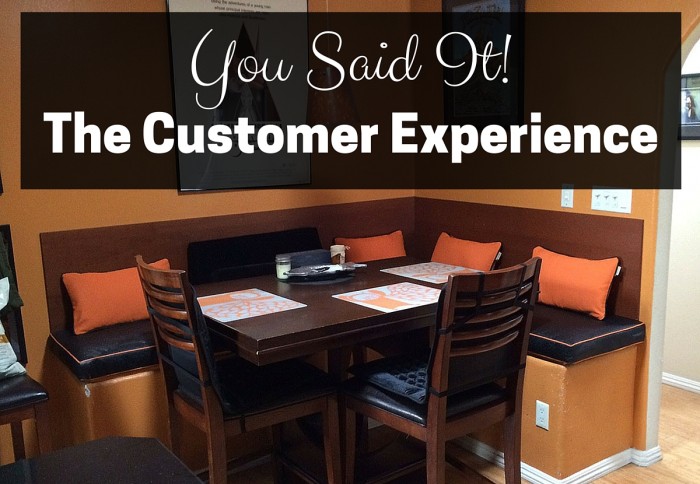 Have you always wanted a custom look but don't have the time or inflated budget for an interior designer? A new set of custom designed and expertly crafted cushions and pillows for your DIY mudroom bench, existing patio set, kitchen banquette, or to adorn your custom made furniture is exactly what we offer via our easy-to-navigate, custom design website. Customers love to partner with Cushion Source to transform their pieces, bring their visions to life, and add their own signature style to their spaces with help from the huge selection of fabrics and styles.

No More Wasted Space
Brenda of Verona, NJ wanted to capture unused square footage in an extra-wide hallway and elevate it into a cross-functional space serving as an entertainment area, entryway, and kids' activity space for her three boys. She chose a 4″ deluxe bench cushion with buttons in Premier Prints Fynn Blue/White with self-welting and accented it with two 20″ x 20″ throw pillows in Al Fresco Crabbin' Royalty.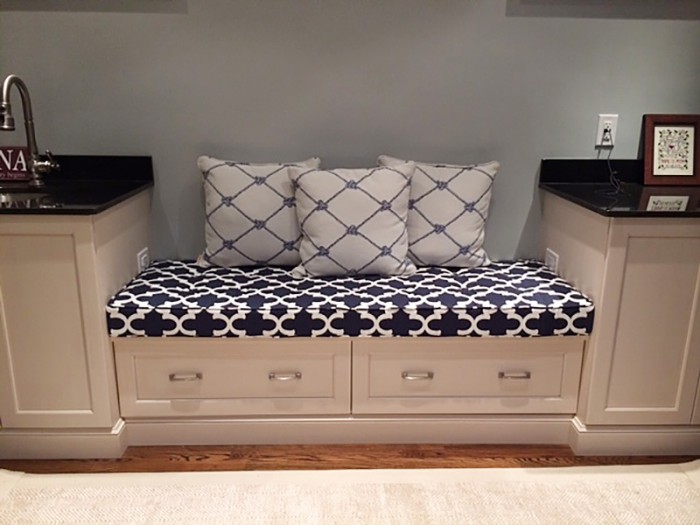 I love her combination of navy, gray, and white patterns against the crisp, white cabinetry and soothing neutral walls. So much contrast! She turned wasted space into a focal point full of visual interest and fun design. "We love all of it. They are in a cross-functional space serving as entertainment/entryway/ kids' space for our three boys," Brenda remarked. "I may complement with some other pillows with yellow or other seasonal colors at some point. And I am also considering adding two more pillows of the same design to fill it in. I underestimated the space a bit, but thankfully ordered the cushion correctly to the millimeter!"
Orange You Glad You Ordered New Cushions?
Christa from West Palm Beach, FL wanted to treat herself after the completion of long-term project by updating her patio and pool area with new cushions for her existing furniture. She was delighted when a friend referred her to Cushion Source! Christa perused our fabric offerings and chose two fabulous shades of orange, Tangerine and Terracotta, for her 4″ deep seating chair cushions with Optimal Comfort filling.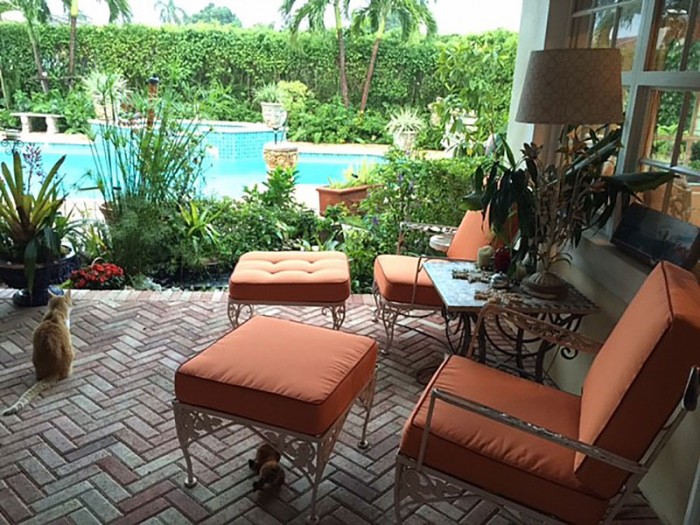 With Sunbrella Tangerine as the body fabric and Sunbrella Terracotta for the welting, she designed the seat cushions along with 18″ x 18″ throw pillows to complete the makeover. The end result is a perfectly bright, cheerful update with dreamy comfort for her own tropical oasis! Christa says she now spends most of her free time in her personal paradise thanks to and the warm, sunny Florida weather and her new cushions. "I'm so excited to get new cushions! It's my treat to myself [for the completed project]–and boy do I need them."
Custom Furniture Pieces Deserve Custom Cushions
Rick from Chesterton, IN handcrafted this sofa and seating, along with the solid wood coffee table, for his office. As the CEO of an international food service equipment supplier, he wanted to showcase not only his wood working hobby, but his personality in this space. Rick had looked to Cushion Source in the past for a piece in his home, so he was confident that it was the perfect solution for his project.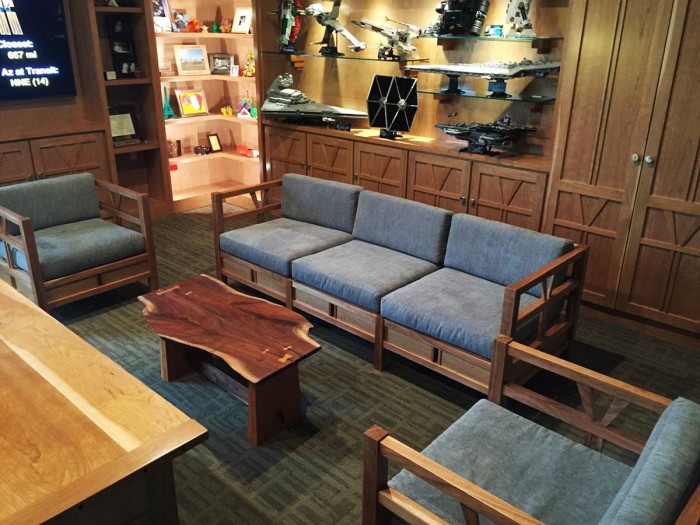 He chose 4″ replacement sofa cushions and deep seating cushions with Optimal Comfort filling to transform the sleek, utilitarian framework into warm and welcoming seating using Robert Allen Softknit BK Greystone with boxed edges and squared corners. The end result is a perfect fit with luxurious comfort that complements the clean lines of his organic design. Well done, Rick!
Back-Saving Banquette Cushions
Adrienne, a film producer from Los Angeles, CA, desperately needed to update the tired cushions in her kitchen banquette. Her existing cushions were old and worn, so much that they were causing her back to hurt. She did a quick search and was happy to discover the vast array of options on CushionSource.com as an answer to her "middle-aged back" seating dilemma. Adrienne chose 3″ bench cushions with Optimal Comfort filling in Robert Allen Harvest Moon Black with Sunbrella Tangerine welting and reversed the fabric combo for her 20″ x 14″ lumbar pillows.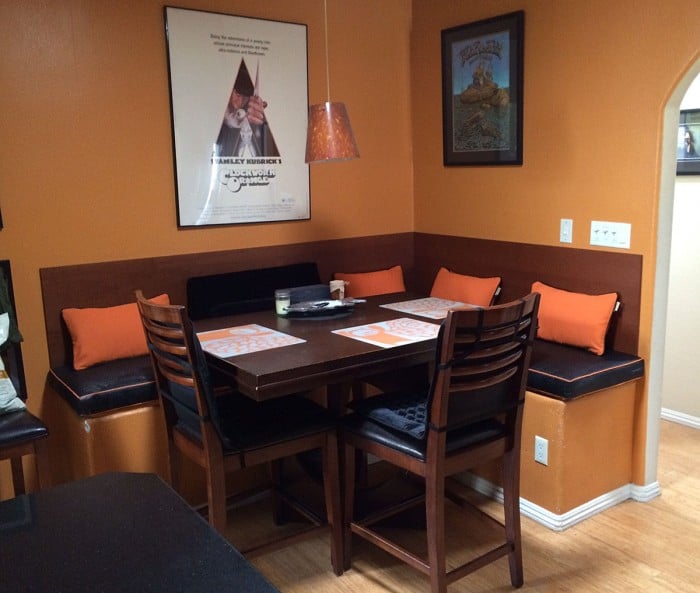 "They're gorgeous! … night and day from where I was," Adrienne said. "Thanks so much for the really beautiful and solid work. They totally change how my kitchen is seen. Now I just need to do some paint touch ups!!"
Goodbye "middle-aged back," hello comfort! Once made over, her banquette not only takes the starring role in her kitchen, but has become her favorite place to visit with friends, share a meal, or work on her latest production.
With Cushion Source as the perfect custom design partner, anything is possible! Turn your DIY visions into beautiful reality, all from the comfort of home. Let your imagination lead you, and we will deliver with style, quality craftsmanship, and award-winning customer service every time.