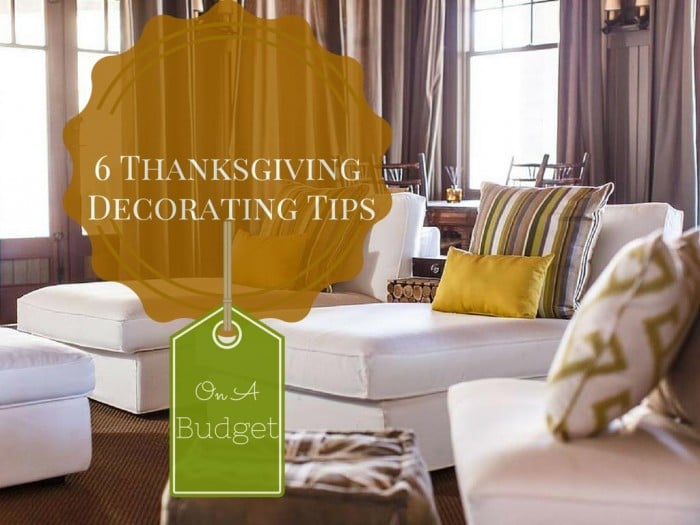 Every year the holidays catch me off guard, and there always seems to be more and more pressure to have our homes looking "Martha Stewart" holiday ready by the first of November. Yet, as I have gotten older, I have realized that I am too tired to keep up by trying to outdo the neighbors with bigger and better lights and decorations. Many of us don't have the extra time or money to spend on items other than our upcoming holiday dinners and gifts for friends and family. Staying on a budget presents the challenge to use what we already have. Not everyone has a creative side, but these six holiday decorating tips are guaranteed to not only save you money, but actually impress your guests.
1. Thanksgiving Decorating with Foliage
Fall is amazingly beautiful and inspirational! From the bright, saturated colors of yellow, red, and orange to the hues of warm browns filling the outdoors, nature can provide a wealth of decorations to bring inside your home.
Thin branches and leaves are easy decorations to bring indoors. Setting them on top of table runners, mantels, and banisters is an easy addition.
Pine cones and logs have become new trends in Thanksgiving table decorations as well.
Add fall leaves to glass vases or pick fall flowers and place them in small soup cans for a rustic look.
These elements bring a natural and earthy touch into your home. Think about using the natural resources that exist in your yard or natural elements you can gather from a local area to transform your home this Thanksgiving.
2. Thanksgiving Decorating with Fabrics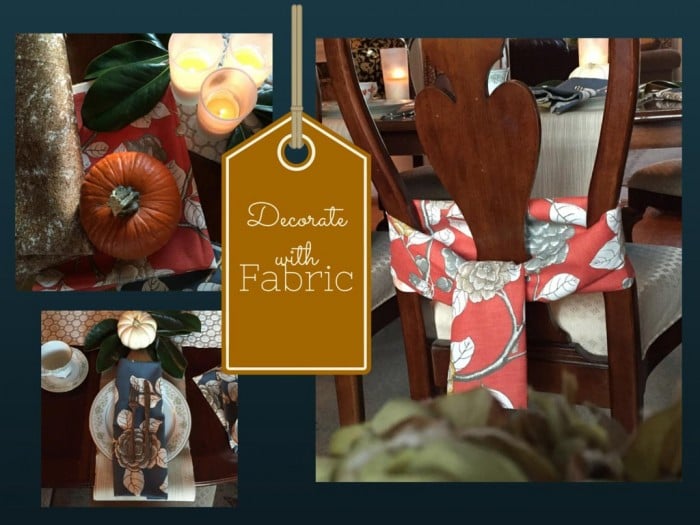 I must admit, I can't seem to stop buying fabrics! When I see new fabrics that I love, I immediately think of ways I could use these colorful textiles. Extra fabrics can be used in many ways for Thanksgiving.
Use coordinating fabrics to decorate the backs of your dining chairs. From modern back chair ties to an overlay of fabric, it's a perfect look for more formal dinners and holiday parties. If you are running low on fabrics to complete your look, or you want the same fabric for all chairs, you can order fabrics by the yard to finish your design.
Add color to your mantel by tying fabric remnants together on a long string to make a festive wreath.
Wrap pumpkins with fabric for a unique look to your indoor and outdoor Thanksgiving displays.
3. Thanksgiving Decorating with Paper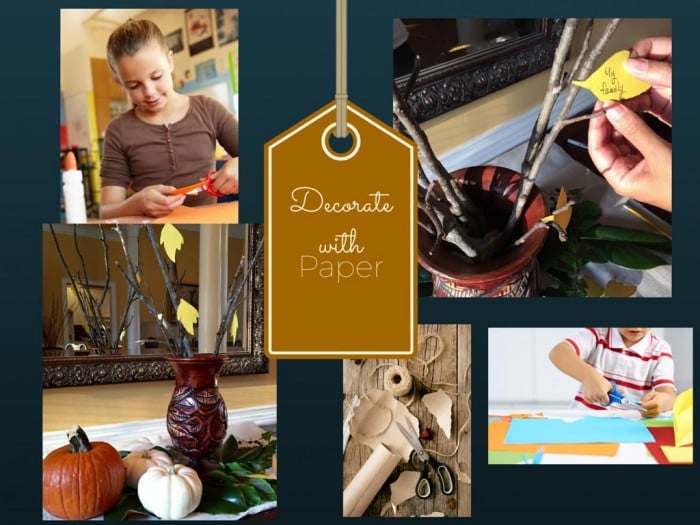 Finding fun and clever ways to include your kids in the decorating process is a great way to create lasting memories and get your kids excited about Thanksgiving. I found a great idea on Pinterest showing ways you and your guests can display what they are thankful for by creating a tree from branches and paper leaves. If you have a vase or glass jar, you can easily make this creative "Thankful Tree." Grab some branches off the ground or snap them off your trees. Place the branches sparingly in a vase. Have your children cut out leaves using colorful paper and let them write what they are thankful for on each leaf. Place extra paper leaves out with a pen for your guests and family members to fill out as well. Simply glue or tape these on the tree for a darling holiday decorating item with loads of sentimental value that your family can enjoy on Thanksgiving Day. So easy!
Here are more Thanksgiving decorations you can create with paper.
Decoupage your pumpkin with paper and fabric to create a unique jack o' lantern.
Kids can easily personalize and decorate paper placemats with Thanksgiving felt and foam cutouts.
Place cards are great for your Thanksgiving dinner tables. Have your kids make these with fall-colored card stock in the shape of a turkey or pumpkin.
4. Thanksgiving Decorating with Candles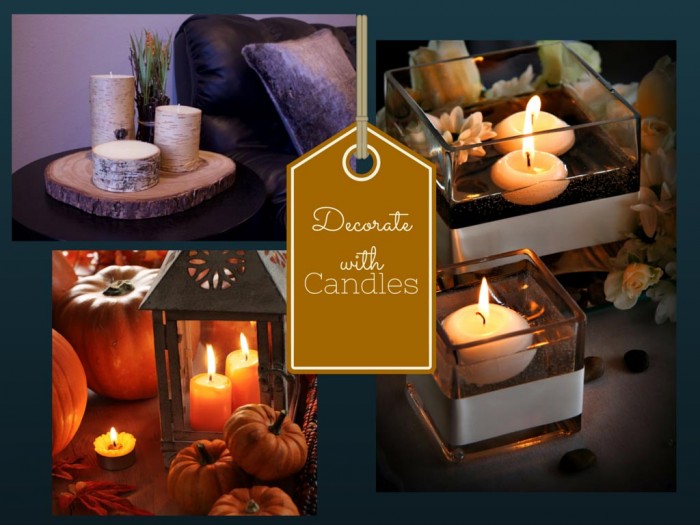 Candles are always an easy way to convey warmth and create an inviting ambiance. Most candles can be purchased inexpensively at craft and home stores. If you can find scented holiday candles, you'll get even more bang for your buck. A good tip when purchasing candles is to choose neutral colors, such as white or off white. These will last longer through Christmas and New Year's celebrations. However, if you find a great deal on holiday candles, stock up! It's always wise to think ahead and buy while the price is feasible. Try these quick and easy candle ideas!
Fill medium glass vases with water, then add holly berries and leaves with a floating votive candle on top.
Use a large hurricane vase with a pillar candle in the center. Fill around the bottom of the candle with cinnamon sticks to make your own holiday fragrance candle.
For an outdoor centerpiece, add succulents and citronella candles in a window box planter for a patio table.
5. Thanksgiving Decorating with Throw Pillows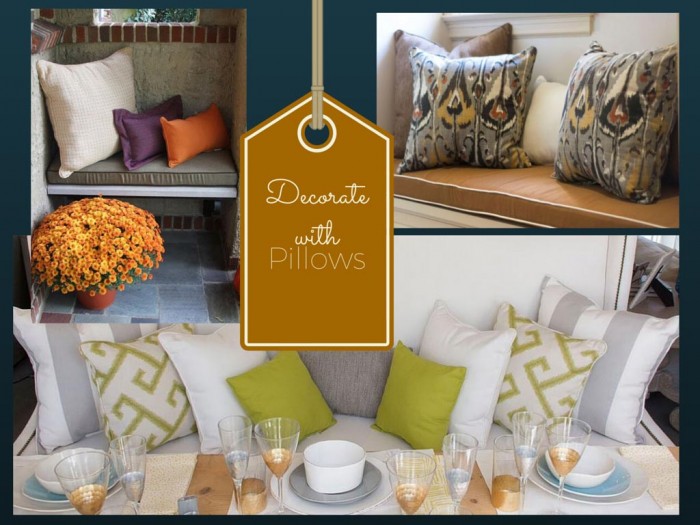 Another easy way to decorate your indoor and outdoor areas for Thanksgiving is to use throw pillows. Throw pillows can do wonders in a room and can actually be one of the cheapest ways to decorate a room for any holiday. But most of us may not have throw pillows for every holiday that we can toss on a couch or a back chair. This is where throw pillow covers become a perfect solution! Unique throw pillows can also add a great dynamic to your decorations. Add bolsters or lumbar pillows to dining chairs to create a unique look for your Thanksgiving dining room. You can even use your own fabric to have these pillows created if you'd like.
6. Thanksgiving Decorating with Food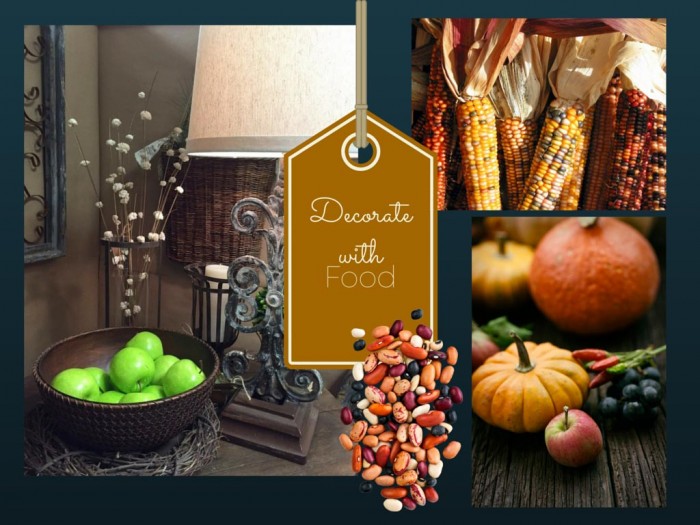 Yes, you can decorate with food – think fruits and vegetables. Honestly, Thanksgiving is the best holiday to use food as decorations. Most will recognize pumpkins as an easy go-to Thanksgiving decoration. Think outside the box with these examples of Thanksgiving decorations made with food.
Place colorful dried beans in glass jars and set tea candles on top of the beans.
Make a Thanksgiving wreath using walnuts, cranberries, and faux flowers to hang on doors or place on tables for centerpieces.
Decorate your front porch using dried corn stalks with Indian corn.
Place bright green, red, or golden delicious apples in a glass bowl to create a stunning decoration for a side table or kitchen banquet area.
Use Thanksgiving-themed cookie cutters to create fall decorative cookies to place on tables as edible décor.
Whatever this holiday season looks like, don't sweat the small stuff! Your holiday decorations should be a joy to create, not a headache. Incorporate ideas that will create a room that's inviting and special to your family. That's what will make your Thanksgiving a heartwarming celebration to create long-lasting memories!