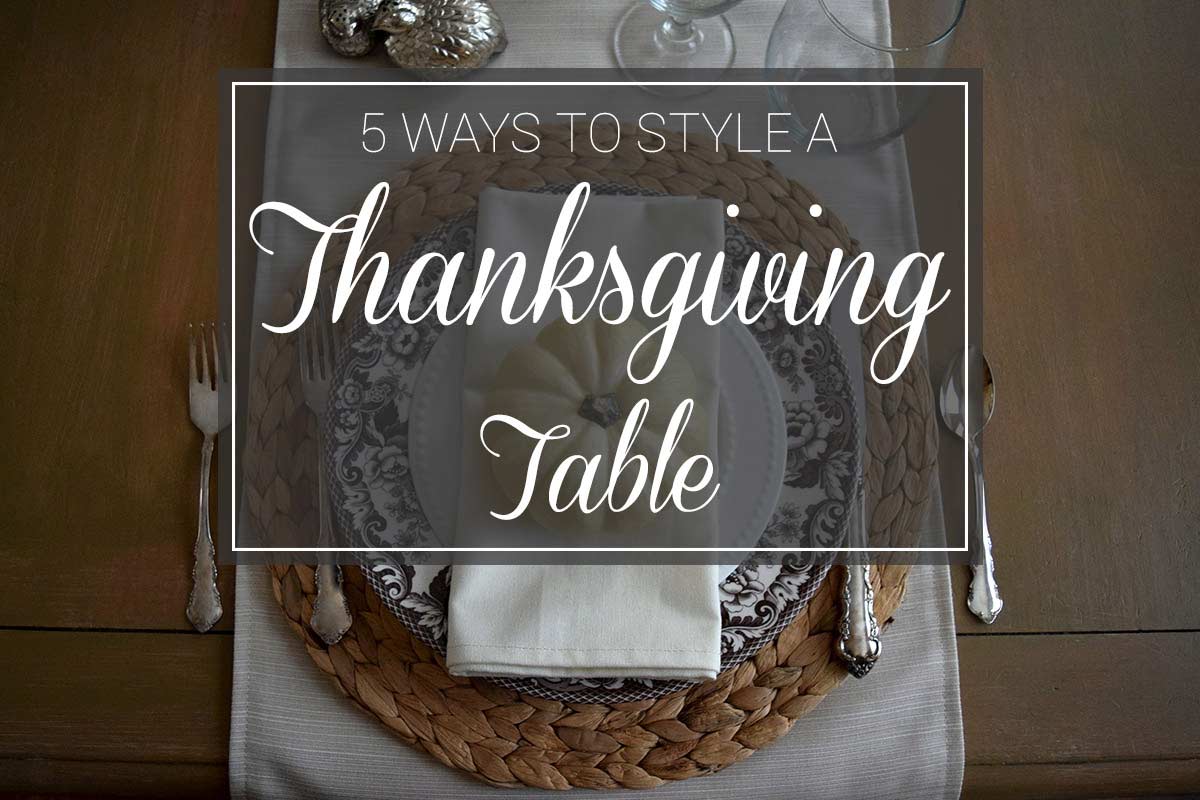 Beautiful Thanksgiving table décor produces an atmosphere for your guests and sets the tone of your dinner. When styling your Thanksgiving table, there are several easy styles to consider that can help you create a festive tablescape. Regardless of your taste, Thanksgiving table settings should be kept functional, providing guests with everything they need for the feast.
1. Neutrals are Great for Any Space
Neutral Thanksgiving table décor can be applied to several decorating styles from rustic to modern, and can produce a subtle, refined look when used in both formal and informal settings. Whether you prefer a monochromatic color scheme or an assortment of colors within the same family, your neutral Thanksgiving décor is sure to be timeless. Neutral decorations can also be combined with any color scheme so you won't have to worry about the decorations clashing with color of dining room walls or chairs.
When it comes to neutral Thanksgiving table settings and centerpieces, I have found that simplicity is the most elegant. My take on neutral Thanksgiving table décor was developed based on the items I already own. For my neutral Thanksgiving table, I used brown transferware dinner plates my husband and I received as wedding gifts and the silverware my mother gave me. I paired these classic pieces with everyday stemware and salad plates. Off-white, linen blend napkins in SW France Ivory placed on top of the dinnerware supplied the perfect resting spot for white pumpkins. The table runner in Sunbrella Dupione Pearl and natural elements such as the wooden dough bowl passed down from my great grandmother and the woven rattan chargers added texture to this simple color scheme. This is the style I keep for my Thanksgiving table.
2. Trending: Everyone's Talking Farmhouse for Thanksgiving
Farmhouse décor has become a very popular style as it exudes the freshness of an old country farm. Rustic farmhouse décor can be neutral, colorful, or a mix of the two, composing an excellent decorating style for a variety of color preferences. Thanksgiving presents a prime opportunity to decorate your table in the farmhouse style as the fall season offers a stunning array of natural color. The farmhouse Thanksgiving table setting should be kept simple and informal, giving your guests a casual, relaxing environment.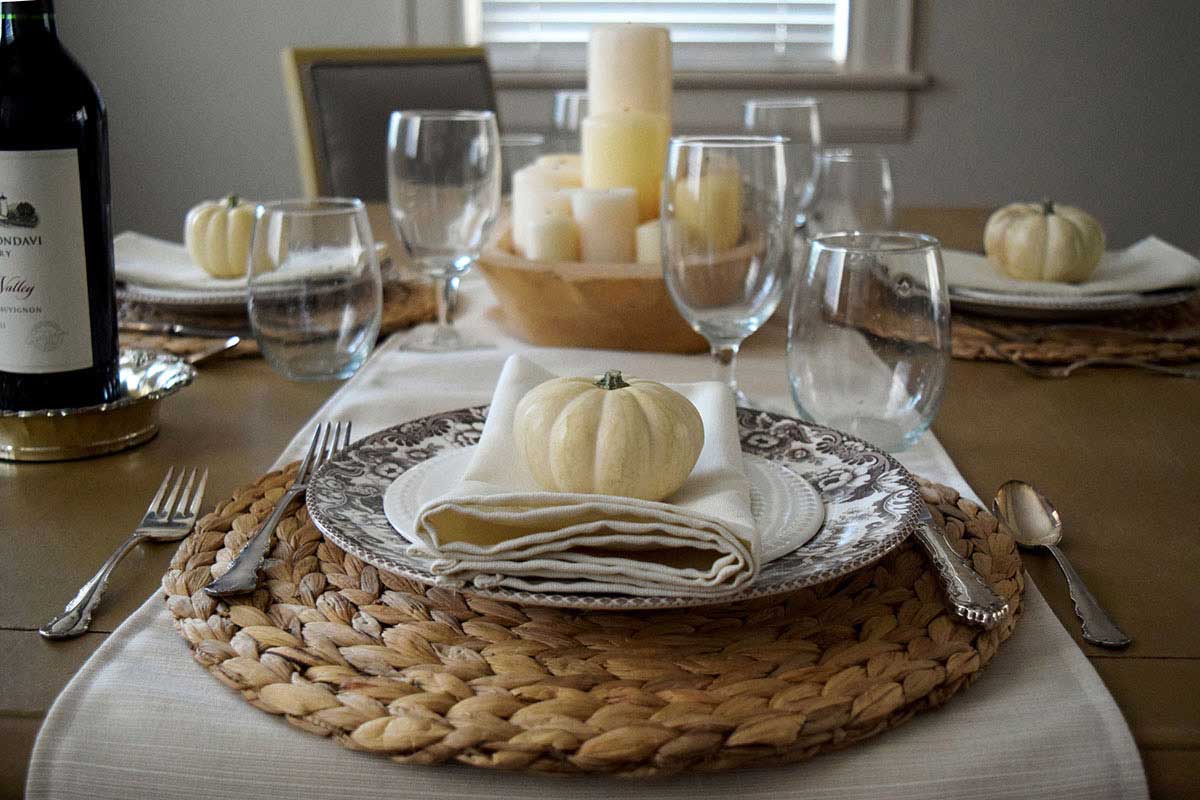 To design rustic a Thanksgiving table, imagine what you would find on a farm: rust, chipped paint, galvanized tin, distressed wood, and organic materials such as leaves, branches, and cotton or other crops. Understated antique and vintage pieces mix beautifully with this motif as well. This no-frills look is really about sticking to the basics.
While I do not live in a farmhouse, I have found that this design trend blends easily into my home. Luckily, I already had everything I needed to style my table. For this look, I decided to go with a Thanksgiving brunch theme. Brunch has become quite popular and I wanted to display options for meals other than dinner.
To keep with the relaxing feel of farmhouse décor, I began my table setting with an uncomplicated centerpiece of white and faded orange pumpkins inside an old wood crate. I chose all white plates, bowls that provided a farm fresh appeal. I placed the plates and muted napkins on top of placemats made of sticks. I added vintage Jadeite cups and saucers that add a subtle mint green color with Star of David juice glasses, and ribbed glass tumblers. Rather than using another earthenware or glass dish, I used shallow wood bowls for the bread and butter for textural diversity.
3. White and Metallic for Classic Look that Shines
White Thanksgiving décor is very chic and elegant while remaining warm and inviting. This look is very easy to achieve as it only involves one color and metallic accents. What I love about this table is that you can use any metallic color accessories you have, rather than sticking to color. Choosing only one metallic color can prove to be difficult if you do not already own everything needed for your setting.
For this Thanksgiving table design, I used a clean white linen tablecloth made from Highland Taylor Pacific White, a Star of David cake plate that I used as a charger, white dinner and salad plates, silverware, clear water goblet and champagne flute, and a clear wineglass with gold embellishments. A white pumpkin on a silver wine coaster and champagne provided extra shimmer to the table.
4. Be Bold with Blue and Orange
Moving away from understated color palettes, I decided to go for a livelier and much more casual approach to my Thanksgiving table. Thanksgiving Day and the following weekend are filled with football games so what better way to celebrate the holiday and game day than by decorating with team colors? Although this is an easy table setting, layering textiles adds a touch of style.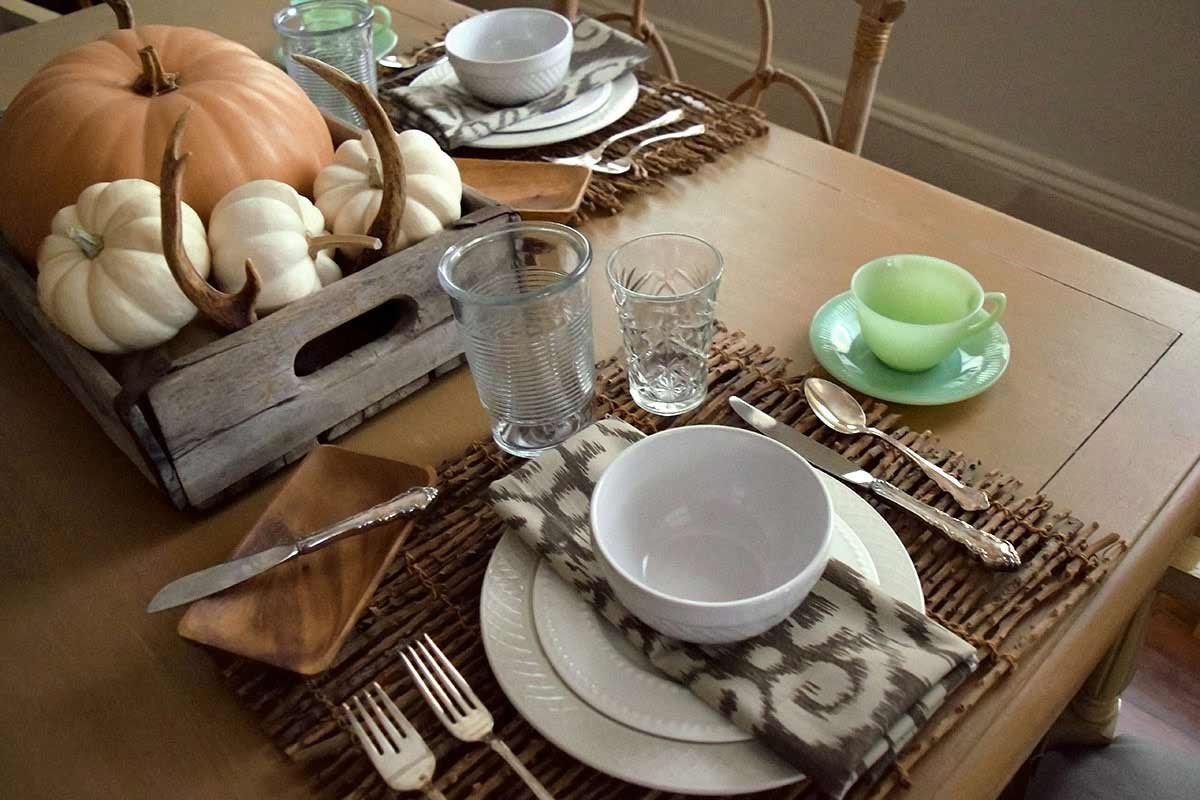 I first selected a tablecloth made with Robert Allen Souk Admiral that features a geometric Moroccan-inspired pattern in navy and white. Next, I added placemats in Sunbrella Echo Sangria, perfect for messy eaters as Sunbrella fabrics are stain- and water-resistant. Then, I set my table with blue and orange dinner plates, a plain white salad plate, antique Blue Willow bread and butter plates, and silverware. I adorned the stack of plates with a bright orange pumpkin to add extra color.
5. Runway to Table: Plaids, Tribals and Furs
One of the latest trends consists of plaid, tribal prints, fur, and antlers. This style has lent itself to cooler temperatures, making it ideal for a Thanksgiving table setting. A trendy tablescape is perfect for having friends over who appreciate your unconventional sense of style. Borrowing from camping and nature, this look is woodsy and informal.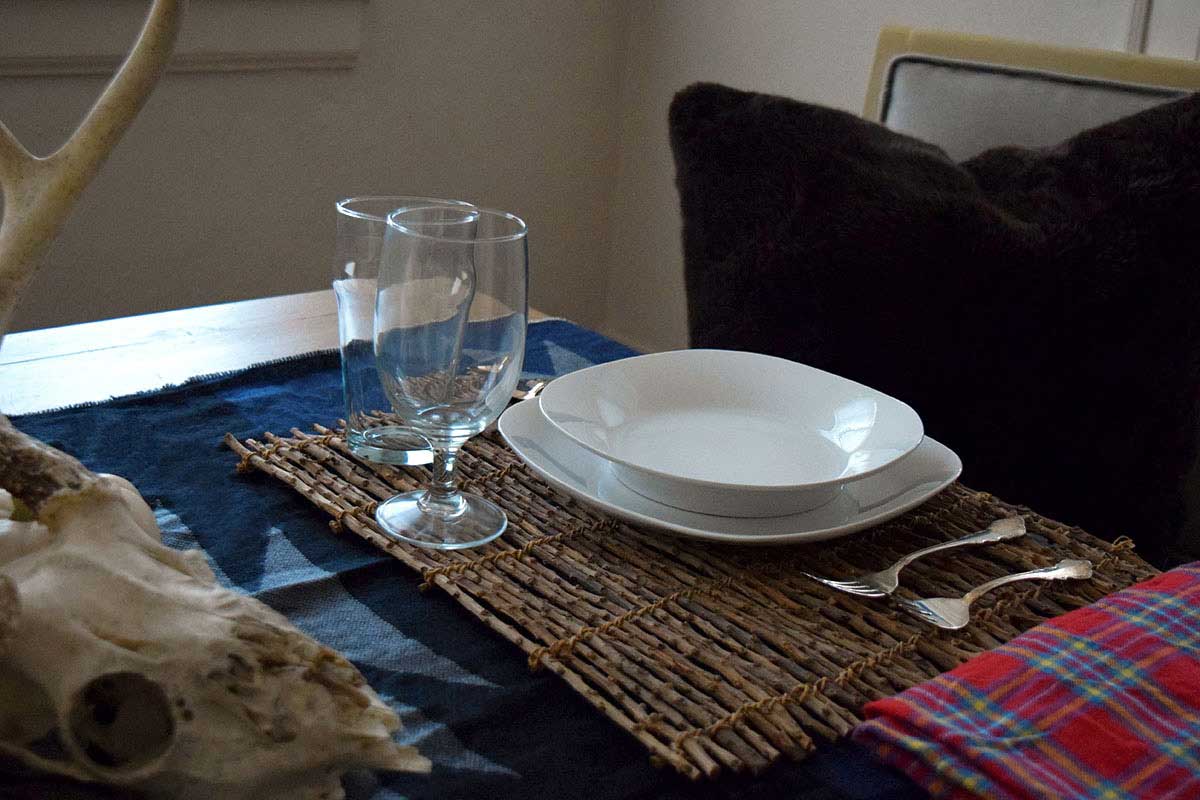 Keeping this table décor simple is essential to accomplish this look. For the table runner, I placed a long, tribal print blanket scarf down with deer skulls as the centerpiece. I used stick placemats with plain white plates and clear glassware. A brown fur pillow, hint: adding decorative pillows to dining chairs can make a big impact on your Thanksgiving décor, and red plaid napkin added a cozy, camping feel to the table.
Thanksgiving table décor should be easy, always keeping guests in mind. While Thanksgiving table settings are truly based on personal preference, they should remain functional so guests do not feel overwhelmed. Thanksgiving dinner is about spending time with family and friends and by keeping your table décor simple, you can have more time to enjoy your company