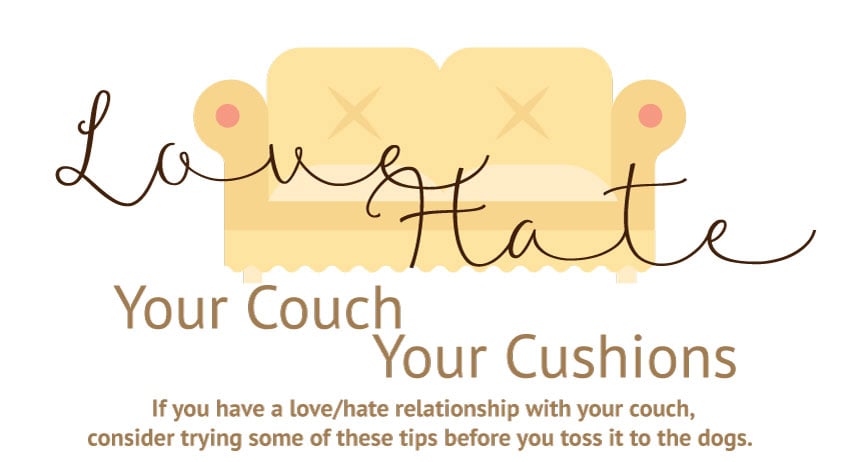 Love your couch, but your cushions are looking a little too loved? While most people would just live with their worn out cushions or replace their couch altogether, here are a few ideas that avoid both of these options!
Update Your Couch Cushion Filling to Make Your Couch Look and Feel New
Sometime's it isn't the fabric that is causing your couch to look older, it may actually be the cushions themselves. The filling of your cushion is what makes it comfortable to sit on or lay on, and over time, that filling can begin to sag. If your cushion isn't heavily damaged, a short-time fix of flipping cushions can work.
How to Make Couch Cushion Backs Sturdy Again
Repairing cushion backs can be a relatively easy DIY project. All that needs to occur is to place additional filling inside the cushion backs. Most couch back cushions are made with a plush fill insert. By adding plush filling to cushion backs, you can easily perk them back up. Plush filling usually consists of loose poly fiber wrapped in batting and an enclosed shell. We also offer plush fill options for our loose pillow-style back sofa replacement cushions and other back cushion products.
If you're fortunate enough to have zippers on your cushions, adding new plush filling can be a simple task. Depending on whether your back cushion fills have a casing or shell, just unzip your cushion backs and add some new filling. If your cushion backs do have a shell, you may need to cut a small slit in the casing to be able to add more filling. After that, simply stitch the casing back up.
How to Repair Flat or Sagging Couch Seat Cushions
When it come to a couch seat cushion, adding a layer of batting around the existing cushion will help plump up flat seat cushions. Remove the cushion from the cover and make sure it's still in good condition. Roll out your batting and lay your cushion on top. You'll want the batting to cover three sides of your cushion: top, front, and bottom. Trace your cushion around the batting so it fits correctly. Once you've measured correctly, place adhesive spray between the layer of batting and your cushion to help the two from sliding around when placed within the cushion cover. Let the adhesive dry, put the cover back on the cushion, and you've got yourself a plump cushion again.
How to Replace Couch Cushions
Now maybe your cushion isn't salvageable, and you need an entire new cushion, but you are not sure where to begin. Making sure your cushion replacement foam is the right one for you will be the first step. If your cushion foam needs replacing, it more than likely means it gets a lot of use. When looking to replace your foam, a cheaper and easier replacement may be a quick and easy solution, but it also means you'll be replacing the cushions again before long. For durability and longevity, an Optimal Comfort replacement filling can't be beaten; this filling is the "best of the best." With two layers of memory foam, it provides the best seating conditions on the market. We have all heard of memory foam mattresses and pillows, so why not have the same comfort for your couch cushions? If you'd rather not opt for the Optimal Comfort, polyurethane foam is another good choice for couch cushion replacement fill. This foam is great at holding its shape with frequent use. Once you've decided on the right replacement filling, you'll need to measure your cushion to determine the size of filling you will need. It's not recommended to use your old cushion fills to measure since the shape of those has changed from wear.
How to Measure Couch Cushions
Using a measuring tape, first start by measuring the width of the cushion you are looking to replace. Measure from the inside of the couch from left to right. This measurement will give you the width of the cushion. Next, measure from the back of the interior of the couch to the front of the couch base. Determine if you would like the cushion to remain flush with the base or if you would like an overhang. This measurement will now serve as the depth. Last, you need to determine the thickness of your cushion. If you are replacing one, measure the thickness of the other cushions to determine its thickness. If you are replacing multiple cushions, the thickness will be determined based on your preference. The thicker the cushion, the more comfort it will supply.
Once you have your new replacement fill, place your couch cushion covers back on, and you have cushions that look as good as new.
Replacement Couch Cushions
So you've tried washing your current cushion covers, but that didn't work, and you still don't think they're worthy of just getting a new filling. What's next? A whole new cushion for your couch.
Replacing couch cushions can seem daunting and overwhelming, particularly if you feel the need to match the existing cushions, but replacing couch cushions gives you the flexibility to get exactly what you desire of your couch. Thinking outside the box, you can create a whole new look. Here are a few new trends in couch design that you may want to try.
Mismatched Fabrics for Couches
Who says the cushion seat and back cushions need to match? You can playfully use color or fabric designs to create a new look for your living area.
Unusual Cushion Sizes
Forget the typical three cushions for a couch or two cushions for a loveseat, latest trends show long cushions as the new approach to creating a more modern and clean approach to couch design.
Color Your Couch
Don't be afraid to try something new and unusual. Pops of color can be achieved with your couch fabric, not just pillow accents or decorations. When thinking about choosing fabric for your replacement couch cushions, you'll want to find something that is durable. Sunbrella is a great brand of fabric that is known for its durability. While strong and resilient, it is available in an abundant variety of colors and patterns all with beautiful, soft textures.
Clean Your Couch to Update Its Appearance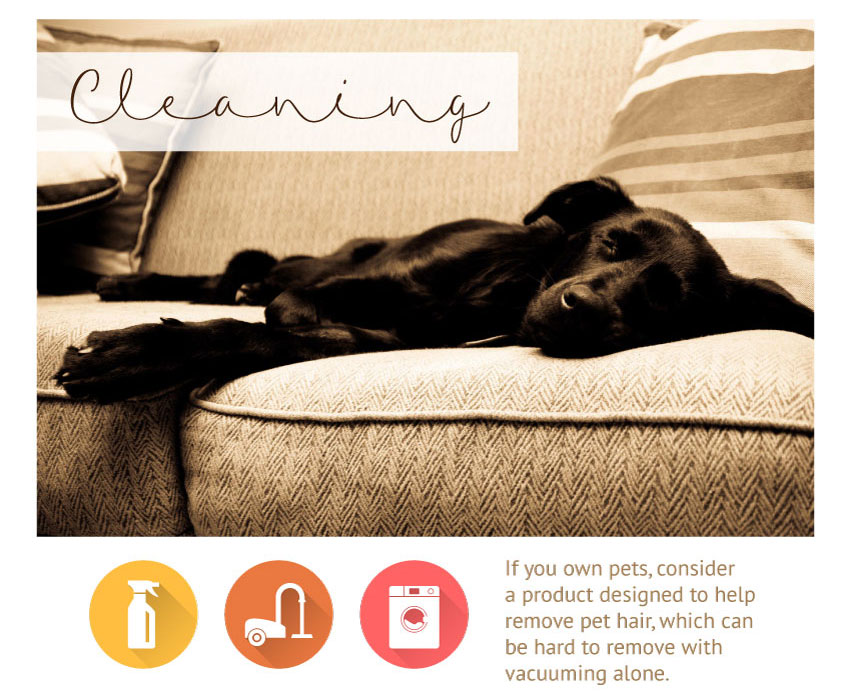 Many times pets and children are the reason for a well-loved couch. I know as soon as I leave my house, the first thing my dogs do is jump on the couch, which leads to lots of dog hair, a few muddy paw prints, and the smell of dog. Kids can tend to be the same way. Okay, maybe not the dog hair and muddy paw prints, but they CAN be messy. Our couches take the brunt of our living. A couch is where everyone loves to sit, watch TV and sometimes eat, and that usually means there might be a spill or two. Cleaning your couch cushions can be one of the easiest ways to make it look new again, but cleaning it with care can make or break bringing it back to life or needing to get a new couch entirely.
Vacuum the Couch
The first thing you should do is thoroughly vacuum your couch to remove all the dust, lint, and crumbs. If you do own pets, consider purchasing a product designed to help remove pet hair, as pet hair and dander can be hard to remove with vacuuming alone. Trust me, as an owner of a golden retriever, I know that dog hair doesn't always clean up easily. After vacuuming, you should be able to assess how much cleaning your couch cushions really need. For proper care instructions and information on how to wash your cushions correctly, check the inside for tags. Specifically, you want to look for the type of fabric used to construct your cushions. Knowing the couch's fabric will give you insight into its proper care and maintenance.
Spot Clean Minor Couch Stains
For minor stains, try spot cleaning first. When spot cleaning your couch cushions, do not rub or scrub to try to get the stain out. Rubbing or scrubbing will only push the stain deeper into a fabric, making it near impossible to completely remove it in the future. If it's a recent stain, make sure to soak up as much as you can by gently blotting it before it soaks into the couch any further.
Use Fabric Cleaners for Older Couch Stains
For older stains that could not come out with blotting, try a multi-surface fabric cleaner created to safely remove stains. Fabric cleaning products are simple to use but work best if you follow the directions on the bottle. When using any product like this, make sure to go back with a clean rag and water to remove any residue left from the cleaner.
Machine Washing or Professional Upholstery Cleaning for Deep Couch Stains
For heavier, deeper stains that are too difficult to remove by hand, there are a few different options. Note: Whichever cleaning option you decide to use for deep couch stains, always be cautious of the fabric.
Option 1: If your fabric can be machine washed, unzip the cover and remove it from the cushion. Wash it in cold water on gentle cycle with mild detergent. Once your cushion cover is clean, do not put it in the dryer! You don't want the cover to shrink. Couch covers can be line-dried or even put back on the cushion to dry. By placing the wet cover back on the cushion, it allows the cover to mold itself into the shape of the cushion filling for a snug fit. Wait until the cover is completely dry before putting it back on the couch. While not all covers can be machine washed, others will require dry cleaning.
Option 2: Invite a local carpet cleaning company to perform a deep cleaning on your couch. A lot of carpet cleaning companies do upholstery cleaning, which will thoroughly clean your cushions removing unwanted dirt and odor.
Protect Your Couch Cushions From Future Stains
After going through the process of cleaning your cushions, you'll want to make sure to protect them from getting stained again. We all know spills are going to happen! The best way to protect your couch cushions is by using a fabric guard. Fabric guards, protect the fabric on your couch through the harshest environments. A fabric guard will not only help to increase stain resistance, but it will also help the fabric maintain its color and keep it soft and breathable.
Add Life to Your Couch with Throw Pillows

Okay, you might think I'm crazy now and aren't quite feeling the mismatched couch cushions idea. Instead of trying to replace your couch cushions and worrying about matching, try simply replacing your throw pillows. While new throw pillows might not fix your couch, it can help make it look like it has new life.
One of the easiest ways to disguise your well-loved couch is to cover it with throw pillows. Bright colors and patterns are great if you want to distract from the look of your couch while neutrals or uniform pillows can help disguise your sofa and not overwhelm your room. Whatever color palette you choose, try adding new fabric textures. A different texture in your throw pillows will distract from the couch's texture or sag. Throw blankets are also a good option for hiding parts of your couch, too.
Get a New Look for Your Couch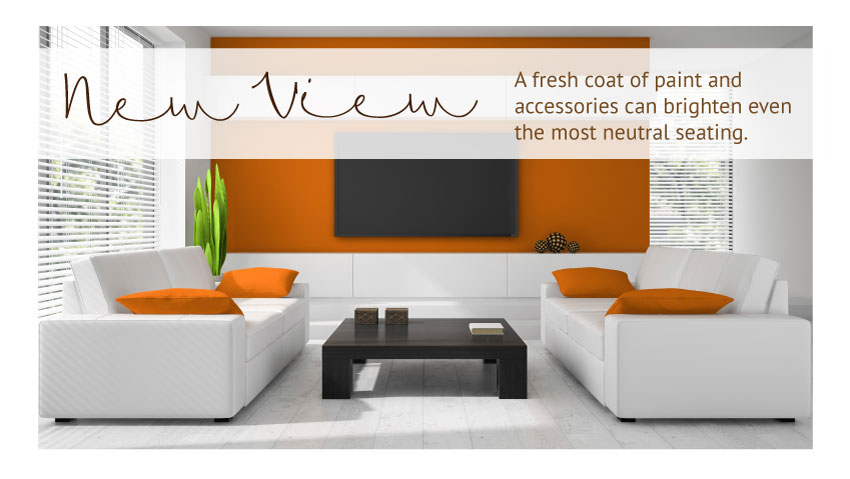 Is your sofa still in good condition, but you're just tired of the way it looks? With the resources around today, there is no need to get rid of your sofa simply because you don't like the way it looks. Reupholstering your sofa is a great way to make it look brand new. Just like when I mentioned replacing your cushions, you'll want to make sure you find the right fabric that will withstand anything that could come its way. It's always safest to choose a solid color, especially a neutral one, to reupholster your sofa. If you don't want to get tired of looking at your sofa again, opt for bold throw pillows that can be replaced a lot easier than redoing the entire sofa.
Hide Couch Stains with Sofa Slipcover
Another great fix to your sofa is a slipcover. Remember when slipcovers were first a big thing, and you could tell when a couch had a slipcover on it? If you haven't looked at sofa slipcovers recently, they have come a long way. There are so many different options to choose from with a slipcover now, and many of them can't even be detected once it's on your sofa. When choosing the best slipcover for your sofa, make sure you know the right size and the best style that will work for your sofa. Plus, with a slipcover, it can be easily removed to be washed or switched out if you're feeling something different one day.
Rearrange Furniture for a New Look
There is no better way to freshen up a whole room, not just your sofa, than by rearranging things. If your sofa is the sore-eye of the room and stands out, blend it into its surroundings. Spread the color of your sofa area by adding a piece of art that is predominately a similar color. Paint a piece of furniture or a lamp a similar color to complement the sofa, too. Do you have a room with large windows? If so, place your sofa near the windows so that attention is drawn outside instead towards your sofa. The right arrangement of your sofa and other furniture can also help your room to look bigger than it is, which can also defer the views from your couch.
Don't just stop with rearranging your room. Updating your décor will also create a fresh, new feel. Change out wall hangings. If you have one large piece, try changing it up with several smaller ones to fill that same area of space. Maybe even add floating book shelves with simple, small pieces of décor on them. Candles and fresh flowers can always help brighten up a room.
So, do you still love your couch, but hate your cushions? Don't toss your couch just yet, be sure to try some of these ideas first. Upgrading your existing couch instead of replacing it will save you money, and who doesn't like that? Plus, when you choose how you want to redo your couch, you are sure to get exactly what you want!