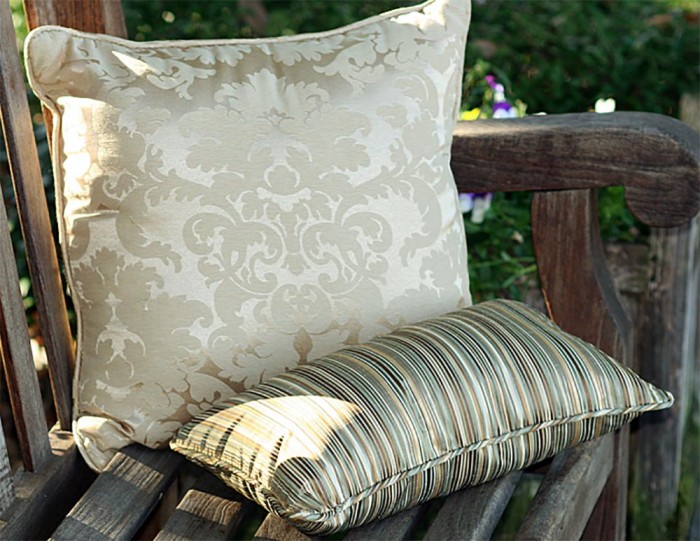 Throw pillows are an easy way to accent any space. Toss these on sofas, chairs, window seats and more to provide color and softness to a living area with minimal commitment. Throw pillows come in all different sizes, and choosing a specific size can be difficult if you don't know the correct way to measure a throw pillow. If you're unsure of what throw pillow size to order, here is a brief explanation of pillow measurement recommendations and tips that may help.
Stuffed vs. Unstuffed
The most important thing to remember when choosing a throw pillow size is that pillow dimensions always refer to the pillow cover's width and length while lying flat and unstuffed.
The measurements are taken along the seams from corner to corner and are generally rounded up to the nearest half-inch.
Knowledge is Key
If you are needing a specific size throw pillow, you will need to know how it's made during manufacturing. For example, if you want a 20″ x 20″ throw pillow, the material or fabric is actually cut 21″ x 21″ to compensate for the half-inch seam that will be created around the edges. Remember this is before the pillow is stuffed.
After the same pillow cover is stuffed, you will notice that if you were to take a straight measurement from corner to corner, the width and height would be closer to 18″. The perceived throw pillow size shrinks when it's stuffed, so when you are considering pillows for your sofas, chairs or beds, keep this sizing explanation in mind.
Measuring your current throw pillow
Many people make the mistake of holding a tape measure across the center of a stuffed pillow and then assume this dimension is the correct measurement of the pillow. If they order pillows based on this measurement, the chances are they will be surprised to find that the pillows they receive are actually much smaller than they wanted.
Common throw pillow sizes
The most common throw pillow sizes for sofas are 18″ x 18″ and 20″ x 20″. However, larger sofas and sectionals, especially those with deep seats or high backs, may be better off with 22″ x 22″, or even 24″ x 24″ pillows. For kids' spaces, smaller pillows are often used.
Get an accurate measurement
If you are measuring your pillows at home and your covers have zippers and removable inserts, take the inserts out before you measure your pillow.
If your pillow is completely sewn up and you cannot remove the insert, pinch the two top corners of the pillow and pull the top seam as tight as you can while holding it next to a tape measure. You'll probably need another person's help do this as accurately as possible. If you cannot pull it completely straight, then add a little length to your measurement, being sure to round up to a half-inch increment.
Design your throw pillow now or Learn more about measuring a throw pillow