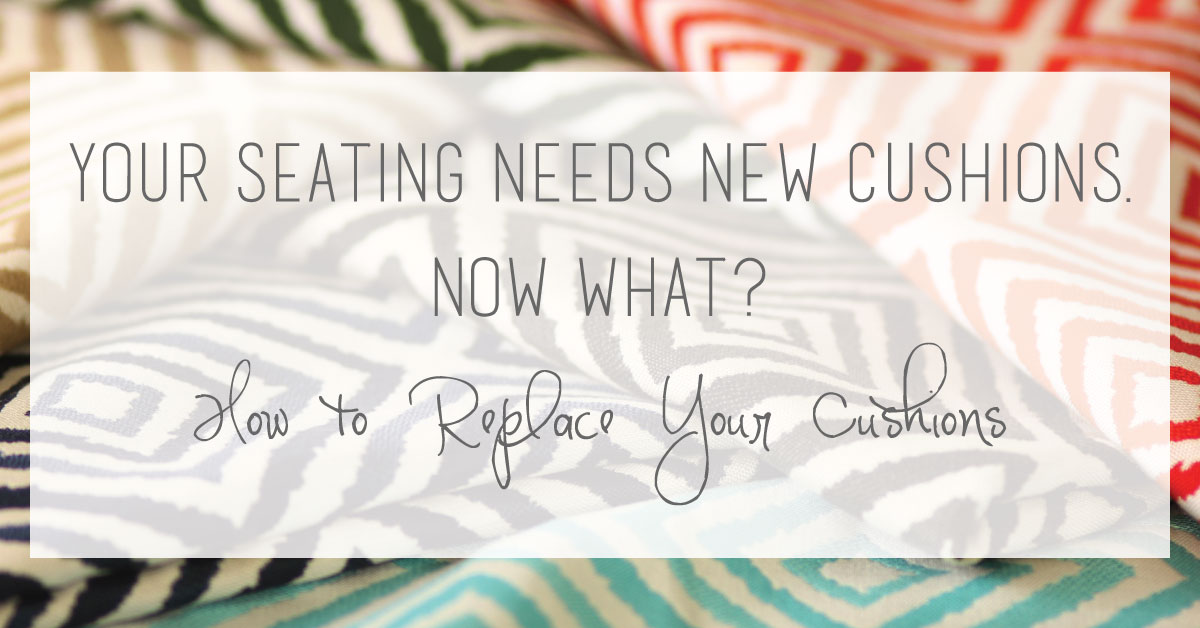 With spring cleaning done, you might have found that your seating is not the same as it used to be. Your cushions can become worn or flat after years of use or not properly taking care of them. Replacing your cushions is a great way to maximize the enjoyment of spending time outside, but how do you go about doing so?
Deciding to replace your cushions, whether indoor or outdoor, is the first step to enhancing your seating. But what steps do you take next? Replacing your cushions doesn't have to be a daunting task. As you think about what you want, go through these few steps to ease that decision making.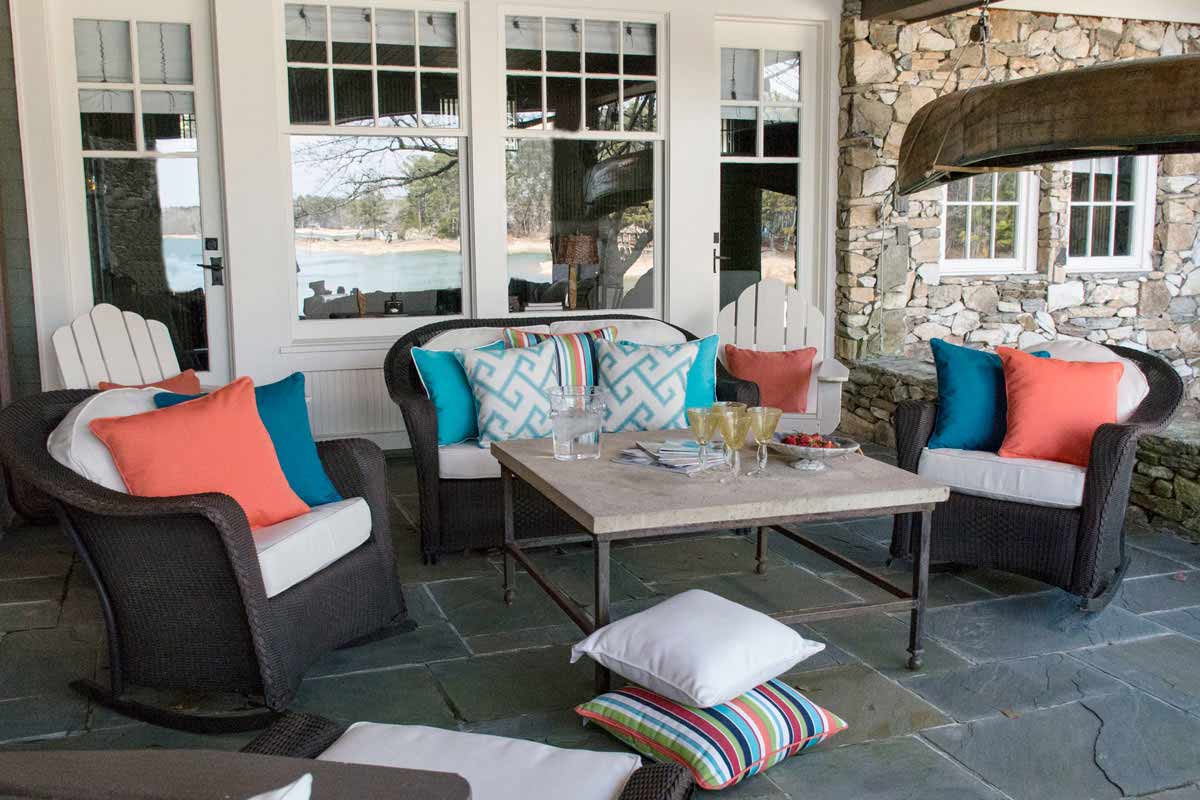 Indoor or Outdoor Cushions
While it might be obvious, a good starting point is to decide where your cushions will go – indoors or outdoors. This decision can be crucial to getting the most out of your cushions, plus it will make later decisions easier. While outdoor cushions can also be used indoors, it's best to not use indoor cushions outside. As you learn more about the steps of replacing your cushions, you will better understand the difference of how you can use indoor and outdoor cushions.
Type of Cushion
Your next decision will be the type of cushions and the cushion thickness. The location of your cushions can play a big part of what kind of cushions you want. Some options to consider are a thinner pad, deep seating, tufted cushions, or cushions with a seat and back.
A pad is usually recommended for aesthetic purposes and typically provides a light cushioning for your seating. The 2" pad is a great way to add a chic finish to your furniture.
Deep seating simply refers to the type of furniture. Think of a lounge chair, loveseat, or sofa that can only be comfortably used with cushions. Without cushions, the furniture is nothing more than a frame and, in many cases, may not have anything other than a simple support structure for holding a cushion. The cushions of deep seating furniture are thicker than standard cushions so that they fill the frame and sit more comfortably.
Tufted cushions create an elegant look with the addition of buttons. While choosing a tufted cushion with buttons doesn't necessarily change the comfort of the cushion, it is an easy way to a decorative touch to your seating.
Seat and back cushions are a great way to add even more comfort. Adding a cushion back to your seating creates a relaxing feel for when you want to make yourself comfortable and lean back into your seat.
Choose a Corner Style
While you might think the corners of your cushions don't matter, in the end it could make a difference in the way your cushions look and fit on your furniture. Carefully consider the shape your furniture makes and go from there. You can choose square corners or rounded corners with the option of having all four corners the same or having the front or back corners shaped in the opposite way.
Choose a Cushion Fill
Choosing the type of fill you want for your cushions is an important step. There are three main types of fill to choose from. Depending on your choice, thickness options can range from 2 to 8 inches.
CumuPlush fill is suitable for both indoor and outdoor use. CumuPlush is made from poly fiber and is great for the outdoors because it drains quickly and resists mildew. For added comfort, you can choose a Deluxe CumuPlush option, which adds layers of batting to the top and bottom.
Foam is only recommended for indoor use because it has a tendency to retain water. Foam fill is firm and holds its shape. Just like CumuPlush, foam fill also has a deluxe option to add comfort with polyester batting on top and bottom.
Optimal Comfort fill is our top-of-the-line fill choice. With four different layers, including standard foam, Memory foam gel, and batting, all enclosed in a water-resistant liner, it is perfect for outdoor or indoor use.
Choose a Look
Now that you've decided what goes inside your cushions, choosing your fabric is what makes the first impression. With nearly 2,000 fabric choices, it can become overwhelming making the perfect choice. Narrowing down your choices is a great way to start. As you go through these different choices, you can easily filter each option in the toolbar.
A good start is to filter outdoor and indoor fabrics. While outdoor fabrics can be used indoors, it is not recommended to use indoor fabrics outside.
Once you have filtered whether you want an indoor or outdoor fabric, choosing a brand may be the next step. If there are particular brands that you are familiar with, this is another way to make the decision easier.
Choosing a color may be the biggest step of your fabric selection process. Do you prefer neutrals or would you rather go with something bolder? Consider the colors surrounding your seating. Do you want it to match or contrast?
After deciding on a color, now you can think about what you want it to look like. Do you prefer a pattern or a solid? Within patterns, there are many design options, such as stripes, florals, and geometric patterns. A solid might sound like a simple choice, but there can be different texture options for some solid fabrics.
Consider Additional Design Elements
After the main details of your cushions have been decided, think about what you may want to add on. Adding welting to your cushions creates a more structured look. Ties are also a great addition to keep your cushions secure.
Measure Your Furniture
Your last step is to measure your furniture for the perfect fit for your cushions. While there are many standard shapes and sizes, if you have an oddly shaped piece of furniture, don't worry! You can create your own template showing the shape and size your cushion needs to be.
Add Pillows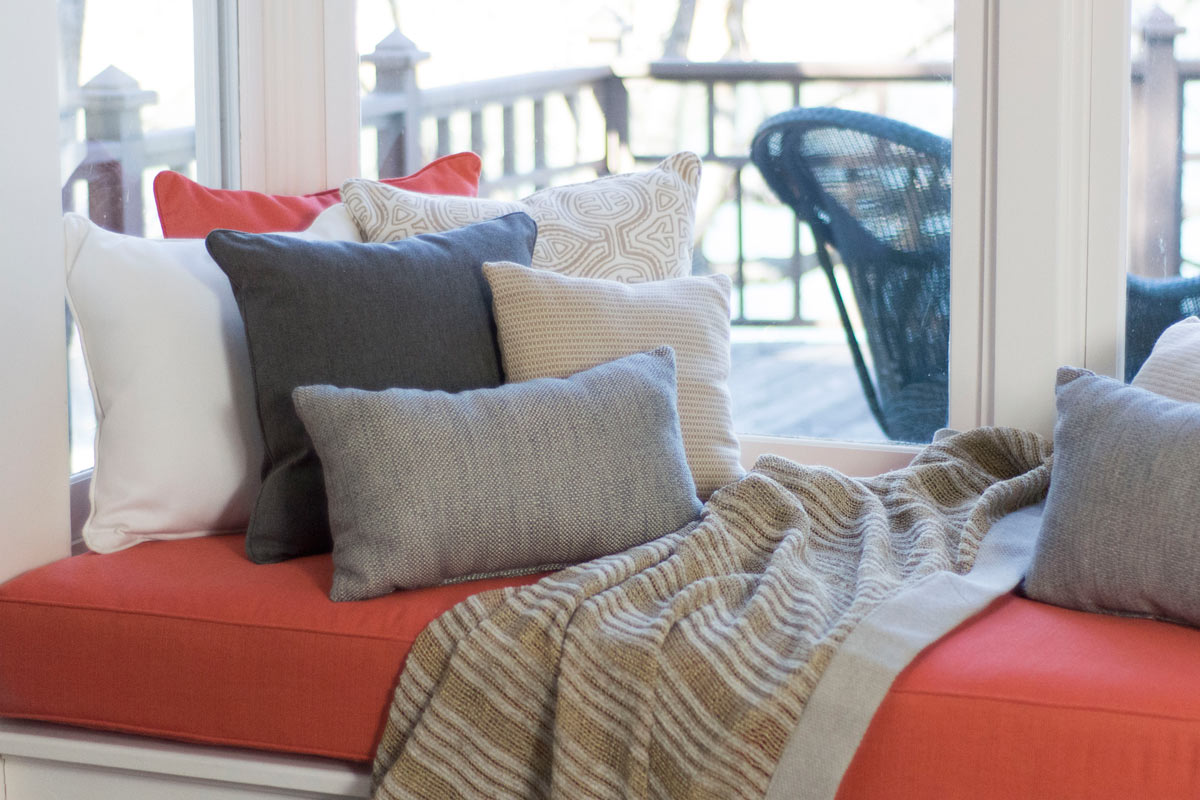 Now that you have designed your perfect cushions, consider throw pillows as the perfect finishing touch. If you had a hard time choosing a fabric, adding throw pillows is a great way to incorporate other fabrics into your seating. Plus, with throw pillows you can change them out easily when you need to freshen up and change your look!