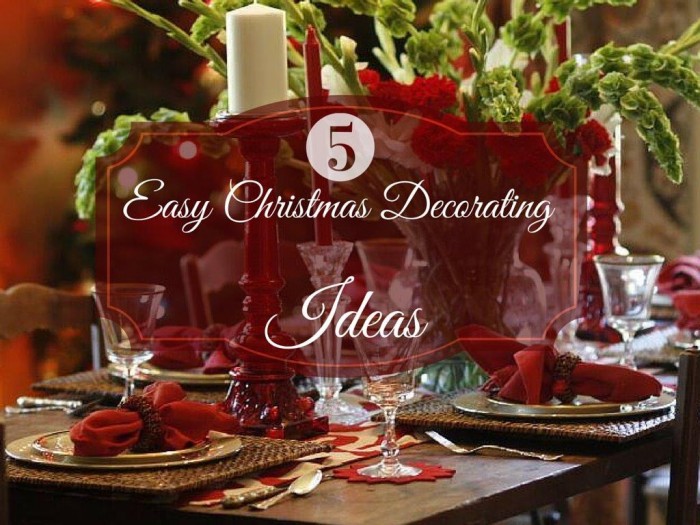 Last-minute holiday dinner or party plans can stress even the most easy-going hostess. With thoughts of searching for  last-minute Christmas decorations or even themes, it's no wonder we stress ourselves out during the most wonderful time of the year. But have no fear, we are here with five simple and easy Christmas decorating ideas that will get your home ready to delight and impress your guests, even the jolly white-bearded man in the big red suit!


Christmas Decorating Tip 1: Use Ornaments Past and Present
Christmas comes with so many memories, it's hard for a lot us to let go of them. For many families, ornaments are collected over the years but end up in storage. Bring these great memories out of storage and put them on display! Arrange your Christmas ornaments in a pretty basket, bowl, or a beautiful wooden trough like on this coffee table. Christmas ornaments can look sophisticated and elegant on tables, credenzas, and in dining rooms.
Place your ornaments in glass containers, such as candy jars or large glass hurricanes.
Sort the ornaments by color to give a cohesive and modern design.
Display your older, more sentimental ornaments in a shadow box. You can write a short description on each ornament to exhibit their history and when they were first hung on a tree. This would also be a great keepsake gift for kids and grandkids.
Expert Designer Advice: Depending on what types of ornaments you have, you can go a rustic, eclectic, or vintage. Don't let it get too complicated. Let your ornaments stand alone and speak for themselves.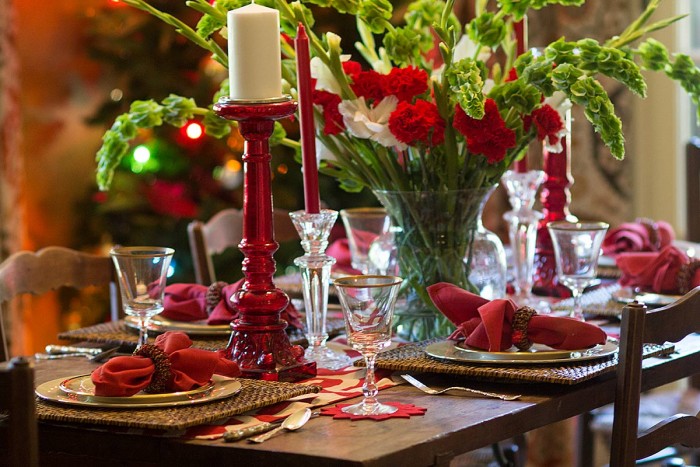 Christmas Decorating Tip 2: Use Candlesticks
Candles in candlestick holders are always a traditional and a easy "go to" look for mantels and dining tables, but you don't necessarily need candles. With large, bright, or colorful candlesticks, the candlesticks can make a statement on their own.
You can use decorative candlesticks in different shapes and sizes and arrange them as a collage on tables and banquets.
If you have an odd collection that seems to look more like flea market purchases, try re-imagining these with paint. Painting your candlesticks will bring some cohesiveness and color to your interiors.
You can fill them with flowers, holly, ornaments, or pine cones for a perfect holiday touch.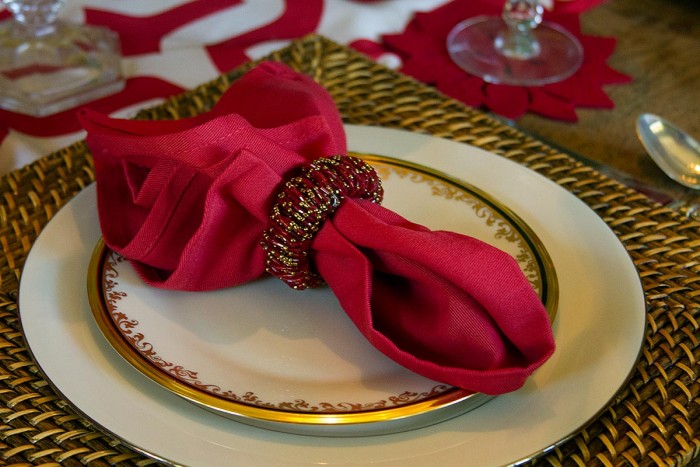 Christmas Decorating Tip 3: Use Napkin Rings
Napkin rings add a beautiful design to Christmas dining tables. Classic and traditional napkin rings always look perfectly dazzling, but there are other ways of creating unique table settings to help make your Christmas table shine this holiday season.
Wrap your entire Christmas setting with ribbon, like a present, to imitate and mimic presents under the tree.
If you don't have any napkin rings, you can fold your napkins in the style of classic pocket-style napkins, put a tiny sprig of greenery or holly inside, and arrange it on top of your place setting.
You can make a rustic napkin ring with burlap. This no-sew project is easy. Measure strips of burlap to fit around the napkin, then glue them in place. Add a button or tiny Christmas ball and hot glue it in the center of the napkin ring for a pretty homespun look to tables.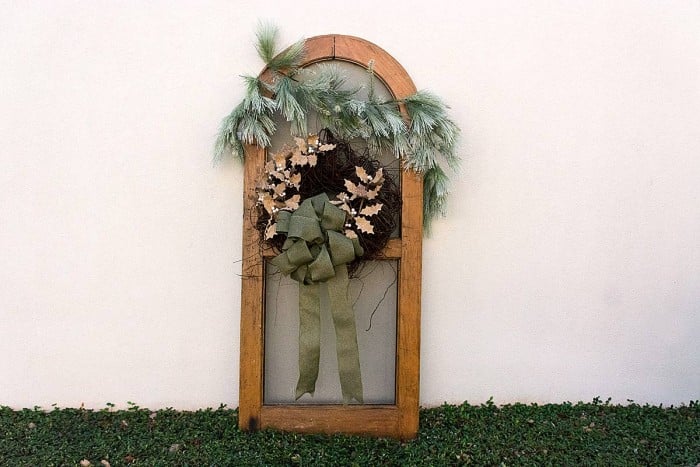 Christmas Decorating Tip 4: Use Window Frames
Another unique way to decorate this Christmas is to use vintage window frames. You can purchase these at any flea market or rummage sale. Here are some effortless ideas.
Keep the frame as is, worn with chipped paint, and add dried flowers or holly on a wreath to hang in the center for a shabby chic look to Christmas rooms.
Repaint the window frame in green, red, or white. Glue all your Christmas cards as you receive them in the mail and you have an instant Christmas card display.
If you have a frame with no glass, here's a great Christmas decorating tip. Paint your frame with your favorite Christmas color. String up your ornaments using pretty ribbon and hot glue them in place. These decorative Christmas window frames can be hung anywhere in the home for a adorable homemade holiday decoration your family will love and adore.
Christmas Decorating Tip 5: Use Tassels
Drapes can be adorned with beautiful tassels for a sophisticated and opulent look to interiors. There is no reason not to use these as a way to decorate your home for Christmas. Here are a few fun ideas to add a little style to your living areas.
Place tassels on door knobs for a simple and refined look.
If you have several different sizes and colored tassels, hang them from a string as garland on door frames, windows, and hallway entrances.
If you want glamorous, more ornate baubles, try hanging these on your Christmas tree.
As Christmas approaches, take comfort in knowing your indoor living space can be holiday ready for your family and guests using some of these easy Christmas decorating ideas. The time and effort put into your home is guaranteed to reflect only happiness and cheer this holiday season. Merry Christmas!