Kitchens are the place where memories are made. Baking with mom and grandma, sharing recipes past down from generation to generation and having long conversations with family over delicious holiday meals. The kitchen is the place for lots of nurturing of the body and mind; however, the kitchen should be a place that is comfortable for your family and guests so they will want to stay and linger. Since kitchens tend to be constructed of hard granite surfaces and stainless steel appliances, it seems only necessary to bring in soft, functional pieces like custom indoor cushions to convey warmth and ease to your space.
Indoor Seat Cushions – Take advantage of your breakfast table by adding indoor seat cushions to your chairs. These are great for bringing that comfort factor into your space as well as color. Choose indoor fabrics that coordinate with your cabinets and valances. Customize your seat cushions by adding fringe and braiding for a tailored look. All the detailing in your custom cushions are ways of showing richness and thoughtfulness to your environment.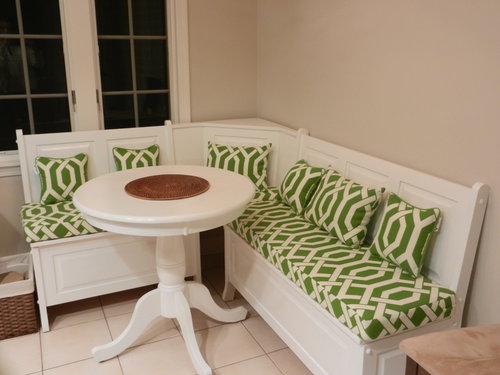 Indoor Bench Cushions – If you have a breakfast nook or maybe a long bench around a square table then try a custom indoor bench cushion for even more beauty and style. Benches are great for kitchens. They add extra seating and are charming in front of a window nook that brings in lots of natural light. Indoor bench cushions are also a great solution for bringing coziness to these hard furniture pieces.
Kitchen nooks are becoming popular because they are space savers in smaller homes and apartments. While kitchen nooks can be dressed up with indoor throw pillows and bolster pillows, having an indoor cushion to sit on takes the cake. You'll never hear your guest complain of having a hard surface to rest and sit on. Cushions provide comfort.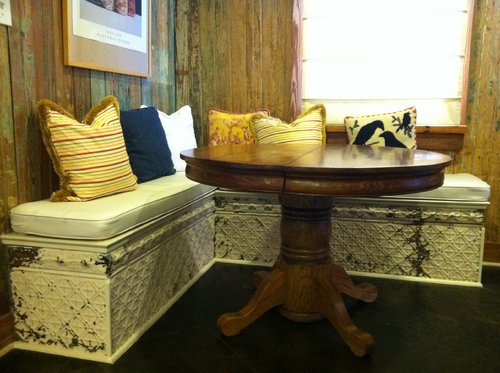 Indoor Fabrics – Kitchens are high traffic areas that need constant maintenance. Having indoor cushions, pillows and other objects to maintain can be daunting. However, there are fabrics you can purchase that are stain and fade resistant. Sunbrella fabrics are great example of multi-functional textiles that perform well indoors and outdoors. If these fabrics can withstand the outdoor elements, think how great these will perform indoors. Children and pets are no match for these high-performance fabrics. There is no sacrificing in color or style when you choose outdoor fabrics in your indoor settings. These are beautiful enough to use in your bedrooms and guest rooms.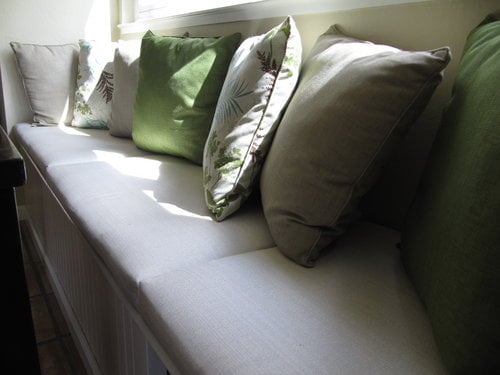 Indoor Window Seat Cushions -Those that have window seats will love utilizing custom window seat cushions. Window seats are great for the family member who loves to read the morning newspaper with a cup of coffee or the mother who loves to read after she tucks in her little one for a nap. These are tiny sanctuaries that bring relaxation to your kitchen setting. Throw pillows and bolster pillows bring a boost to indoor window seats as well. Choose coordinating prints and solids to show interest and depth.