Christmas is right around the corner. What's your favorite part of the holidays? Shopping, cooking, parties, decorating…or just the thought that by the end of it all, you will have eaten more than your fair share of cookies, pies and turkey and only a higher number on the scale to show for it. OK, that's definitely NOT my favorite part of the holidays.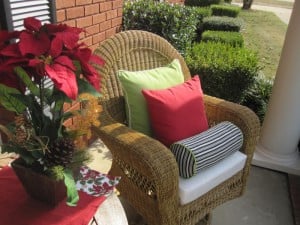 For me, I love decorating right after Thanksgiving and letting my boys help hunt down all our loosely placed Christmas boxes from the attic. The bad part about this process is I have no idea what they are bringing down. Each previous Christmas I have good intentions to organize and label boxes before these get thrown back up to the attic. Frankly by the end of Christmas, I'm ready to get my house back in order and as always, I find myself wishing I had just been the super mom I so badly wanted to be and got those boxes labeled. Oh well! Here we are. Complete mayhem!
This year I wanted to decorate the front porch with some beautiful red outdoor cushions. I had already had the Sunbrella Parrot Green throw pillows but I wanted to add the Sunbrella Jockey Red for the perfect Christmas combination. How simple was that?! If you're are not sure what to do with your front porch this holiday season, don't fret, I've got some ideas!
If you live in areas where the winter months are quite mild, decorating can seem much easier than dealing with heavy snow and ice. While snow certainly looks stunning on roof tops, trees and hillsides, there are ways to decorate your home's entry to match the season without worrying about the elements.
Utilize candles for lighting rather than typical Christmas lights. Place long-lasting pillar candles in hurricane lamps along the front steps. Tall Cylinder glass vases work well to block wind and keep the candles from blowing out. You could use flame-less candles as an option. Don't forget to fill your hurricane vases with colored ribbon, small ornaments or holly berries.
If you have outdoor furniture or benches, place red and white pillows and garland for decoration. Use pine cones, live greenery and holly berries to place in urns, around lighting posts and on windows. My children love to help decorate and yours will as well, so involve them in making snowflakes out of white paper to put on windows and doors. It sounds very simple, but it makes an impact.
When we do finally rummage through everything and place the angel on the Christmas tree, I am reminded of what the holidays are all about. The holidays are a time for laughing, loving , giving and crying. Crying? Remember, that's the day after New Year's when you step on the scale! I know …sad but true.
Seriously, Christmas is a time to reflect on many things in our lives. Our family, our friendships and building memories!