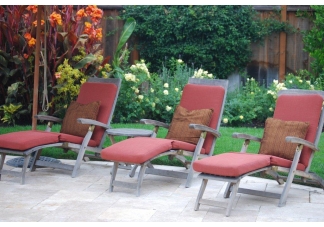 By Whitney Hicks
Following closely behind Los Angeles and San Diego is the third largest city in California, San Jose. San Jose holds the nation's best public safety record for all metropolitan areas, making it not only a beautiful large city to live in, but a safe one, too. San Jose prides itself on its diversity, size, reputation, culture and weather. The climate in California speaks for itself. The temperature reaches a perfect 70 degrees in the summer and a cool 50 degrees in the winter. It is a great place to vacation and an even better place to reside. If you love to be outside year-round, San Jose is the place to be.
Within San Jose rests a small community called Willow Glen. It is a local attraction for people who enjoy a walking town- downtown shopping, good food and family-friendly atmosphere. Willow Glen is a hot spot to San Jose residents who are fond of enjoying the California weather and spending time outdoors, especially to our friend Molly.
When Molly is not in Willow Glen checking out the shops, she is poolside reading her favorite book and soaking up the sun with her family and friends. Her favorite part of summer is relaxing on her Cushion Source Sunbrella cushions watching her kids swim and play sports in the water.
Molly found Cushion Source when she searched for outdoor cushions to refresh the look of her aged teak furniture. She looked for a good price, high-quality, fade-resistant fabric and a beautiful selection. Molly found the ideal Sunbrella fabrics that met all of her requirements. She ordered steamer cushions and throw pillows in Sunbrella Dupione Henna. Her new cushions tie together her pool, teak furniture and her most recent seating purchase for her loggia area. The design brings comfort, color and style to her entire backyard.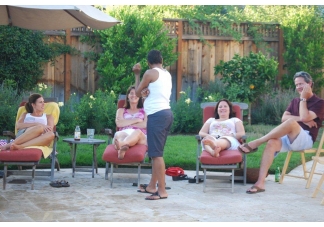 The cushions have brightened up the pool area and coordinate well with the colors in the landscaping and our new furniture," said Molly. "We throw lots of parties in the summer and constantly have people over to swim. It's nice to know that our guests love our outdoor space as much as we do."
Molly also purchased Sunbrella Dupione Oak outdoor drapes which hang in the loggia area and provide sun and wind protection day and night. "The curtains blocking the wind, and the addition of an outdoor fireplace and television, make the loggia area a year-round living space," she said.
Molly said her experience with Cushion Source was excellent. She was even more impressed when she realized her outdoor drape measurements were incorrect, after she placed the order, and customer service came to the rescue. "I shipped back the curtains and additional fabric was attached; now they fit beautifully. Everyone was so helpful."
The outdoor drapes and cushions from Cushion Source have completed Molly's home and make it an enjoyable place for family and friends. With spring in the air, Molly is excited about another year of outdoor fun and bright summer days in the California sun.