By Whitney Hicks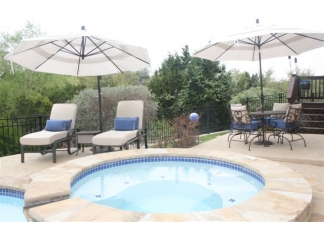 Austin is not only the capitol of Texas, it is said to be the "Live Music Capitol of the World." This title holds true today as Austin has more than 200 live music venues stretching across the city with more than 1,900 bands and artists living in the area. However, Austin is not only known for its taste in music, it is known as a city of creativity and uniqueness. Austin celebrates this creativity and prides itself on being a city populated by artists, musicians, entrepreneurs and intellectual thinkers.
Austin's population is just the right amount to be considered mid-size and still have plenty of attractions for tourists and locals. The hike-and-bike trail is another popular attraction because the city's weather is great for outdoor entertaining and recreation. Austin is definitely not a boring place to live. It is a great place to vacation in the summer and get a personal taste of the many attractions Austin has to offer. Not only can you see the sights, you can hear them, too.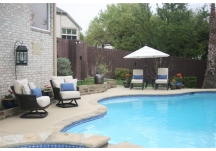 Cushion Source customer Stephen loves being an Austinian because of his passion for good music, local activities and sunshine. Stephen spends his time outdoors relaxing by his beautiful pool on hot summer days. His favorite time to escape to the poolside is after a long day of yard maintenance in the Texas sun.
Stephen wanted to create an outdoor escape that his family and friends could enjoy during the summertime. He was looking for comfort and style and found Cushion Source as a solution to his needs. Stephen chose Sunbrella Dupione Galaxy and Sunbrella Antique Beige for his chair cushions, chaise cushions and throw pillows. Sunbrella's commitment to providing fade and stain resistant fabrics matched Stephen's expectations of high-performance outdoor products.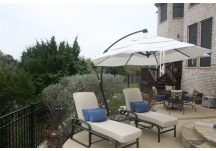 "A great price and most importantly, variety brought me to Cushion Source. I did my research and it was one company out of a select few that offered chaise lounge cushions greater than 4 inches thick. I wanted something that was pleasing to the eye, easy to maintain and comfortable. Cushion Source met all of these requests with ease," said Stephen.
Stephen's overall experience with Cushion Source is one he would certainly do again. He said his friends and family constantly comment on how beautiful and comfortable his cushions are. Since his purchase in 2010, Stephen has thoroughly enjoyed his outdoor cushions and is looking forward to another summer of relaxing outdoors on his comfy cushions and taking a dip in his luxurious pool.