Handmade furniture calls for custom kitchen cushions
It was easy for Marolyn Ritter to fall in love with a handmade dining set recently, instantly appreciating the elements of nature's beauty reflected in the craftsmanship. Thanks to Cushion Source, it was just as easy to create the perfect kitchen cushions to complement the furniture.
"Since my furniture was handmade by a local craftsman, every chair and bench is a little different in size," Ritter said. "Cushion Source was the perfect find, allowing each cushion to be made to a specific size."
Fabric choices echo Colorado style
Ritter has called Telluride, CO, her "home away from home" for 15 years. Each year, she spends about four months in the small ski-friendly town.
She also wanted to capture all the beauty of the outdoors and reflect it inside her home. Therefore, when she acquired the custom-made dining table, chairs and benches, made by craftsman in Delores, CO, she wanted to dress these pieces up with kitchen cushions to provide optimal comfort and style.
"Not being in a large city, I went online to inquire about having cushions made," Ritter said. "I found Cushion Source. I had samples of several fabrics sent to me and loved that Cushion Source carried an Indian design fabric that would complement my room's decor."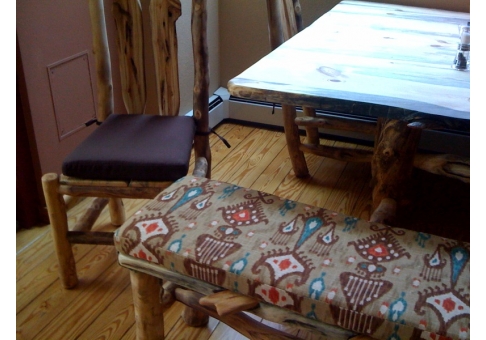 Her bench cushion was made with an ethnic Robert Allen Khanjali Adobe indoor fabric. It's a perfect fit for the hand-crafted dining set. The dining chair cushions were made with Robert Allen Success Java indoor fabric and complement the bench cushion beautifully.
Ritter has a large great room adjacent to the dining area, where the kitchen cushions are very visible. She said they really complete the entire space.
"It was important to create a flow in the room since that is my main entertainment area," she said. "I am very pleased with my cushions and love the fabric and workmanship."
Home away from home
Telluride is a unique town in the Southwestern part of Colorado. This charming city, which sits over 8,500 feet above sea level, started off as an old mining town in the 1800s. In 1973, it became a ski resort. Since Telluride was discovered as a world-class spot for powder skiing, the ski resort has grown into 2,000-plus ski-able acres, and nominated by numerous ski magazines as one of the most scenic ski resorts. With the grand views of the glorious San Juan mountain peaks, it's hard not to agree.
Even in a small, isolated town, people have a resource like Cushion Source to help with their specific custom needs. Although she hasn't yet had a chance to really show off the cushions to family and friends, she looks forward to seeing their reaction.