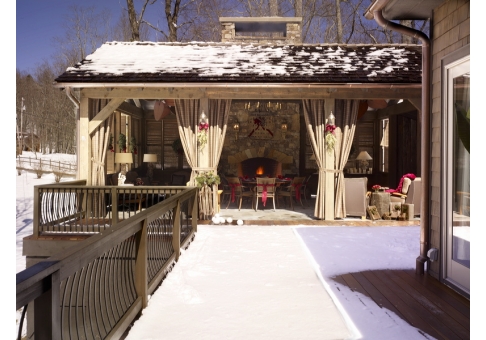 Cushion Source had the pleasure of supplying beautiful drapes and cushions to a couple who create and build outstanding homes for others. David and Danielle Warth are owners of Warth Construction, Inc. David Warth and the skilled craftsmen of Warth Construction transform dated houses into elegant, sophisticated homes in which everyone can enjoy for many years. You can see their work throughout the southeast region where they have built and remodeled some of the most prestigious homes in the Highlands. This was an outdoor room which Danielle transformed into a wintry retreat. When we asked her about her experience with Cushion Source, she was glad to share.

By Danielle Warth, customer of Cushion Source
Highlands is a very quiet resort town consisting of mostly second residences. The primary draw to our community is the temperate climate. At 4118 feet in elevation, we are located in a rainforest that is part of the Appalachian Mountains. Approximately two hours from both Atlanta and Asheville, it is a quick trip to escape the summer heat.
Nearly all of the homes in Highlands have some form of outdoor room to take advantage of our incredible climate. Our average high in July is 78 degrees, much lower than the rest of the South. With the high elevation, we have few bugs, which also makes spending time outdoors much more desirable.
In this application, we used neutral colors to keep with the rustic North Carolina theme, as well as to aid in decorating around the seasons. When the primary pallet is kept neutral, it's easy to just add new throw pillows and a few accessories to change it up for summer, spring, fall or in this case, Christmas. We also liked the masculine quality of the Holmes Cocoa drapes and pillows.
Warth Construction has really enjoyed working with Cushion Source. The customer service is unparalleled. We can have custom pieces made less expensively than we can buy prefabricated ones with other companies. The quality is fantastic and turnaround is quick.
I would recommend them to anyone, whether it be for an individual homeowner or a large commercial application. As a business owner, I understand the gravity of customer service and Cushion Source nails it every time.
[edited by Anita Winter & Emily Nelms]