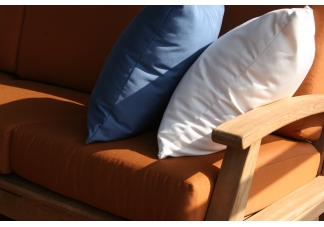 Fall is upon us and it's time to think about bringing in your outdoor cushions and pillows. Of course, you have the option to keep your Sunbrella cushions outdoors year-round; however, you can up the life span of your cushions by taking proper care and maintenance.
If you plan to store your cushions for the winter months, follow these steps:
1. Clean your cushions before you store them. Make sure to follow the Sunbrella cleaning instructions.
2. After you have cleaned your cushions or throw pillows, let them dry completely. If you do not allow your cushions to dry fully and they do not have proper ventilation when stored, they may begin to mold and mildew.
3. Cover your cushion in a plastic bag to keep off dust and dirt. Another good reason to store your cushions in bags is the possibility of rodents nesting in the filling of your cushion.
4. Store your cushions in a clean, dry environment. Be sure NOT to store heavy items on top of your cushions. This could cause the filler to compress and may leave permanent indentations.
By following these four simple steps, you will have beautiful cushions and pillows ready for another spring and summer adventure.