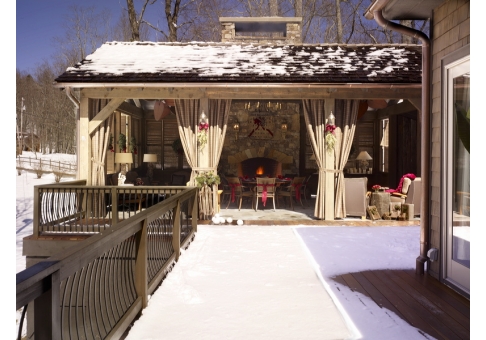 Don't let cold weather stop you from creating a functional outdoor space during the winter months. The cold chill of the season is always a great opportunity to gather with family and friends and still stay warm. Here are a few suggestions to help you get your outdoor area ready for whatever event you may consider.
Invest in a fire pit or patio heater
Fire pits are the perfect solution for getting people to draw close and share in great conversation. The impact of a fire pit aesthetically paints a beautiful picture. The heat and flame intensity varies on whether you want to invest in a large or small fire pit, so factor in the size of your back yard before you buy.
For outdoor parties and gatherings, make it the focal point by putting it in the middle of a circle of chairs or benches allowing guests to talk and roast marshmallows over the fire. Whatever fire pit you do purchase, make sure to choose one that will best serve the needs and functions of your home.
Patio heaters are another option. Patio heaters vary in price but come in handy for small outdoor areas. These will give off plenty of heat and warmth to guests while sitting around the table during dinner or catching up on the day's activities while lounging on the patio.
Invest in outdoor furniture
If you already have all-weather furniture, you have conquered the first hurdle. Buying good quality outdoor furniture is a big investment now with few regrets later. If you choose to have just any type of wicker or wood furniture sitting outdoors, you will find it faded, damaged and warped after only one season, so invest in what will last, even if it requires more cash initially. Some of the more popular choices are teak, cast aluminum and all-weather wicker furniture.
When it comes to an outdoor party, there are some exceptions. Go ahead and temporarily use some of your indoor chairs, ottomans and even loveseats to add more seating. Create a nice layout of furnishings that allows for perfect conversation groups. The key is to make your outdoor living space an extension of your indoor living space.
Invest in outdoor cushions
Now that your space is starting to come together, there are many options to consider in the way of cushions and pillows. Hard spaces need soft places to land and what better way to add lasting comfort than to invest in outdoor cushions and outdoor throw pillows. These comfort products can be made with a special type of solution-dyed acrylic fiber that is durable, as well as fade and mildew resistant. As a result, the cushions and pillows can be used for many years. Another option is having them filled with a cumulous outdoor fill for ultimate resistance to moisture. The ultimate option … there is no limit of options in the way of color, pattern and texture. There are several high-performing fabrics available on the market today, so don't hesitate to select the best quality for your outdoors.
When it comes to decorating your outdoor space, the sky's the limit. Toss large cushions and pillows in a circle on the ground to create a unique space for kids to sit and play. Add blankets and sleeping bags so they can keep warm. You can even set up a tent with board games to keep kids occupied.
If you have benches set around a fire pit, use small colorful throw pillows lined in a row for added comfort and design. Sometimes time and resources can be limiting, so do not hesitate to temporarily introduce your indoor throw pillows, bolsters and floor pillows to the outdoors. Although, you'll want to be selective with what you are comfortable bringing outside.
Invest in outdoor drapes
Indoor drapes are made for the indoors, however, outdoor drapes are made to withstand the outdoor elements and look just as statuesque and lovely. Outdoor drapes provide so many functions. They can help block the sun, wind, divide one space into two separate areas, as well as provide privacy. If you hang curtains around a porch, gazebo or deck during the winter months, they will help keep the cold out. Don't forget the amazing atmosphere drapes can create … romantic outdoor dinners with elegant draperies flowing from a pergola … stunning.
Invest in lighting and accessories
Evening parties need lots of lighting to really obtain the "Wow" factor. There are many types of outdoor lighting that will help maintain visibility for pathways and driveways year round, however, when it comes to decorating for your outdoor gatherings, you can hold back the spending and try some simple candles. Displaying lit candles on coffee tables, dining tables or a cluster of candles inside a faux fire place is an inexpensive way to create ambience and mood.
Another inexpensive solution is Christmas lights. These can be used outside throughout the year. Apply these to trees, bushes or string them over sitting areas. Christmas lights are not solely for the holiday season; use them to light up the night any time you'd like.
Be particular about your accessorizing. You want an overall design theme. Cushions and pillows should coordinate. Choose rugs for a splash of color. Gather a few paintings from inside your home and set them up outdoors to evoke conversation and interest. There may not be flowers blooming during the winter, but greenery and foliage look lovely in urns and large planters. Add bowls filled with colorful fruit or candies. Table runners and placemats on dining tables with glass bowls filled with sand or water and floating candles. There are many ways to add a personal touch to your party. This season, help show your guests how special they are by making sure every detail has been given distinct attention.
Happy party planning!