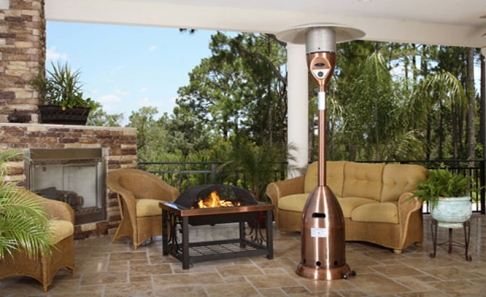 During the fall and winter months most of us are accustomed to staying indoors and snuggling under a blanket next to a fire. Even though cooler months are headed this way you can still create an outdoor setting perfect for fall and winter with a few minor changes to your current outdoor area.
1. Proper shelter from the elements – Having a shelter or covering over your outdoor setting is important if you want to be able to enjoy your space during the cooler months. Whatever type of weather you'll be dealing with, snow, rain or hail, you'll need a proper covering to protect your area as well as your guests. Awnings, gazebos, cabanas and pergolas are some examples.
Go even further by purchasing outdoor drapes for your outdoor structures. These are great for porch areas, gazebos and on top of pergolas. You can easily install drape rods and add grommet curtains that can slide open and close to give you protection from the elements. Outdoor drapes are made with durable outdoor fabrics which are designed to withstand the harsh weather conditions without losing beauty, strength or color. These also give privacy to your area.
2. Add flames and heat – Nothing is cozier than getting close to a warm fire. Fire pits are a necessity for truly experiencing outdoor living during the holiday months. These are perfect for adding ambiance as well as functionality to your outdoor setting. Fire pits are great for roasting marshmallows, cooking hot dogs and hamburgers or just sitting around the fire enjoying good conversation with your family and friends. Patio heaters are another option. These are modern and sleek with the capability to heat an area 18ft diameter, and are great for outdoor settings with pools or dining areas.
3. Cushions and throw pillows – Look for ways to add more fall and winter colors into your decor by adding custom cushions and throw pillows. These are perfect accessories for bringing comfort and color all at once. If you have hard benches or picnic tables, soften them up with custom seat and bench cushions. Your family and guests will love sitting on soft cushions rather than cold, hard seats. Don't forget your throws and blankets.
4. Outdoor accent lighting – The sun will vanish quicker in the evening during the chilly months of September through February, so outdoor accessory lighting is important for your outdoor settings. Solar lights, Christmas lights, candles and tiki torches are lovely accent features that set an ambiance and mood to your space. These items can be fairly inexpensive but offer a sophisticated look to your outdoor setting. Remember that a little goes a long way.
Don't abandon your outdoor spaces when you feel a little chill in the air. Utilize these with a few small changes to your space. By adding lighting accessories, drapes, cushions and fire pits, you'll love being outdoors year round.