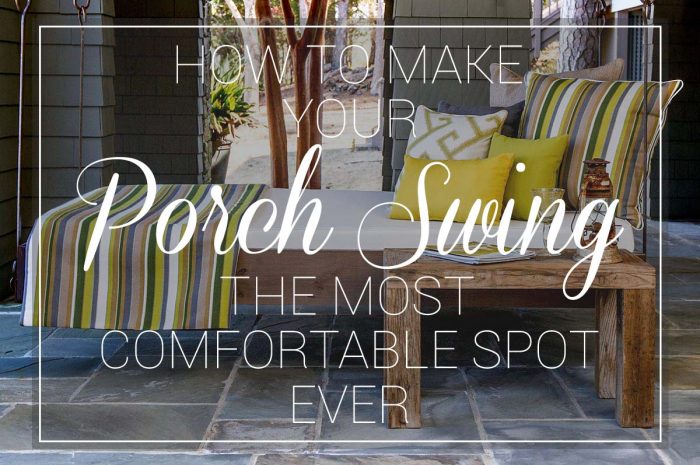 With the trend to get back into nature, porch swings have made quite the comeback ranging from simple swings to decadent hanging porch beds. Porch swings were popular for hundreds of years, but with the development of AC and TV, people began to spend the majority of their time indoors. Thankfully, interest in porches and swings is making a comeback.
Here are 4 ways to make your porch swing one of your favorite spots in your house!
1. Add a Comfortable Seat Cushion
Swing cushions are available from thin pads to thick cushions. When choosing a cushion you want to first determine the use of your front porch swing. If you are looking for a simple place to sit on occasion, a thin pad will suit the swing just fine, but if you want a more relaxing experience or a social gathering spot in your home, a thicker cushion will provide lasting comfort for a plush spot to read a book or to enjoy an evening with friends.
The maximum thickness of your cushion depends on your swing's design and height, as well as your personal preference. Adding a 6-inch thick cushion may make it harder to climb onto for some children and adults, depending on how high the swing is from the floor.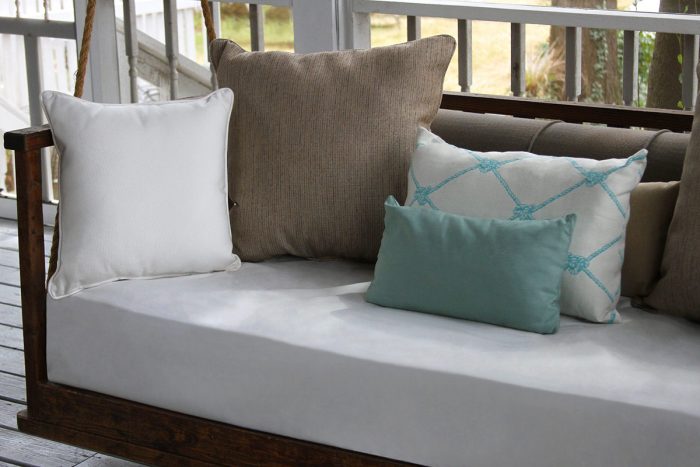 Your swing could still be exposed to some rain and sunlight even though it is sheltered. A good solution-dyed acrylic fabric is just the right choice for all of your cushions and pillows on the porch. Sunbrella, Outdura, PARA' Tempotest, and Robert Allen are respected names in performance outdoor fabrics. They are available in a number of colors, patterns, and stripes. These fabrics feel so comfortable to the touch, it's easy to forget they are made for the outdoors.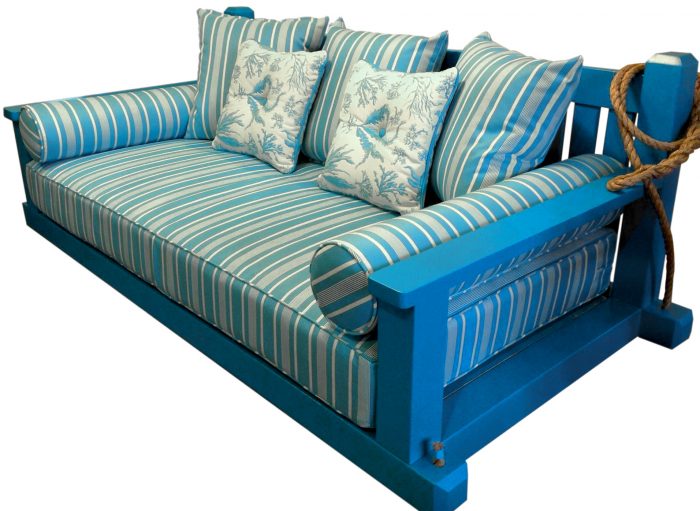 2. Add Plush Back Cushions
For extended comfort, don't forget to add a back cushion or several to your porch swing. A thinner pad will work on a classic wood slat swing, but thicker, more plush and huggable cushions are great for the back of a larger swing or hanging bed. If you are looking for more flexibility with your back cushions, instead of one larger cushion break your back cushion into a number of smaller cushions that you can arrange as you get comfortable.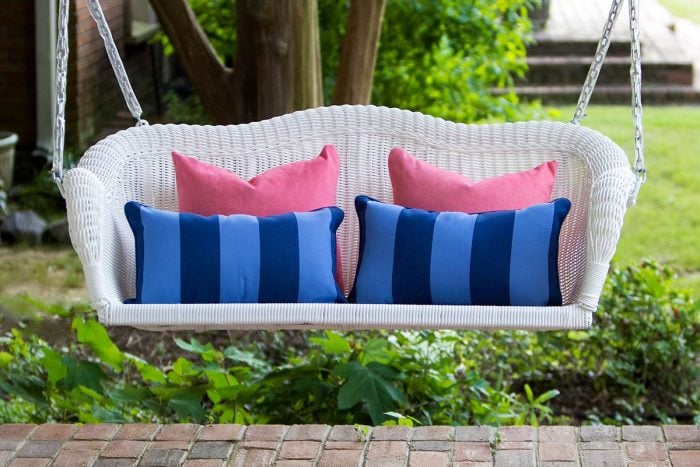 3. Add Large Throw Pillows
Designers are seeing larger throw pillows grow in popularity. If your swing is large enough, it could easily accommodate a couple of 20-inch square throw pillows (or even larger). One thing to consider when making your porch comfortable is to remember the other people who will need to sit. Even though you may have a couple of chairs or small loveseat, nothing beats a couple of extra-large pillows, 26 inches or larger, to toss on the floor to provide even more seating.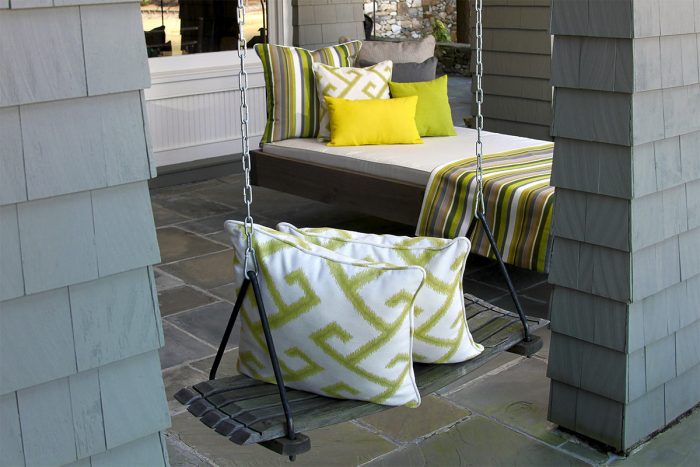 Oversized throw pillows can also be used as back cushions. Just remember, that most throw pillow sizes are shown in the dimensions of the empty pillow shell, measuring corner to corner. Once the shell is filled with either loose fill or a poly bun, a finished 20-inch throw pillow will actually measure about 18-19 inches. So if you wish to use throw pillows as back cushions for your swing that is 60 inches wide, you will need to order at least four 20-inch pillows to easily cover that width.
As more people bring the inside outdoors, the furnishings on front porches are rivaling interior furnishings and décor. Twin or full-sized hanging bed swings, topped with thick cushions, comfortable back cushions, and assorted throw pillows, bolster pillows, and lumbar pillows can help make your porch the most comfortable room in the house.
4. Add Long Bolster Pillows
A large, custom-made bolster pillow in a coordinating color or pattern makes a beautiful statement. A 10-inch diameter pillow, filled with a firm foam can provide extra support as you lean against the back cushions. A large bolster can also provide support for other throw pillows arranged on the swing. Smaller diameter bolsters are perfect along the sides of the swing and can make a nice spot to rest your head while lying on your comfy bed swing.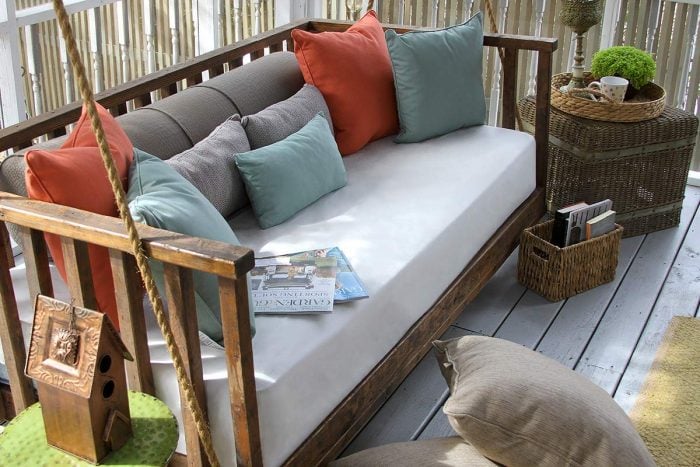 If you desire a more rustic or rough-hewn look for a beach house or cottage, old doors, shutters, headboards, and reclaimed wood pallets make excellent components for porch swings and hanging bed swings. Step-by-step instructions, detailed how-to videos, downloadable plans, and precut kits are available for those who want to do some or all of the work.
There are also a number of custom porch swing and bed swing builders available in most states. Custom-sized swings and hanging beds often require unique, custom-sized cushions. A unique-shaped cushion can be made from a paper template cut to the exact shape of the cushion you need.
Go all out and refresh the look of your porch swing with new cushions and pillows. Or just take a baby step or two and add a contrasting bolster pillow and some throw pillows to get started. Whatever you do, it won't take long to see that the possibilities are endless when creating that special spot on your porch with your comfortable and inviting swing.