When summer is in full swing, you are most likely splitting your time between enjoying the beautiful weather outside and cooling off in the comfort of your home. But no matter where you find yourself spending time during the summer, you want to be comfortable, and there is usually fabric (and a cold drink) there to make that happen.
You might be thinking, "I want to be comfortable, but how do I know what fabric is the right choice for my application?" Well, I will attempt to define, explain, and inspire you to choose the right fabric to fit your needs.

Fabric is traditionally for use indoors and has been for centuries. Natural fibers tend to break down when left to the elements, which created the need for a product with the look of indoor fabric, yet with the durability and longevity needed to survive the wrath of Mother Nature. Spaces have different requirements, and there is a fabric to fill any need.
Indoor fabrics can be created from any almost textile you can envision. From simple cotton and polyester to fine wools and silks, indoor fabric is only limited by your imagination. It can be woven, dyed, and screen-printed to any appearance, while maintaining the plushness you would expect to feel on the fabric of your sofa or pillow. The one downfall to indoor fabrics is the issue of durability. If you have a sofa near a large window or chair cushions in the breakfast room, you need fabric that is fade and stain resistant. So, what do you do?
Enter, Stage Left: Outdoor fabric.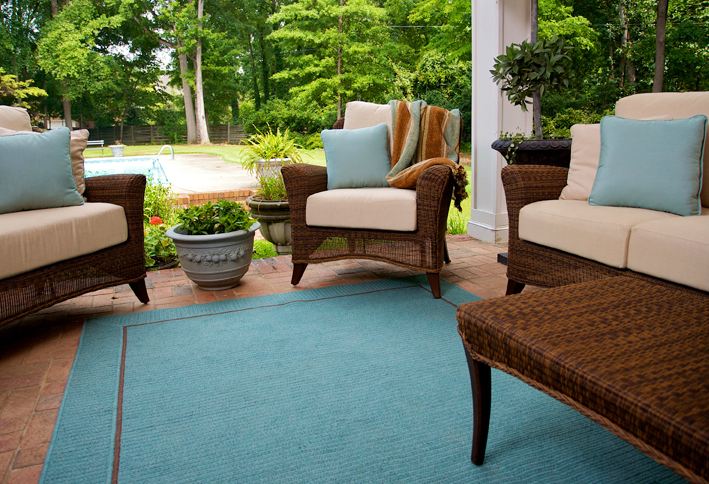 Outdoor fabrics are usually solution-dyed synthetic fabrics. This means the dye was added during the making of the yarn, allowing the color to fully penetrate the yarn. This creates a color that will not easily fade or wash away when subjected to the elements.
This isn't outdoor vinyl from the '60s. Outdoor fabric technology has evolved to achieve the look of most indoor fabrics with a soft hand, comparable to cotton, all while touting the durability to withstand everything life has to throw its way.
Sunbrella® led the way in outdoor fabric and has a vast array of fabrics to complement even the most discriminating tastes. Its durability and stain resistance has made it a necessity in outdoor environments and any indoor applications where resilience is required. So, whether you are relaxing by the pool or cooling off while watching your favorite TV show, there is a fabric that will work perfectly wherever you need it. And you can rest easy with the knowledge to make the right selection for your next project.
Cushion Source's custom cushions, pillows, and drapes can be made with any of our thousands of indoor or outdoor fabrics — including top outdoor brands as Sunbrella, Outdura, Robert Allen, Al Fresco, and PARA Tempotest, as well as popular indoor styles from Robert Allen, Premier Prints and Cushion Source's exclusive line, Highland Taylor Fabrics.