There is always excitement brewing here at Cushion Source and with the fall already here and winter months heading our way there are many fun projects to keep us busy. One of which is our recent fall photo shoot featuring our custom designer umbrellas and umbrella lights.
Why the emphasis on umbrellas now?
Well, we have found that umbrellas provide a considerable amount of benefits that go far beyond shade and shelter. In fact, they actually can be good for your health. You may not need a reason to purchase a custom umbrella this season, but we thought we'd give you a few anyway.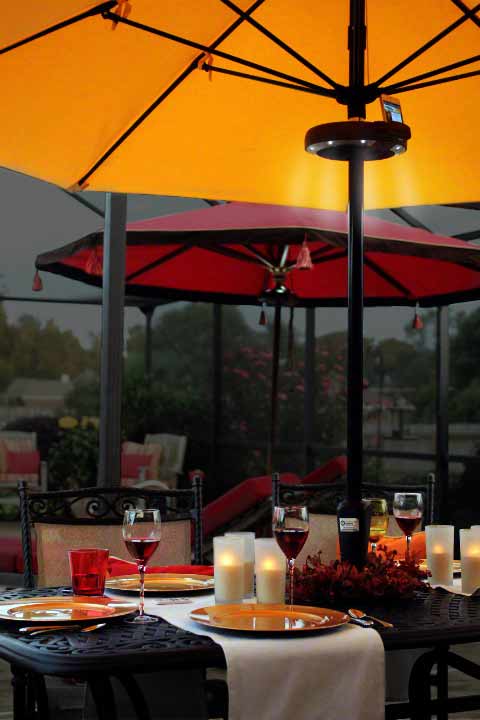 Live Healthy Outdoors
Too much stress is not good on the body, and with more Americans running on empty, finding a way to unwind and de-stress is a must. One way is to be outdoors in nature. The fresh air and beautiful scenery is vital to helping the body to relax and escape the pressures of everyday life. Plus, a healthy dose of sunlight (about 5 to 20 minutes without sunscreen) helps produce vitamin D in your body which maintains healthy bones and boosts your immunity.
Laugh Healthy
Another stress reliever is partaking in lots of laughter. Laughter really is the best medicine! Laughing not only loosens you up, and opens your blood vessels, but it can help the brain to relax which helps lower your chance of having a stroke or heart attack.
What better way to do get both than having an outdoor party? Outdoor gatherings allow people to connect, share and laugh. An umbrella just enhances that enjoyment by allowing you to be in the outdoor elements for hours with protection from the elements.
Healthy Skin
We all can agree that too much sun exposure is unhealthy. Whether you are enjoying the warm summer or plan to be outdoors throughout the year, you need protection from the sun's rays year-round. Cushion Source believes in providing products that not only offer shade but also protection from harmful UV rays that could penetrate the skin and cause premature aging — and even worse, skin cancer. That's why we are committed to carrying only quality fabrics like Sunbrella. Sunbrella awning fabric provides up to 98% protection from the sun's harmful rays. It has even earned the "Seal of Recommendation" by the Skin Cancer Foundation, which is the only global organization concerned exclusively with cancer of the skin. To top it off, it has a 10-year warranty against fading.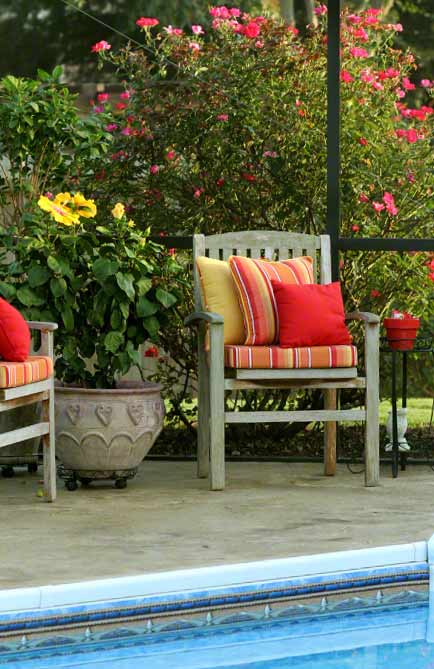 Healthy Lighting
Make the evening even better with umbrella lighting. Umbrellas are perfect outdoors during the day, but as the sun goes down, your outdoor events don't have to end early. The more laughter and fresh air, the better. Our umbrella LED lights take a healthy approach to life. LED's contain no mercury or other toxic substances, which is healthy for you and Mother Earth. They are made to last for hours on rechargeable batteries, give off sufficient light for evening entertaining and use less energy because they are solely lit by the movement of electrons.

Enjoy the perks of shade year-round
So relax, de-stress and enjoy the outdoors this holiday season with an umbrella. An investment that is truly good for you!