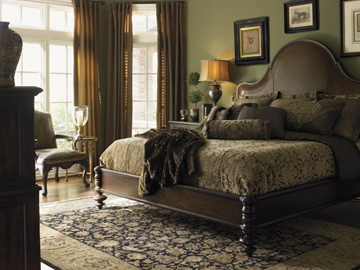 Victorian design consists of elegant floral prints, rich colors, elaborate ornate posts, heavy draping and wall paper. Many people still incorporate elements of this era into their home decor. Though the Victorian style was a popular one, it was not unique. It was a result of many styles such as Italian renaissance, neoclassical, Gothic, English and French influences. The true beauty of Victorian design is the collective blending of all these historical styles which results in its unique, eclectic look.
There are simple ways to add Victorian design to your home. Remember you can never have too many things in your room. Adding layers, lots of pattern on pattern design and overwhelming nick-knacks is what you're going for. There is no such thing as a Victorian minimalist.
Walls – Wallpaper was used to decorate walls in the Victorian era. In fact if you want to transform a living space into Victorian style wallpaper is certainly the fastest way. Floral, birds, Japanese motifs and frescoes were all incorporated into the design of wallpaper. Simple painted walls would never be considered Victorian so choose patterned wallpaper that will match the rest of your Victorian-inspired decor.
Furniture – Furniture of the Victorian era was very large and had ornamentation carved into the wood, sometimes as scrolls, leaves and grapes. The darker woods were more popular, such as oak, mahogany and black walnut. Victorian furniture was frequently upholstered in velvet. If you want to reupholster a flea market find or purchase a replicated period piece these will work well to help convey the Victorian look.
Curtains and Drapes – Silk heavy draperies were typical Victorian window coverings. Lining or interlining was very commonly used for extra protection from the elements. Interlining was most common on heavier weaves, such as damask and velvet. Cotton materials would rarely have interlining. However, it doesn't stop there; lace curtains and linens were also added to windows to give a lush and elaborate look. Utilize traditional white or ivory lace to add a more modern edge to your decor.
Accessories and Fabrics – Gold painted picture frames were extremely popular during the Victorian age. These were usually very decorative with lots of filigree and texture that made them stand out from walls. Transform some of your wooden frames by spray painting them gold. Framing your personal photos with gold frames will add a vintage touch.
Fabrics were typically velvet, damask and velor. Throw pillows and upholstered furniture were often trimmed and edged with braid and tassels. Velvet throw pillows with unique trims will add a Victorian feel to your living and bedroom furniture. Create your own throw pillows by making slip covers made from these types of fabrics mentioned. Lace and trim will add lots of detail to your pillows.
Large oriental or patterned rugs were used on dark wood floors. The colors in rugs as well as the rest of the room ranged from rich jewel tones to dark dull colors, including deep reds, blues, browns, greens and black. During the first half of the Victorian era only dining room and library walls were dark in color. During the later part the general feeling was that deep, rich colors enhance the importance of the room.
Etched and original glass designs also were used during in this era. The Victorians brought together an eclectic and pleasing combination of wood paneling, wallpaper, stained glass, pottery tiles, and flooring to their homes. Stained glass became so popular that no Victorian house was complete without it. They even went as far as to add ornate decoration to doorknobs and hinges.