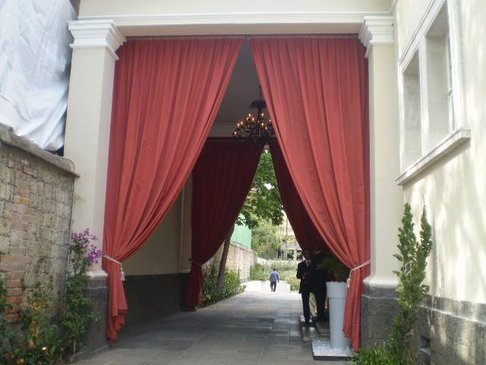 It's certainly evident that creating outdoor rooms is becoming the latest lifestyle movement. With television shows such as "Yard Crashers," "Take it Outside" and "The Outdoor Room with Jamie Durie," we are looking at our outdoor spaces as extensions of our homes. It really makes sense to invest in a great outdoor space because it may add to the value to your property as well as give you and your family a better way to spend time together outside.
Now is the best time to make better choices when it comes to outdoor furniture, fabrics and shading products. There are lists and lists of outdoor products that will catch the eye of many consumers this spring and summer but what people are keying in on this year are quality made products.
What is also important to consumers is finding products that will be part of their homes for years to come. What you buy today will last more than just one season, like purchasing a mattress or furniture set, people want to know they are making a good investment. Spend a little extra money now so that furniture and cushion set will be around for years to come.
Take outdoor fabrics or what retailers like to call "High Performance Fabrics." Textile companies have realized that beautiful, high-performing fabric will always be a big seller. Outdoor furniture fabric is not a new concept it"s how it performs that makes it special. Today, many outdoor furniture fabrics are durable, fade and mold resistant and offer great design choices. Companies like Sunbrella, Outdura and Bella-Dura tapped into this idea years ago. During production of these textiles there is little water and low energy used to manufacture these fabrics, not to mention, they produce no harmful industrial waste to the environment.
Bella-Dura began recycling old fabrics into resin pellets. Sunbrella consumers and retailers recycle old fabrics. Some become car parts or even truck bed liners. These fabrics are so luxurious that many are discovering that you can use them indoors. Cushions, throw pillows and drapes are all made with these high-performance fabrics for the outdoors and indoors.
Outdoor furniture choices are endless as well. All-weather wicker, cast aluminum and teak are just a few of the top-selling outdoor furniture materials on the market today. It"s a new spin on old products that people gravitate to. Unlike the materials of the past, these materials are stronger, rust resistant and won"t chip or peel from being outside in the harsh sun. Design quality is also a selling point. You can literally buy any type of outdoor furniture to match your style. Traditional pieces or contemporary, it"s amazing what designers will come up with.